The Logansport Berries played the Peru Tigers on Aug. 21. There was a variety of people there from the dance and cheer teams as well as the band and choir. The Pep Club also showed up dressed in construction gear. The Tigers kicked off at 7 p.m. to the Berries. 
The night started off with the pregame at 6:45 p.m. The band played as the dance team performed to the school song along with the songs at halftime.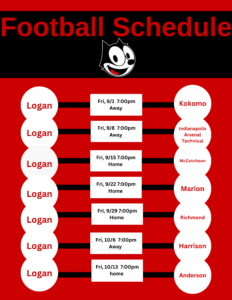 "We do our pregame routine, which is like our school song the other school song, 'American Fanfare,' 'Back Home Again in Indiana,' and then the 'Star Spangled Banner," junior Jakson Combs said. "Then, we play songs in the stands until halftime. Then, we do our halftime show for this year. We've been preparing all summer for this show for up to six hours a day in 90+ degree weather."
After losing by 14 points, the Berries also played South Bend Adam on Aug. 25. They went in with some confidence and hoped to win.
"I have a feeling we are going to get our first win," junior Deagan Kitchel said. "We got the first game out of the way, so we will have more confidence this week."
The team came out with an intense fight. They put in their best effort but came up one point short with the final score of 23-22.