Pageants have been a controversial topic for a long time, they have been seen as changing a child's looks and being inappropriate. There are various types of pageants, from glitz, to natural, and even some semi-glitz in the middle. Glitz pageants are primarily based on physical beauty. Contestants wear full faces of makeup, fake teeth and hairpieces. Semi-glitz is where the makeup is more toned down, but contestants still have fake hair and false lashes whereas natural is a more minimal look. It consists of some makeup but not a full face as well as typically no hair pieces or big lashes.
"My goal for this pageant is to create a space for young women to look inward and see the incredible young woman inside," co-director Ali Williams said. "I can only hope that when she looks inwardly she realizes that her beauty starts there and radiates positivity, confidence and so much more. That is where the true beauty lies. If we can help even just one girl realize how special she is, I will be thrilled."
Pageants are a sisterhood where no matter where a contestant comes from they have the opportunity to come out with new friends and learn so many new things. 
"I would recommend doing pageants because it truly does teach you so much," 2022 Teen Miss Cass County Kyah Preston said. "My interview skills have grown tremendously as well as my many other skills like modeling, hair and makeup."
A lot goes into planning a pageant from finding contestants to compete and paying the fee. Without money, they will not be able to afford to put it on. Other planning includes judges, a location, purchasing the crowns and sashes, and other things like photographers and sponsors. 
"It takes a lot of time and dedication to create a pageant," co-director Brianna Schmaltz. "I am so lucky to have an amazing support system and a great co-director. The girls competing have also been so patient and helpful."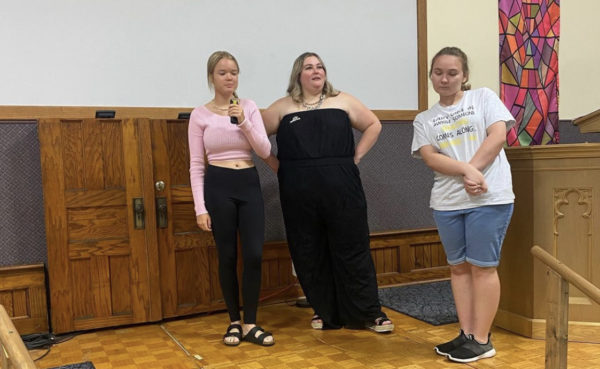 There are five girls running for Miss Oktoberfest. The girls include Preston, Lexi Freeman, Emile Schmaltz, Erin Scott and Bailey Morales. The contestants have had time to practice, get critiqued on their modeling and interviews, as well as get the option to get to know each other.
In the Teen Miss division, there are four girls including two from Logansport, freshman Maci Wicker and sophomore Reyna Hernandez. The other two contestants are Lewis Cass senior Elliana Richey and Maconaquah sophomore Aja Mckinley. They have been practicing with the Miss Girls, improving their modeling and interview skills.
"I chose to run for Miss Oktoberfest because it sounded like an amazing way to represent the surrounding community," Preston said. "It is a great opportunity to learn more about the people in the community as well as gain new queen friends."
There are three younger categories including Junior Miss, ages ten to thirteen, Little Miss, ages seven to nine, and Tiny Miss, ages four to six.
"At practice, we practice walking in heels and speaking," said eighth-grader Alivia Issacs. "After we finish doing what we need, we get to play games. My favorite parts are practicing walking in heels and playing duck duck goose."
The pageant had five categories: interviews, congeniality, photogenic, formal wear, and Barbie wear. This year's theme is Barbie. The theme is for the theme wear as well as the sash inspiration.
"The theme this year is 'Be Who You Want To Be, Barbie Girl,'" Williams said. "Obviously, there is a lot of hype around Barbie right now, but our goal in using this is that our girls know that they can be anything and anyone they want to be without anything holding them back. We have a Barbie theme wear portion of the pageant where the girls can showcase their personalities with a fun pink twist."
Oktoberfest is Oct. 7 starting at 2- 8 p.m. where the queen and her court will help when needed and go around talking to people and taking pictures. The pageant takes place a week prior in order for the girls to prepare.
​"The pageant will be held on Oct. 1 in Royal Center at ​6 p.m.," ​Schmaltz said. "The location is still being determined."