Swim Team Preparing for the Season
The swim team has started to practice and get prepared for the new season. Students can still join the swim team; email criminal justice teacher and swim coach Michael Shannon and be a part of an amazing team with a bond that is unbreakable.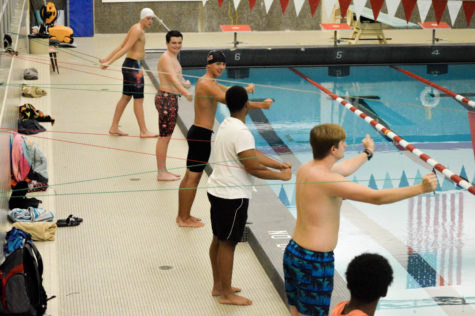 "There is definitely a family bond evident within the swim team. All the guys are super close, and they hang out all the time. Personally, I have gotten closer to seniors like Mitchell, Graeme, and Cob (Jacob Miller) within these past few years in swimming. We make fun of each other, but it's (normally) all fun and games," senior Maggie Fincher said.
Being a part of a team is important because a person will meet new people who they will probably be friends with for a long time. There are family bonds within all swimming.
"Yeah, we're all super close. I know that at least on the boy's side, we hang out quite a bit. It's kind of like a brotherly love in terms of we make fun of each other constantly, but still support everyone at competition," junior Connor Shannon said.
Having people who will provide support on and off the team is nice. The friendship is among the whole team.
"Absolutely, the swim team is definitely like a family to me and some of my absolute best friends. We hang out quite a lot and spend lots of time together. The swim team makes the swim season so much better, and I love swimming because of it. Mostly everyone get along and we all enjoy hanging out together," sophomore Jake Fincher said.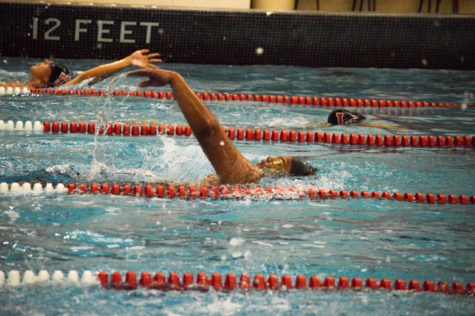 A lot of athletes stay on the team because of their teammates and the coach. Having positive people on a team helps to better them as athletes.
"Heck yeah, there's a bond, A bond that's formed in the atmosphere. I have to give props to Kim McLochlin, assistant coach, and Brittney Ely, diving coach," Michael Shannon said.
The season for girls starts the Monday after fall break, and the boys season starts about two weeks after that on November 8.
"We are 2 individual teams even though we practice together, and we have meets. We are a co-ed team," Michael Shannon said.
Michael Shannon says starting the season early is all for preparation.
"I see a lot of talent with the swimmers returning, incoming, as well as new swimmers. There's a lot of talent. Need to prepare to do better than last year. It's not necessarily about what the win and loss record is; it's a matter of bettering yourself," Michael Shannon said.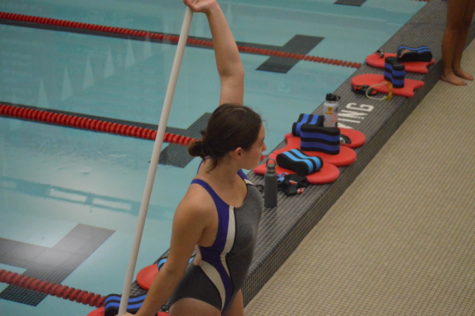 For the athletes, they started with summer workouts. In early June, they started working out as much as they could. They worked out four days a week for 2 hours. School started, and they got limited to 2 hours a day, twice a week.
"As a coach, I am very encouraged. Most of the swimmers are in a fall sport, but in the summer, we hit the weights really hard as well as the pool," Michael Shannon said.
Junior Sabrina Picardo thinks there has been a lot of improvement from returning and new swimmers. The people who go to morning workouts and always come to practice are improving.
"Being on the team has taught me how to work harder. Push through things that are harder. In real life, I've learned to push work harder/push through things that are hard," Picardo said.
Swimming is just like any other sport, swimmers have to warm up.
"There is this thing that I say, and it's warm-up to swim, and swim to warm up," Michael Shannon said.
To warm up to swim, swimmers hit hamstrings, back, shoulder, torso, and abs using stretchy bands, PVC pipe, and as well as some yoga stretches, and a lot of lunges and ab workouts. Shoulders are the biggest muscle to rotate; if not, the swimmer is going to have shoulder injuries.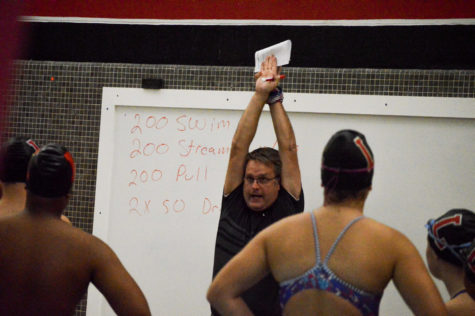 "There are a lot of things we do that other sports do, and you would think we do," Michael Shannon said.
For coach Shannon, his goal is to make it to sectionals and maybe even have someone go on to state.
"Girls are hungry for sectional," Michael Shannon said, "They got told they couldn't do it. With the boys, I want a sectional championship. I want a sectional championship from both. I told them I had a 3-year plan. First-year, I worried about my number. Second-year, we will finish at the top of sectional. Third-year, have someone go to state. Somebody will go to state."
Being new on a sports team can be tricky, not knowing what it's going to be like or not knowing how the coach might act.
"Listen to the coach closely, and if you're confused, ask questions," Maggie Fincher said.
One of the most important things is listening to the coach, or anybody because they can always help others get better. Any of the other swimmers can help them understand what they're doing or even help them get better.
"Don't stay up too late, remember to breathe, don't drown, don't eat too much before practice (it's not pretty), and stay hydrated," Connor Shannon said.
Many go swimming at the Muelhausen Aquatic Center, but competitive swimming is different.
"Keep in mind, however, that swimming is not easy. Swimming to me is a ton of fun, and I'm really glad I joined last year, and I'm really excited for this season. Pay attention when the coach and the lane leaders are trying to help you out," Jake Fincher said, "Just have fun. There's no need to push yourself until you throw up. Working hard is very important, but having fun will make the swim season so much more enjoyable; try to make friends on the team and never quit, even if you're really struggling."
Being in a sport or club gives the opportunity to branch out and meet new people. Last year was a hard year, but the swim team was making memories that they cherish.
"The swimmers had a diving competition. I wasn't able to participate, but it was quite entertaining watching the swimmers flail off the board," Maggie Fincher said.
With diving on the block, something might start a diving competition with the team. Those are some of the swimmer's favorite memories.
"We convinced Coach Shannon to show us his diving skills, and we had a diving competition with the whole team," senior Mitchell Albright said.
Even during sectional everyone had fun and joy in the company of the team just talking and laughing for hours, even just being in the pool with best friends and having fun with them.
"Sectional dinner was a lot of fun. We laughed a ton, and I had a great time. Sectional is also up there; a lot of people get their best times, and we get to spend a lot of time together and in the pool," Jake Fincher said.
Bus rides home are the most fun time of the season, making jokes, laughing about maybe someone diving weird or made a big splash when diving.
"The bus ride home from the Harrison meet last year is up there. Coach wasn't in a very good mood during the meet because we weren't doing too well. By the time we got on the bus, we thought he was going to rip us. As it turns out, 80% of all swimmers had a personal best that night, and it was really fun," Connor Shannon said.
Leave a Comment
Your donation will support the student journalists of Logansport High School. Your contribution will allow us to purchase equipment and cover our annual website hosting costs.
About the Contributor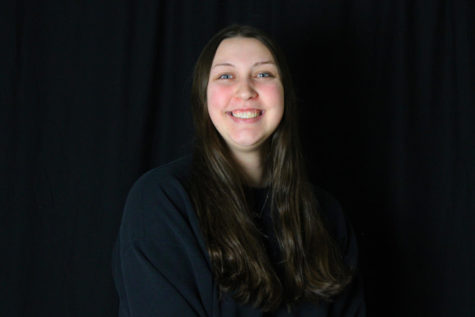 Jerika Razer, Reporter
This is Jerika Razer's first full year on staff, and she is the Feature Section Editor. She is a sophomore at LHS. She has enjoyed her time on staff and...