Everyone Is A Future Leader
It is the end of the school day. The voting booth is open for the next presidential election, and as a senior, you have one choice: Do I participate in the future of my government, or not?  The philosopher Plato once said: 
"If you do not take an interest in the affairs of your government, then you are doomed to live under the rule of fools."
"
If you do not take an interest in the affairs of your government, then you are doomed to live under the rule of fools."
— Plato
Midterm elections are right around the corner. These government officials affect our lives on a daily basis with local laws affecting infrastructure, schools and the environment. If we don't vote for the people that will change things for the better on a local level, then we have already doomed ourselves. These are all things that you need to vote for. So many people just vote for a candidate they have seen before or who has been in office for a long time. That needs to end. 
If you do nothing when you see something that needs to change politically, it will lead to an unjust government. Government is an integral part of our lives. We live under the laws that have been passed in Congress or by local city councils. You do not need to be a politician to change our government. You can be a teacher, student, or nurse. Everyone can and should be interested and involved in the government. 
Many students don't think the government affects them. Why should I care if I don't understand what's going on? However, history teacher Bryon Looker understands the importance of students being involved in government. 
"Democracy is a fragile thing," Looker said. "Historically, they are very difficult to maintain. The United States is somewhat unique in the length of our representational republic. Its future, though, is dependent upon a well-educated populace and young people (students) being involved. If our representational republic fails, then we all suffer the consequences of that failure." Looker said.  
As seniors, you have a choice to make. Will you be involved in government and vote in the next election? It is a grueling process to watch every debate and find the candidate that you want as President of the United States. There are many parameters and there might not be any candidates that you like. It is always important to research the candidates, even if it is just by watching the debates or looking at their websites if they have one. 
"
The ignorance of one voter in a democracy impairs the security of all."
— John F. Kennedy said
Looker says if you want to see change, vote. 
"Young people, age 18 to 29, have historically voted in smaller numbers by a wider margin than any other group," Looker said, "In the last few election cycles, however, that has begun to change. More young people are voting today than at any other time in the last fifty years. Because of this new activism, issues that have meaning to young voters, climate and LGBTQ+ to name a few, have drawn the attention of politicians. They cannot just ignore the under-thirty group anymore. Issues always matter, and young people are very passionate about any number of them." 
Voting is an integral part of our government system. Participating in it is the most patriotic thing you can do. Change only comes with the passion to take action. As President John F. Kennedy said, being informed secures the lives of everyone around you. 
"The ignorance of one voter in a democracy impairs the security of all," Kennedy said. 
Leave a Comment
Your donation will support the student journalists of Logansport High School. Your contribution will allow us to purchase equipment and cover our annual website hosting costs.
About the Contributor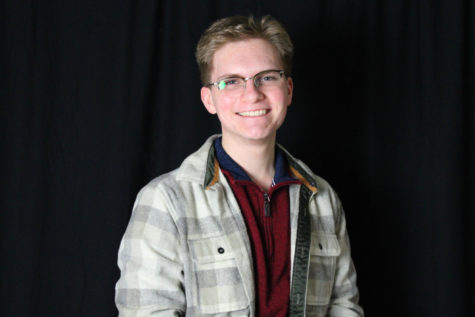 Justin Snay, News Section Editor
In his second year on staff, sophomore Justin Snay is the News Section Editor. He enjoys everyone on staff and wants to continue to learn and work with...