Mascaras de Arte Cultural
An English translation of this article is available as "Cultural Art Face Masks."
Los estudiantes están haciendo máscaras para la clase de Introducción al arte 3D en LHS están haciendo máscaras faciales de arte cultural para otros países que representan su cultura tradicional y el propósito de estas máscaras.
La maestra de Introducción al arte en 3D Nikki Ingalls presentó el proyecto de máscara cultural a los estudiantes para que pudieran ver los usos de las máscaras y lo que realmente significan. Cada estudiante eligió un país para hacer cada máscara tradicional de otros países.
"Elegí este proyecto porque permite mucha libertad creativa y explorar múltiples elementos y principios de diseño. Este proyecto también combina la investigación con la creación de arte (uno de mis favoritos) y se conecta con el próximo Festival Multicultural. Es un proyecto divertido ver el progreso realizado en un par de semanas. Las máscaras, en general, no son un concepto nuevo para los estudiantes, por lo que ya existe cierta familiaridad. Una vez que se les muestran algunas técnicas para reconstruir el molde facial, realmente se convierte en una serie de momentos de resolución de problemas y toma de decisiones para ellos. Me encanta que todos comiencen con el mismo molde de plástico, pero al final su máscara es realmente única," dijo ingalls Profesora.
Algunas de las máscaras y otras obras multiculturales del departamento de arte estarán en exhibición en la galería de arte durante el Festival Multicultural.
"El arte es comunicación y tiene la capacidad de conectar a las personas independientemente de las diferencias de idioma. Las artes también tienen la capacidad de conectarnos con cada parte de nuestras vidas y del mundo. Este proyecto brinda a los estudiantes la oportunidad de investigar diversas culturas y crear un objeto basado en sus hallazgos que otros puedan disfrutar," dijo Ingalls.
La estudiante Daisy Pablo de primer año eligió hacer la máscara tradicional de México.
"Elegí hacer la máscara de Mexico tradicional el día de los muertos que se celebra el primer dia de Noviembre y el segundo día .Y también porque es muy bonita. Me gusta como está todo decorado, La máscara representa a un ser querido fallecido, la idea es bailar en honor a un ser querido para mantener los espíritus cerca," dijo Pablo.
Daniel Castro-Salinas estudiante de primer año de noveno grado eligió representar la máscara de japón.
"La razón por la que elegí el diseño de máscara específico es porque me gusta el diseño de máscara. El país de origen es Japón. Actualmente la máscara se utiliza para actuar principalmente por diversión o entretenimiento y para homenajes a los dioses. Algunas de las máscaras kitsune se usan para rendir tributo a los dioses y la máscara se puede usar para prácticas rituales. Las máscaras se utilizan principalmente para asistir a fiestas de Japón," dijo Castro-Salinas.
Otro estudiante que eligió hacer la máscara de japón.
"Elegí una máscara kitsune porque me gusta la cultura y el estilo japonés. Históricamente, los zorros eran vistos como criaturas mágicas con la capacidad de cambiar de forma. La máscara Kitsune se conoce como máscara de zorro y es una máscara especial que usan los japoneses en ocasiones especiales. Los participantes en ciertos festivales sintoístas o los asistentes usan máscaras Kitsune o máscaras de zorro solo por diversión," dijo la estudiante de segundo año María del Sol López Padilla.
Savannah McMinn de primer año eligió crear la máscara de cultura africana.
"Mi máscara es de África.El significado detrás de esta máscara es proporcionar materialismo a los espíritus invisibles. y elegí hacer esta máscara porque me ayudó a crear un mejor contorno de todos los detalles de mi máscara.y es interesante cómo usan las máscaras durante las ceremonias, bailes y festividades y rituales para conmemorar eventos sociales y religiosos," dijo McMinn.
Leave a Comment
Your donation will support the student journalists of Logansport High School. Your contribution will allow us to purchase equipment and cover our annual website hosting costs.
About the Contributor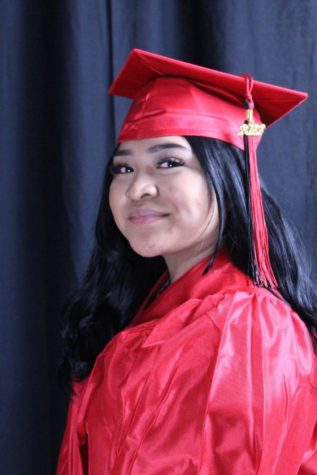 Rosalinda Marcos, Sports Section Editor
Being on the Magpie staff has helped me a lot. I cannot begin to describe the immense impact my three years as a staff member have had on me. So many life...