Nothing Can Stop LHS Spirit
Homecoming has passed for LHS, which included festivities galore: crowning the king and queen, football, booths and games, and spirit week.
This year's spirit week was from September 20th to the 25th, and the themes were:
Monday: College Mascot Day – Dress as your favorite college mascot or wear your favorite college sweatshirt to celebrate College Go Week.
Tuesday: Class Color Competition Day: Freshmen – Green, Sophomores – Yellow, Juniors – Tie-Dye, and Seniors – Purple
Wednesday: On Wednesdays We Wear Pink – Student Council collected funds in support of Breast Cancer Research.
Thursday: Thankful Thursday (Red, White, and Blue) Patriotic Day – Student Council will be collected funds for the Cpl. Humberto Sanchez Memorial Scholarship.
Friday: Red and Black Spirit Day – Let's cheer our Berries to a Homecoming victory.
Even though there wasn't 100% participation this year, there's no doubt Spirit Week unifies the school. There are even fundraisers within the week.
"It's important to build morale in our school among students and teachers. It's one way we have always celebrated Homecoming Week," Student Council sponsor Amy Werner said.
The student council members usually brainstorm ideas as a collective. This year, however, they had a new method.
"I think every year we have done it differently, but this year we split into groups, and one group of people was spirit week. We sat together and threw ideas out and discussed ones that we would be interested in," senior Sasia Linden said.
When deciding the themes, the student body's interests are put first.
"We also take a look into the student body and think about what the majority of people could participate in. We decide on each day, and try to come up with something clever and catchy, then send it out to the student body for them to get creative," Linden said.
With many spirit weeks through the years, there has been good and bad, but it's always unforgettable.
"I think one of the best years was when we had a versus theme for spirit week. Every day was a rivalry. That year, Mr. Dubes dressed up like Voldemort and Mrs. Hagerty dressed up like Hermione from Harry Potter," Werner said.
There are many reasons why students enjoy spirit week. Whether it be a person painting themselves purple or dressing up as a banana, it's always a fun time.
"Spirit week is such a fun time to express yourself in the most bizarre/interesting ways. Participating in spirit week makes me feel like a part of something big. I also love getting/hearing laughs from my peers about the other people participating," Linden said.
Spirit week can inspire students to be a part of something and get pride going, but it also fuels a passion for something else: college.
"In recent years, Homecoming week has fallen the same week as College Go Week, so we like to support College Go Week and incorporate that into one of the days. Friday is always Red and Black day," Werner said.
College Go Week is hand-in-hand with spirit week, and it's inspiring university fervor all around the school.
"College Go Week is to get students to think about the future. As students graduate from Logansport High School, we want them to have a plan. College Go Week is a misleading term; we want our students to be intentional about their future plans. We want to support students, every student is important to us," Guidance Director Karin Combs said.
The week is about students reaching their full potential and focusing on the big picture of students' futures.
"Freshman will create a four-year plan of classes; sophomores will pretend they are the admission counselor and actually evaluate transcripts and take a career interest inventory through Naviance. Juniors will participate in a college board sorting game as well as take a personality inventory to understand themselves and how they relate to others," Combs said.
Leave a Comment
Your donation will support the student journalists of Logansport High School. Your contribution will allow us to purchase equipment and cover our annual website hosting costs.
About the Contributor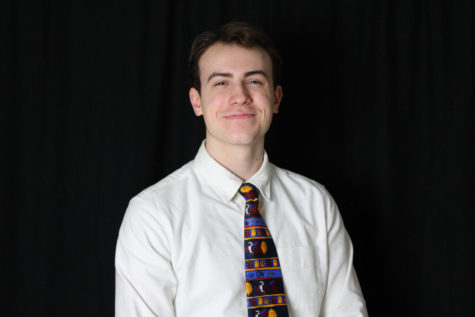 Finley Gay, Reporter
While writing has never been a great passion of mine, it's always been an outlet to express myself. Doing a few articles for Magpie will improve my writing...