Celebrating Hispanic Heritage Month
During the months of September and October, a very important group of people are celebrated every year. Hispanic Heritage Month, which is celebrated from September 15th to October 15th, celebrates and recognizes the achievements, history, and contributions of American citizens whose ancestors came from Hispanic countries.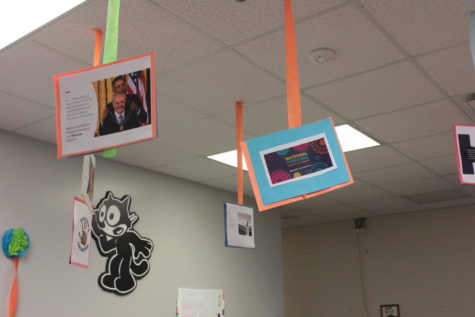 "The importance of celebrating the Hispanic Heritage Month at LHS is to recognize and honor the Hispanic student population in our school for the contributions of their Hispanic cultures in our country and worldwide," English teacher Jitka Nelson said.
During the week of October 11th, many things are taking place to help celebrate Hispanic Heritage Month. When walking to classes throughout the day, students can hear traditional Hispanic music, which at first, caught many students by surprise.
"The music during passing period caught me by surprise at first but I think it's a good way to recognize Hispanic culture and celebrate Hispanic Heritage Month," sophomore Xander Wilson said.
Over recent years, Logansport schools have welcomed a more diverse student body, most being of Hispanic descent. One way that LHS is celebrating Hispanic Heritage Month is through projects and games created by Hispanic students in classrooms and the Diversity Club.
"The entire process began in August when I asked my students how they thought we should celebrate the Hispanic Heritage Month. They answered with many ideas. I made a list and engaged students in finding a partner and with the partner, choosing a project they were passionate about and that would be doable," Nelson said.
Nelson then continued to explain many of the projects and activities taking place throughout the school.
"Students are working on various projects; from organizing a game afternoon in D007, on a Fast Friday afternoon (taking place on 10/01) and a game of 'loteria,' decorating the Dean's office with Hispanic themed decorations, creating posters (posted in the hallway), and Google slides (posted on the LHS website) about various Hispanic countries and cultures, supplying daily morning announcements to the principal, compiling music tracks that are played during passing periods this week, all the way to organizing a mini-soccer tournament (that will take place in November)," Nelson said.
One of the group projects that has already taken place is a game room. Two students that created the game room were sophomores Aimee Martinez and Heidi Guerrero.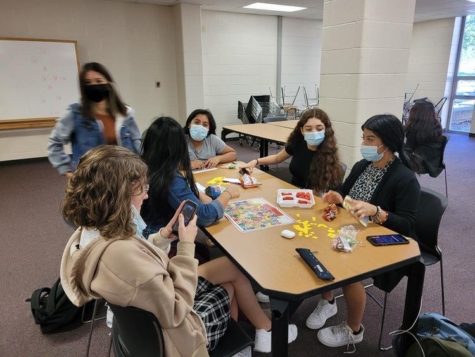 "Our project was a game room during Fast Friday. I think it inspired the concept of games with our Hispanic families. It shows a way to connect with one another and to spend time together," Martinez said.
Some of these games included loteria (a game similar to bingo), Jenga, Uno, and Juego de serpiente y escaleras (Snakes and Ladders).
"We used popular and typical Hispanic games. Usually, you play these games with your family; it represents things like family love," Guerrero said.
Another project that a few students worked on was decorating for Hispanic Heritage Month.
"My project was the decorative artifacts. I liked this project because it was kind of fun to decorate and represent the Hispanic heritage. We did it in the dean's office, and we got some help from the Diversity Club. I put some quotes on the ceiling [in the dean's office]. They show and represent some of the things that Hispanic people said or did," sophomore Andy Aquino said.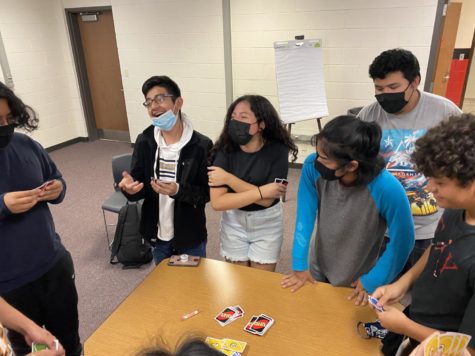 Since a big group of students here at LHS are from different countries; some students decided to do something to help illustrate this.
"We did a slide presentation of about nine different countries, and they were representing students that go here. For example, some kids are from Honduras, Puerto Rico, Costa Rica, and the Dominican Republic. We were just showing where they came from and researched all these different places," freshman Ronaldo Sebastian said.
Overall many students had the opportunity to create their own projects and got to see the importance of celebrating Hispanic Heritage Month.
"The important thing is that students are doing this by themselves from selecting the project, researching, planning , organizing, communicating such as asking for various permissions and coordinating schedules, promoting, executing, and evaluating the success of their project at the end," Nelson said, "They are experiencing what it takes to create and execute a real-world project, what communication and teamwork in the real-world looks like, and how it feels to leave behind a legacy."
Leave a Comment
Your donation will support the student journalists of Logansport High School. Your contribution will allow us to purchase equipment and cover our annual website hosting costs.
About the Contributor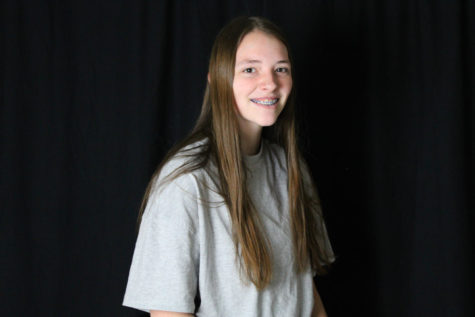 Kylee Langley, Editor-in-Chief
Kylee Langley is a junior and the Editor-in-Chief of Magpie. She has been on the staff for three years and has previously been the section editor for Arts...