Elementary Teachers Awarded for Their Outstanding Work in the Classroom
Continuing to recognize teachers in the school distinct, this week's teachers that were recognized by students and staff were elementary teachers Megan Nicholson from Franklin Elementary and Andrea Perrone from Landis Elementary.
Fourth-grade teacher Megan Nicholson attended Purdue University for her Bachelor's degree in elementary education and has taught elementary students during her nine years of teaching in the classroom.
"After graduating in 2013, I started working at an elementary school in Lafayette teaching 2nd grade. I taught that grade for two years, then taught 3rd and then 4th. I moved to Kokomo and taught 5th grade for a year before making the move to Franklin, where I've been teaching 4th grade for the last four years," Nicholson said.
Before she began teaching, Nicholson shared some of her best childhood memories involved in school.
"I always enjoyed school as a student. I remember pretending and playing school in my room at home as a kid. I had some really great teachers that made me enjoy school and reading. I have always loved learning and loved kids. I love helping others, and a career in education just seemed natural for me," Nicholson said.
"There are so many amazing memories from over the years. One thing I really enjoy is going to the kids' extracurricular events and seeing them do what they love most. In addition to seeing them have fun outside of the classroom, I love keeping up with them after they've left my class and seeing the great things that they do as they grow older. My husband also proposed to me during my first year of teaching and included my students in the proposal. That was extremely memorable," Nicholson said.
"It was a Monday morning on November 25, 2013," Nicholson said, "I was a brand new teacher, just a few months in, teaching second grade at Glen Acres Elementary School in Lafayette. My husband (boyfriend at the time) was a senior at Purdue University nearby. I was talking with one of my teaching teammates in my classroom in the morning before school, and she stayed in my room to chat. As time went on during our conversation, I started wondering about where the kids were. The bell rang several minutes ago, and no one was in my room yet. Then, my teammate asked me to step out into the hallway. To my surprise, my entire class was lined up outside my classroom, each student holding a letter with the question "Will You Marry Me?" It was perfect! Obviously, I said yes, and the rest is history."
In her years of teaching, she has been known for having an ability to interest her kids in learning as well as having a big heart for all of her students.
"Mrs. Nicholson serves on numerous teams and committees not only at Franklin Elementary but also within LCSC. She brings excitement to her classroom every day through engaging lessons that learners of all abilities can participate in. She never misses an opportunity to invest in her students or colleagues, providing continuous praise. Her ability to encourage students and staff has had an immeasurably positive impact on our school," Franklin principal Michael Miller said.
Andrea Perrone has been teaching 5th grade at Landis Elementary for 27 years now and is very passionate about her profession.
"I had always wanted to be a teacher. I was a cadet teacher my senior year in high school, and I enjoyed working with many different ages of children at church. When I got hired to teach fifth grade at Landis, I couldn't have been happier. I take my job very seriously, and I hope to help my students to enjoy learning and see their potential. I always tell them I am their cheerleader. They can do anything they set their mind to do," Perrone said.
When it comes to educating elementary kids, there can be some challenges, but Perrone makes it look easy. She enjoys instructing and strives to make learning enjoyable.
"Anyone who knows me, knows I love my job. Getting my class list and finding out who will be the new students for the school year is just the best. Fifth graders can sometimes be challenging, but I work very hard to make learning fun and help my students to become life-long learners," Perrone said.
Students from past years have shared some of their favorite memories about Perrone. From after-school activities to her warm comforting smile, Perrone has made a huge impact on every one of her students.
"In 5th grade, I came to Landis a month into the school year, I felt out of place, but Mrs. Perrone showed me around and was the best and my favorite teacher to this day. She always made everything we would learn fun and interactive. My favorite memory is from Battle of the Books. Mrs. Perrone was one of the coaches, and I remember sitting in her room with my friends, eating pickles and reading books," freshman Lily Yax said.
In the many years, Perrone has been teaching she has had many memories and accomplishments including her Crystal Berry Award.
"I would have to say a very special memory was receiving the 2019 Crystal Berry Award in the Landis gym in front of all the Landis kids. The love I felt on that special day still makes me teary-eyed," Perrone said.
Words from Nicholson's Parents and Students:
Kira: She has made so many people feel good about themselves. Last year, when I had her, I was getting bullied, and now I feel better about myself. I'm so happy I've met her. She has changed my life.
Kayla Kamp: She had both of my kids and was amazing. She had my daughter in times when things were changing in her life, and she helped her in so many ways. She is doing the same for our son. She goes to their games, and she is always there if I need her as a parent. I know that I can come to her with anything.
Edward Sosa: She had my back when I had a bad day. She is funny, caring, and welcoming. She is so nice that every day when I go to school, I go to see her in her classroom. I am sad because it's almost the end of the school year, and I am going to miss her a lot. She's just a great teacher overall.
Interview with Megan Nicholson:
How has being a teacher affected you?
My heart has grown enormously since becoming a teacher. I absolutely love my job. The kids teach me so much, and they make me laugh and smile daily. It has brought so much joy to my life. Being a teacher even prepared me a little for being a mom! Another part of being a teacher is being a mentor to other teachers and a supportive colleague. I have been blessed by so many amazing educators in my time as a teacher.
If you could go back and give your past self advice on being a teacher what would you say?
I would tell myself that I do not have to be perfect. (AKA, I don't have to stay at school until 10:00 p.m. every night to do my job well!) I would give myself a little more grace and remind myself to always have fun and stay open-minded!
Who is your biggest role model?
My biggest role model in my life would have to be my grandmother. Unfortunately, she passed away several years ago, but the way she loved others is how I aspire to be. She had unconditional love for everyone she came in contact with and she always had a positive attitude. Even though the days are difficult sometimes, I always try to remember the positives!
Andrea's Parents and Students:
Nancy Sabatini: Mrs. Perrone goes above and beyond the curriculum. Her students adore her and their scores always show how they perform well for her.
Joseph Dexter: It was the fifth grade awards day, and I had won the citizenship award. Then, we watched highlights of the school year. I was on the verge of tears, but then, when I was about to go find my parents, Mrs. Perrone awarded me the award that made me cry, so she hugged me until I stopped and told me I deserved the award. That was one of the greatest days of my life and also the saddest way to say goodbye.
Interview with Andrea Perrone:
If you are able to share, what has been your favorite memory over the years of being a teacher?
My favorite parts of teaching are projects and field trips. It's been hard to do activities in the past few years because of COVID, but I love taking field trips to "The Trail of Courage" and helping students present their state research at "Night of the Nifty Fifty."
If you could go back and give your past self advice on being a teacher what would you say?
As an educator, I have grown so much over my career. I would probably tell myself to always teach from your heart and to always do what is right for kids.
Who is your biggest role model?
My parents have been my biggest role models. They have worked hard their whole lives, and they always gave 100% to be successful. They both worked full-time jobs, they farmed, and started and ran their own successful business.
Leave a Comment
Your donation will support the student journalists of Logansport High School. Your contribution will allow us to purchase equipment and cover our annual website hosting costs.
About the Writer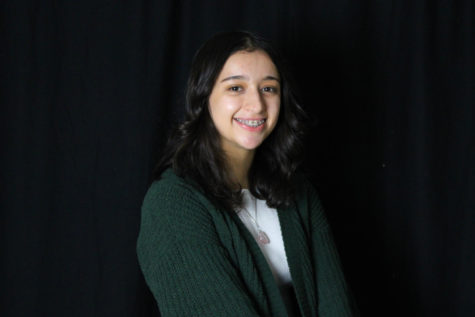 Emily Sanchez, Managing Editor
Emily Sanchez is a junior and has been a part of the staff since her freshmen year in 2020. Emily currently serves as co-Managing Editor. She enjoys writing...