Olivia Rodrigo "Sour" Album Review
Olivia Rodrigo has been known for acting at a young age in commercials and on Disney Channel. After her breakup in 2020, she decided to pick up songwriting which is a passion of hers. The album talks about what any teenager would think. Boys, teenage heartbreak, and insecurities. This article is a review of the album and what others think of it.
A lot of people know the popular teen artist Olivia Rodrigo. Most people know her from her album called "SOUR" which she wrote when she was only 17. She released SOUR on May 21, 2021. The SOUR album has many songs, but they are over a breakup she recently went through. She named it SOUR because it means "awesome things" in her life that went "sour." Nearly 280 million people have listened to the SOUR album since it came out. The SOUR album really hit the teen girls that were all going through a rough time in their life just like Rodrigo did.
Rodrigo's music has helped many teens around the world process and understand their emotions, especially when experiencing difficult situations in the way only a teenager can. Many teens report feelings connected to Rodrigo's music in a way that doesn't come without generally understanding the way they feel and why. In the SOUR album, she has many great songs.
When she released "Driver's License" in the SOUR album many people started making Tik Toks with the song. It was mainly teen girls that did this. While they are driving, they would scream at the top of their lungs to the lyrics. However, "Drivers License " is one of her most popular songs. Rodrigo ended up changing the lyrics to "Drivers License" before she released it. Many people liked the original lyrics before she changed them. Olivia originally had the lyrics as "I don't believe you when you said I did nothing wrong" but then changed it to "Guess you didn't mean what you wrote in the song about me." People are hoping that Olivia will make a song that has the original lyrics in it since so many people like it. When Olivia was making the SOUR album, she would spend 6 hours a day every day on the music coming up with lyrics, beats, etc. The hardest song Olivia wrote in SOUR was "Jealousy, Jealousy." She wrote 4 different verses before she finally liked the one she did. Olivia's most popular song is Good 4 You that's in the SOUR album. This is the number one song that people loved to scream while driving. Good 4 You have reached number one in 23 different countries. United States, United Kingdom, Canada, Germany, Australia, etc.
1. Brutal
2. Traitor
3. Drivers License
4. 1 Step Forward, 3 Steps Back
5. Deja Vu
6. Good 4 U
7. Enough for You
8. Happier
9. Jealousy, Jealousy
10. Favorite Crime
11. Hope ur ok
Leave a Comment
Your donation will support the student journalists of Logansport High School. Your contribution will allow us to purchase equipment and cover our annual website hosting costs.
About the Contributor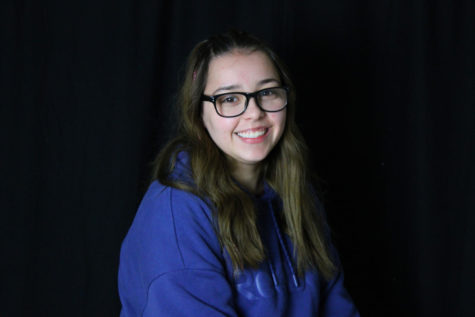 Hannah Army, Photographer
The thing I love about Magpie is how the whole staff team is always there for each other. We have inside jokes with each other, and we are all close friends....