Ryan Reynolds & Hugh Jackman Return for Deadpool 3
On Sept. 27, actor Ryan Reynolds uploaded a short video on YouTube titled "Deadpool Update." In the video, Reynolds speaks about Deadpool's first appearance in the MCU and how his appearance needed to feel special and stay true to the character
"I got nothing, just completely empty up here and terrifying," Reynolds said. "But we did have one idea."
He then asked Hugh Jackman, who crossed behind him, a question.
"Hey Hugh, you want to play Wolverine one more time?"
Jackman shrugged while eating an apple before responding. 
"Yeah, sure Ryan," Jackman said.
Twitter was trending with the news, never thinking that Jackman would want to play Wolverine again after declaring he was retired from the role. There were some fans who thought that bringing him back would be repetitive and that they should find another person instead of Jackman. Others thought that it would be wonderful seeing Jackman return once more.
"Although I'd like to see someone else have the chance to put their spin on the role in the MCU, I'm happy to see Jackman return as Wolverine for 'Deadpool 3,'" English teacher Chris Pearcy said. "Ryan Reynolds and Jackman have always had this pretend rivalry going on where they jokingly poke fun at each other through the media."
Jackman's last portrayal of Wolverine was in the 2017 film "Logan" having played the character of Wolverine since 2000, Jackman has been playing the character of Wolverine since he was 30, and by the time 'Deadpool 3' releases, he will be 55 years old. 
In the follow-up video, both Reynolds and Jackman sat down and explained that the events that took place in "Logan" are separate from 'Deadpool 3' and that they are not touching anything that happened in "Logan."
"I never really got into the Wolverine movies, I liked the original actor being the person playing would fit the vibe of the movie," sophomore Jackson Combs said."I think that they should keep the original actors in movies instead of changing them, it's like Johnny Depp, you can't just recast actors for no reason"
"'Logan' takes place in 2029, a totally separate thing," Reynolds said. "Logan died in 'Logan.' Not touching that." Reynolds goes on to explain the plot of the movie but gets tuned out by "Wake Me Up Before You Go-Go.
In 2019, when Disney bought the rights to 20th Century Fox, Deadpool fans were skeptical about Disney not keeping it R-rated like the previous two films. They wanted to see a more gruesome film out of Disney, not a P-13 one like the rest of their superhero films.
"The first Deadpool movie is a little explicit. It's way more of an adult movie. The second one is nowhere near a child's movie, but it is a little less explicit and a little has more of an 'I might throw up while watching this,' kind of feel," sophomore Jakson Combs said. "They are both amazing movies, the comedy is amazing, and I love how they break the fourth wall all of the time. I love when characters talk to you in their movies. It's really amazing."
Leave a Comment
Your donation will support the student journalists of Logansport High School. Your contribution will allow us to purchase equipment and cover our annual website hosting costs.
About the Contributor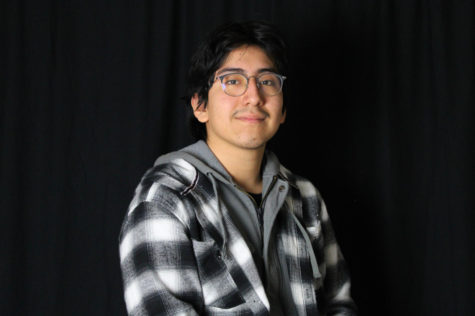 Ared Ruiz, Reporter
Sophomore Ared Ruiz is a member of the Class of 2025 and serves as a reporter. This is his first year on staff. He decided to join Magpie right after his...