12 Days of Christmas Movies
For over 12 decades, Christmas movies have been a popular hit all around the world and have been known for their nostalgia. Some of the Christmas classics like "Home Alone" and "A Christmas Story" became big hits after being released in the 1980s and 1990s and are a part of family Christmas traditions to this day. The first-ever Christmas movie was released in 1898 and called "Santa Claus." It was a British short film that features Santa Claus delivering presents on Christmas Eve. Ever since this film was released, there have been a wide variety of amazing movies when it comes to the Christmas genre. These films do not only bring families together but make them feel the true feeling of the holiday spirit.
"I think people are always looking for a source of light in their lives, especially around the holidays. For me, Christmas movies remind me of my childhood and opening presents in the morning. There's something about nostalgia that keeps me and others coming back to them," sophomore Finley Gay said.
Christmas is a holiday that is celebrated on December 25th, but sometimes celebrated early on the 24th. Some families watch these Christmas films on the 24th or before Thanksgiving. It celebrates Santa Claus, the father of Christmas who delivers gifts to children, and is celebrated by millions of people all around the world. It is a celebration filled with family, food, and festivities. Traditions like decorating fir trees and exchanging gifts were popular way back in 336 by the Romans, and they became popular after the 19th century in America.
With the holidays coming up, the LHS Magpie staff surveyed students and staff to vote on their 12 favorite Christmas movies. Students and staff chose 12 Christmas movies out of the 21 listed but had the option to also add in their own responses. The votes are counted and the results are down below. After calculating the votes, some people added in their favorite Christmas movies that have people second-guessing if they are really considered Christmas movies or not. Some of the movies that were added to the list were "Krampus," "Die Hard," and "Gremlins." These movies should stay in their own category and not be considered Christmas movies in my opinion. We want holiday cheer, not holiday murder.
"I think 'Krampus' is considered a Christmas movie because it takes place at Christmas, and its central message is how important it is to embrace hope during the Christmas season. It is a horror movie, but the things that happen to the characters in the film happen because they lose hope in each other and in the Christmas spirit. 'Krampus' has existed as a figure in folklore since before the 17th century, and in many European traditions is celebrated right along with Saint Nicholas, balancing Santa's rewards for being nice with the punishments of Krampus for being naughty. Some people might hold the opposite view of mine, primarily because 'Krampus' is a horror movie, and they don't believe horror and Christmas should mix. They might also think it's not a Christmas movie because they believe that Christmas movies should only focus on the positive. Those are valid beliefs, and I respect those people's right to make their own judgments about what makes a Christmas movie," English and theater teacher Anthony Kinney said.
Christmas movies can be described as films that depict what the Christmas holiday and festivities are like. Many themes that occur in these films are love, family, hope, and faith and it has been proven that they help reduce levels of stress and anxiety. They may also help strengthen relationships due to the nostalgia that comes in these films.
"My opinion on Christmas movies reducing stress and anxiety is that they do help! Sometimes we get so caught up in schoolwork and our duties that we forget about the Christmas spirit and spending time with our families. Christmas movies often remind me of my childhood, when life was relaxing and stress-free. By watching movies with your family, you get to bond and laugh together, simply destress during stressful times. We must remember life goes on and spending it with your family and friends, while binge-watching 'Elf' can make the experience a whole lot better," junior Luna Tafolla said.
12. The Christmas Chronicles
This movie is about two kids named Kate and Teddy Pierce. Their goal is to capture Santa Claus on Christmas Eve, but after their plan goes wrong, they have to try and save Christmas with Saint Nick who isn't as jolly as everyone thinks.
"The Christmas Chronicles" is different from most Christmas movies; it's about a brother and sister who come up with the idea of catching Santa Claus, and when their plan goes sideways, they have to join forces to save the holidays. Well, throughout the movie, you just see them grow from being broken to whole. What makes it stand out is that it's a Christmas adventure that no other Christmas movie has done. Santa isn't as jolly as people depict him to be also," sophomore Aaron Banuelos said.
11. National Lampoon's Christmas Vacation
This Christmas classic is about the main character, Clark Griswold, who wants Christmas to be perfect, but after things start to go wrong and unexpected family members decide to show up, Christmas might not be so perfect after all.
"National Lampoons is a family classic of a Christmas movie. Everything from Chevy Chase reprising his role as Clark Griswald to the cat getting electrocuted under the chair, you can not go wrong with this movie. The first time I saw it was probably when I was about 6 or 7, and since then it's been the movie I like to sit down and watch with my family at Christmas. I think it has that traditional family Christmas feel while also cherishing the insanity that is Clark and his family," sophomore Sam Fultz said.
10. Jack Frost
Jack Frost is the main character in this movie. It's about how he doesn't have much time for his wife and son and how he gets in a car crash and tragically dies on Christmas day only to be brought back to life as a snowman after his son plays a song on his harmonica. He then gets a second chance at life and to make up for lost time with his family.
"I chose 'Jack Frost' because it's one of those movies people don't really think of much when they think of Christmas movies. I also love how they portray him in the movie. I feel as if they did a good job of making him look like how you would imagine," senior Chloe Kistler said.
9. The Santa Clause
This movie was made in 1994 and has been a Christmas classic for years. It's about a divorced dad, Scott, who has custody of his son for the holidays. After killing a man in a Santa costume, Scott is magically transported to the North Pole to take Santa's place before Christmas arrives. He then starts to put on weight and grows a beard as time goes by and has to take Santa's place just in time for the holidays.
"I chose the Santa Clause because it's one of those classic Christmas movies and a favorite of mine. I love the story, acting, and everything else about it. I especially love the other movies in the Santa Clause franchise. Christmas is my favorite time of year, and I can't wait to watch all of these movies again," freshman Justin Snay said.
8. Frosty the Snowman
When a group of kids build a snowman, he magically comes to life with a magical hat. Throughout the film, a magician wants his magical hat back but the children refuse. With the warm temperature starting to rise, Frosty then hops on a train to the North Pole to never melt again.
"I just remember it as a classic! I think I remember it being pretty low on the list because I hadn't seen any of the other movies. But, either way, it's a classic, and the titular song gets stuck in your head," senior Liam Gay said.
7. Rudolph the Rednosed Reindeer
This movie has been around for many years. It was made in 1964 and narrated by Sam the Snowman. It tells the story of a young reindeer who feels like an outcast after being teased for his red nose. He then teams up with Hermy, an elf who wants to become a dentist, and Yukon Cornelius, the prospector to find a place where people will accept them.
"Rudolph and Frosty have had this sense of familiarity to them as I've always watched them before. Something about them just seems timely to me, and they pop out as Christmas classics. I suppose a part of that might come from all the songs I hear about them too," Finley Gay said.
6. A Charlie Brown Christmas
This movie takes a different direction after Charlie Brown, the main character, tries to find the meaning of Christmas after being down about the holidays and what he sees around him. He then is mocked by his friends after bringing a puny-looking tree as a centerpiece for a play he wants to direct about Christmas.
"So, this is actually one of the first Christmas movies I remember watching on TV back before the days of streaming services. It's a nostalgic pick for sure, but the whole thing is great; it's the perfect length. There's plenty of fun humor mixed in, and the overall message (life isn't perfect; make the best of it; remember what Christmas is all about) is excellent, especially during this time of year in a society that promotes commercialism. Most importantly, the music is epic. Every time I watch it now, I'm reminded of the first time I saw the film. I think it stands the test of time and, to me at least, it was worth including in my top 12 list over some of the newer movie options. There's also something new that catches my eye every time I see 'A Charlie Brown Christmas,' whether it's a character I overlooked the first time around, discovering new-to-me meanings in some of the jokes as I age, or just spotting a new dance move while the characters practice for the play they're performing. All in all, it's a movie I happily rewatch during the Christmas season," History teacher Brigid Strickling said.
5. The Nightmare Before Christmas
This film talks about Jack Skellington, the pumpkin king. After being frustrated with the same routine of Halloween he goes for a walk and discovers magical doors that lead him to Christmas Town. He is fascinated and goes back to tell the others and to make sure he took care of Christmas for the year. Things get a little out of control, and it's a great movie to watch during Halloween and Christmas.
"I have loved this movie since I was little. My oldest sister and I used to watch it together not only for Christmas but also for Halloween, so it was frequently played in our house. I absolutely love the variety of music throughout the entire movie; plus, the way that Jack, the main character, is trying to find who he truly is has stuck with me through the year of moving and meeting new people. Overall, it's a great movie and can be enjoyed by all ages instead of being just for children or just for adults," junior Isabella Padilla said.
4. Elf
This film follows Buddy, the main character, who is accidentally transported to the North Pole as a toddler and raised to adulthood by Santa and his elves. After feeling like he doesn't fit in, he travels to New York to find his real father. After showing a DNA test that they were in fact related, he then tries to form a relationship with his father, but things start to take a toll at the end.
"I first watched 'Elf' way back in probably 3rd grade, and ever since then, we've made it an event to watch it over Christmas break. My parents also have their own tradition to watch 'Love Actually' every year as well! 'Elf' was my top pick, primarily because that's our yearly Christmas tradition, so that movie has a special place in my heart," Finley Gay said.
3. Dr. Seuss' How the Grinch Stole Christmas
This film follows the Grinch who is a grouchy and coldhearted creature who tries to cancel Christmas for all of the who's in Whoville. He plans to steal all of their decorations, food, and presents in the middle of the night and realizes that Christmas isn't about all of the presents. It's about love.
"My top choice on the survey was 'How the Grinch Stole Christmas.' I've personally always loved this movie. All the versions are so fun. I also think it tells a good story and has a good message. It was my first choice because I think we all feel like the Grinch sometimes, but in the end, his heart grows so it shows character growth, and we can all relate. I personally haven't seen all the movies on the survey, so it was easy for me, and multiple of the movies in the survey I've seen plenty of times and have really touching memories that come along with them," sophomore Carissa Dawson said.
2. The Polar Express
With this film being made in 2004, it did surprisingly well after following the life of a young boy who takes an unexpected train ride to the North Pole. He then learns that the wonder of life never fades for those who believe. He goes on a self-discovery journey with new friends, and it is a great movie to add to your Christmas list this year.
"The reason why I chose 'The Polar Express' as one of my top 12 favorite Christmas movies is that my family and I watch it together at least once a year. I still have memories from when we were younger and would go to Indy to watch 'The Polar Express.' We always reference the movie and always enjoy watching it around Christmas time, or really any time of year," freshmen Emilia Rozzi said.
1. Home Alone
When 8-year old Kevin McCallister acts out before a family trip the next day, his mom makes him sleep in the attic. After going to sleep wishing that he didn't have a family, Kevin wakes up and is surprised that the house is quiet and remembers that they had to leave for the airport that morning. His wish had come true that night, but after some time the excitement wears down as he finds out two con men are trying to rob his home. He then knows that he is the only one that can protect the house.
"'Home Alone' was one of my top favorite movies because of the humor it gives off. There's six 'Home Alone' movies, and they are all different in so many ways, so you can't get tired of them. I love how the little kid always wins instead of the adults, and the movie shows that kids can do anything that they put their mind to. Just the creative ways the kids come up with to catch the bad guys are just so unique and make me laugh," junior Jenna Gross said.
Leave a Comment
Your donation will support the student journalists of Logansport High School. Your contribution will allow us to purchase equipment and cover our annual website hosting costs.
About the Contributor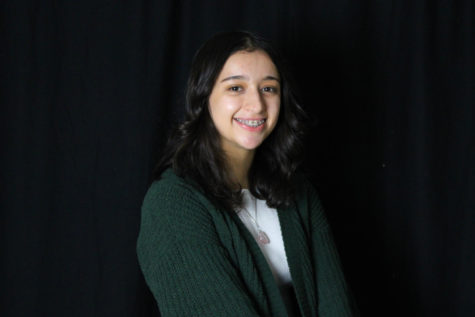 Emily Sanchez, Managing Editor
Emily Sanchez is a junior and has been a part of the staff since her freshmen year in 2020. Emily currently serves as co-Managing Editor. She enjoys writing...