Q&A with Lauren Saldivar about Playing Girls Soccer
How do you feel about upcoming sectionals?
Honestly, I'm kind of nervous for the girls who will be playing, but I have faith that they're going to try their hardest. I'm just hoping for the best right now.
How do you prepare for sectionals?
We do drills, and right now we've been practicing setting up for the game and doing certain playing positions. Also, just kind of practicing penalty kicks and corner kicks.
What do your practices look like?
Usually, we just start off by doing drills, like going back and forth. Sometimes, we do suicides which sucks. The coach usually has us working on running and then we do ball work. Basically, we get a partner, and then we just do passing with headers and chest bumps, and stuff like that. From there, he just picks most of what we need to work on.
How do you feel about the season coming to an end?
Kind of sad, not gonna lie. I had a lot of fun with the girls this year and hopefully, next year will be just as fun. I feel like this has been a pretty decent year. I mean, we could've done better, and I feel like my personal performance could've been better, but overall I just really liked it and it was a lot of fun.
Have you met any new people you didn't expect to be friends with?
I actually met a lot of new freshmen and sophomores that I'd seen before but never talked to. I never thought that I'd be friends with them, but I've actually made close friends with most of them.
What were your goals for the season and did you accomplish them?
Just to improve my own personal performance and have more faith in myself when I go on the field. I definitely could have improved more, but I feel like I'm better than I was last year.
What are you hoping will happen at sectionals?
Obviously, I want us to win, but we're gonna see how that plays out. Honestly, I just want all the girls to be content with how they perform, and I want to make sure that they've performed to the best of their ability. I'm gonna try and support them through that.
How do you feel about your teammates?
I mean they are all pretty cool and funny. I just enjoy being around them a lot.
How do you physically prepare for soccer?
Physically, make sure you do stretches, they're the most important thing you have to do. Just make sure you get yourself pumped up and mentally prepared as well.
Do you guys do anything with the team outside of the practices and games?
Recently, we had dinner at our coach Todd's house, and it was really amazing. They had a volleyball net and so a bunch of the girls were playing volleyball. They also had this swingset thing that we all just kind of messed around with. It was really fun. We got to interact with the team and just show our chemistry and how we really bonded together.
Leave a Comment
Your donation will support the student journalists of Logansport High School. Your contribution will allow us to purchase equipment and cover our annual website hosting costs.
About the Contributor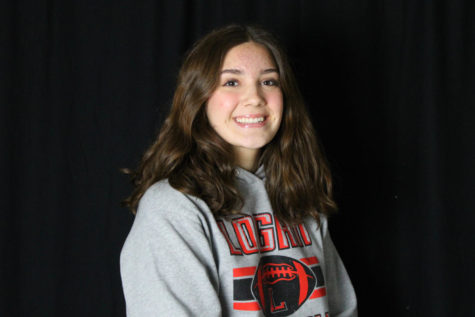 Isabella Lucero, Reporter
Isabella Lucero is a sophomore at LHS and is a member of the Class of 2025. This is her first year on the Magpie staff as a reporter and photographer....