Sports Briefs: LHS Gymnastics Team Flips Through the New Season
As the new season for winter sports starts to begin, gymnastics is one of those sports that is well recognized. So far, the LHS gymnastics team has competed in four meets and is practicing hard at every practice in the hope to strengthen their skills as a team.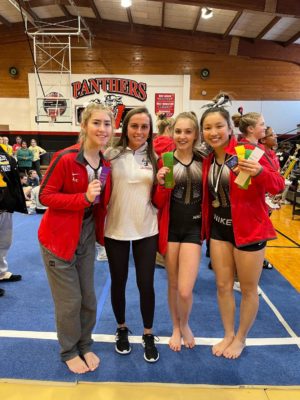 "This season is going in the right direction. We are a month out from sectionals, and I could not be more eager for each practice. Each girl has something unique to bring to the team. Even though we are small in numbers, these girls are strong and mighty," coach Kelley Platt said.
With only having three people on the team, it can be challenging for some of the gymnasts.
"I think this season will be different because since there are only three girls, there is more pressure on us since they take scores on each event, so we really don't have anyone else to fall back on if one of us makes a mistake. I'm excited to get deeper into the season and ready to get back out there," sophomore Lexi Brown said.
Challenges on the Swim Team
A lot has happened this swim season, the team numbers have grown, COVID has affected them again, but it hasn't stopped them from doing their best every day.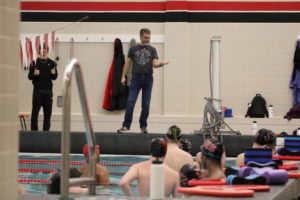 "NCC's went great. The swimmers and divers don't need to prove anything to me or the other coaches. We know the potential this group of kids has. I think that because of the hard work they put into practice every day. They have proven to themselves that they are better than what they think," coach Michael Shannon said.
They have hit a few bumps in the road, but all in all the coaches are pleased with the progress of the team. The athletes are very supportive of each other and celebrate their successes, no matter how small.
"There have been injuries to a few of the returning swimmers," Shannon said, "Out of our seven seniors, five have had injuries that have kept them out of the water for extended periods of time. And the challenge of being quarantined, disrupting our practice two weeks before girl's sectionals, " Shannon said.
Leave a Comment
Your donation will support the student journalists of Logansport High School. Your contribution will allow us to purchase equipment and cover our annual website hosting costs.