Q&A with Jason Spear About Making the Transition to Division 1 Football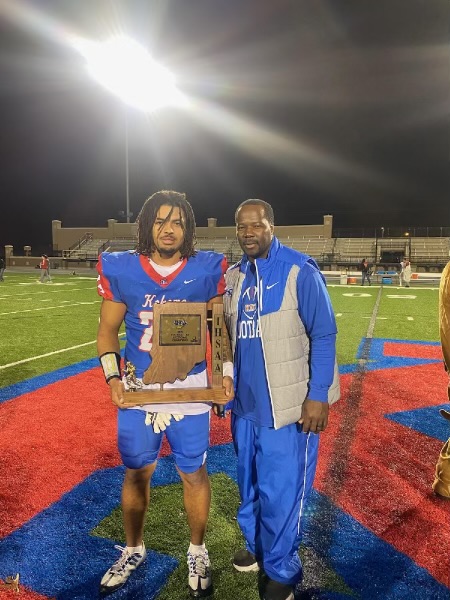 Jason Spear was a talented football player when his mom decided it was best for him to attend school and stay in Logansport. With the help of some great coaches and people around him, he became comfortable with the transition. Spear had one of the strongest careers anyone has ever had in the football program.   
What year did you move to Logansport to attend school? 
I lived in Los Angeles, California with my mom. I went back and forth from middle school and freshman year. I had to stay at the end of the freshman year because of mom's decision in Feb. 1993. 
What sports did you participate in throughout your time at LHS? 
Other than football, I tried basketball as a freshman, in California, and as a sophomore at Logansport. Despite the fact that I liked basketball, it didn't work out for me, and I quickly discovered my love for wrestling. I regret not taking wrestling more seriously, but I did learn a lot from it and was able to apply what I learned to football in terms of leverage, aggressiveness, and, most importantly, toughness.
What was your favorite memory through football at LHS? 
In 1995, late in the season of my senior year, we won the conference at Richmond by kicking a game-winning field goal. Winning the conference with the guys I had been playing with since the tenth grade was a big deal. I think at the time, we hadn't won the conference in about twenty years, so it was an even more significant deal for us and the program. Given our team's size in comparison to other teams and our ability level, winning a conference in a sport like football can be very challenging, which is why it is such a memorable experience. 
What year did you start taking football seriously and working harder to earn a starting spot?
When I was in Los Angeles as a freshman, I played at the same high school that Suge Knight went to, Lynwood High School. Some of my coaches had known him from their years in high school and had multiple experiences with friends and family playing division one football in the Pac-10. I decided it was time to put in the effort and become the greatest player I could be even after returning to Logansport since the coaches committed to assisting us, and we had players going to college to play. 
Do you remember how many rushing yards and touchdowns you had your senior year? Do you hold any records at LHS? 
I am one hundred percent sure that I rushed for over one thousand yards every year I played. However, I am not completely familiar with how many rushing yards or touchdowns I had. I think that I may have had a couple of records broken that consisted of carries and total yards, but my memory is a blur when it comes to my stats not just because of how long ago it was, but because we had some great players. It was a total team effort. That is why the team was so special because we had the perfect plays for the skilled personnel that were in the game. 
What schools were reaching out to you? 
The top three schools that I narrowed it down to were Indiana, Purdue, and Michigan State. These were the schools that I thought I had the best chance to go to and keep playing. They were all in the Big Ten Conference, and Nick Saban was actually the coach at Michigan State at the time. I chose Indiana because I loved Coach Mallory, and after my freshman year, he was fired. Looking back now, I am glad I stayed as an adult, but I could have made a transition because it made my career a little different. However, I believe everything happens for a reason, and it helped me learn how to adjust and help me become a better, stronger person. 
During your time at Indiana, what was your daily schedule like? Was it easy to adapt to practices, workouts, and study habits? 
It was completely different because I was the first group to get up and lift early in the morning. Believe it or not, my strength coach at Indiana was Aaron Wellman at the time. He has been to multiple Division l colleges and even spent time as the New York Giants strength and conditioning coach. He is now back at Indiana in his third season as senior assistant athletic director for football performance. Straight from workouts, I had to go to class and didn't get done until one, when I went right to practice. After practice, with the time I had left in the evenings, I would eat dinner and try to live a normal college life by studying and getting ready for the next day. It was a very demanding schedule, and you are going to find out that there are some great things about college. Nonetheless it is not easy, and it's a lot of work when you are trying to compete and play ball against elite players, but also get your studies done for your life after football or any sport you are in. My transition was already pretty tough when leaving my family from California, so going to college was not a big deal to me since I had family in Logansport to travel back to. 
When did you become a starter at Indiana University? Do you hold any records at Indiana University? 
During my time at Indiana, I trained behind some really good backs. One of the big time backs I was behind in the depth chart was an Indiana Mr. Football winner who goes by the name Alex Smith. Alex was a freak, and I learned a lot from him in just one year. He had another year to show off his skills. But we got another coach, and he didn't want to take any chances by declaring for the NFL draft. I started some games my freshman and sophomore year, and I believe at the time that I broke the record of receptions by a running back in a game with sixteen. I ended up not playing my junior and senior year because there were some great recruits that came up behind me. I played a few here and there, but we had a very good quarterback, and we changed up the offense. 
After college, where did life take you from your playing career to a professional career and a family? 
In August 1997, just before my second year at Indiana, I had a daughter. My graduation and looking forward to the next stage of life were more important to me than missing some time from football. Being the greatest father I could while also enjoying what I do for a job, which is coaching, was the next step for me. The wonderful coaches I was fortunate to have, including coach Gaumer, Baldini, Ness, Pomasl, and Parky, inspired me to pursue coaching. I love each and every one of them, and I learned more from them off the field than I did on it. Coach Pomasl served as a fill-in instructor, and coach Gaumer served as the dean of students. I began teaching in 2001, and I have continued doing so ever since. I am currently in my 22nd year of teaching. I also started working as an administrative assistant during that time, and I loved it more because I could assist so many people with anything. I currently serve as Kokomo's vice principal and a coach of the football team, which includes my son. I live by the law of addition. If I am not trying to help somebody else, if you aren't trying to help somebody else, and if you are pulling somebody down, then you are doing the wrong thing. If you are adding to someone's value, I don't care if it is something simple. That is something I have always wanted to do. I get in trouble for this at school sometimes because I am one hundred percent kid first. That doesn't mean I am not supportive of anybody or anything else, but it's a message that we are there for kids, and if we aren't there for kids, then you should probably be doing something else. Even before coaching, I take more pride in how I can be there and support any kid's success. 
Leave a Comment
Your donation will support the student journalists of Logansport High School. Your contribution will allow us to purchase equipment and cover our annual website hosting costs.
About the Contributor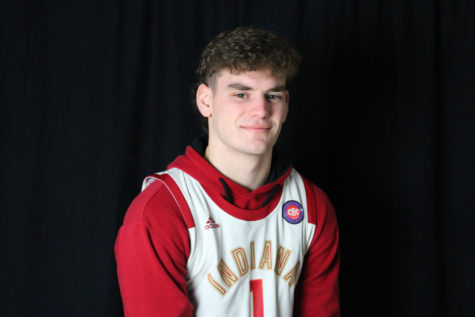 Jeremiah Miller, Reporter
Senior Jeremiah Miller is a new member of the Logansport High School Magpie. On the staff, he mainly covers sports/opinion articles. One thing he loves...