LHS Students Get Vaccinated
On the historic morning of Friday, April 16, 2021, students gathered at the top of the Berry Bowl to get a first round of the COVID-19 vaccine.
Serenity Alter is the Administrator for the Cass County Health Department, who was overseeing the immunizations for the morning.
"This morning, we're doing a clinic so the students can get immunized. 16-year-olds and 17-year-olds can get the Pfizer vaccine, and 18-year-olds can get both the Pfizer or Moderna vaccines."
This is the first clinic the Cass County Health Department has done for high school students. Students who received their vaccines today will come back on May 7 for their second dose of the shot.
Students shared why it was important for them to get the shot.
"My mom has lupus, so she's really prone to getting sick. I did as much for her as anything," said junior Mitchell Albright.
Most students got the vaccine for the safety of their family and friends.
"Some of my family members have passed away due to COVID-19. I wanted to be safe, and my parents did, too," said sophomore Maria Mancera. Her grandmother and uncle passed away due to complications with the virus last year.
Other students received the vaccine to encourage their family to get it with them.
"I got the vaccine to encourage my younger brother to get it and to stay safe during the pandemic. My younger brother is a lot more reluctant to do things, and when I try something, he's more open to it," said sophomore Jaden Chin Hong.
Giving the vaccines today were mostly junior students from the Indiana University Kokomo campus.
"The benefit outweighs the risk when getting the vaccine. There are obviously a lot of people who have died from COVID, so I think it's very important that we're here to help and watch to make sure students don't have any adverse reactions," said Christiana Hopper, a Junior 1 in nursing school. This was her second time helping to give the COVID-19 vaccine to people.
The nurses at IUK advise anyone that is eligible to get the vaccine to make sure they're doing their part in their community to avoid COVID.
Being scared of a shot might be common for some but not for all.
"Find a way to make yourself calm and relaxed about the shot; I was nervous at first but knew this was the right thing to do," said junior Emily Gellinger.
Some students believe that the vaccine is important.
"It's important for people like me who like to travel. It's the beginning of the end of the virus, so let's get it over with," said junior Roberto Santos.
For those choosing to get vaccinated, LHS students are contributing to getting things back to somewhat normal in Logansport.
Leave a Comment
Your donation will support the student journalists of Logansport High School. Your contribution will allow us to purchase equipment and cover our annual website hosting costs.
About the Contributor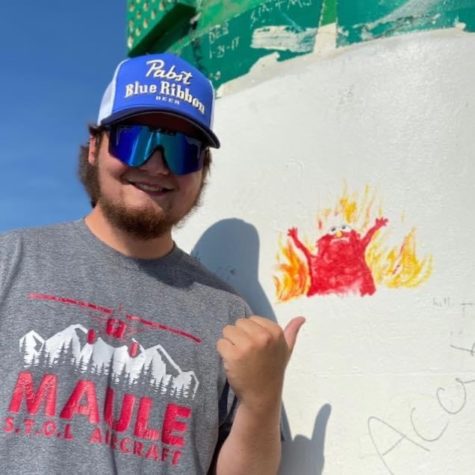 Ethan Hopper, Reporter
I find that writing for an audience helps me understand the world around me, especially the audience that I'm writing for. Magpie gives me the confidence...