LHS Female Wrestles Against the Odds
Similarly to the Liberty Bell of victory, junior Liberty Sutton makes sure to fight until she hears that buzzer go off.
Liberty Sutton has been a member of the Logansport wrestling program since sixth grade. Facing a new sport can be intimidating to anyone at first (especially when it's dominated by males), but with the other female wrestler on the team, Martha Sanchez, practicing in the same situation as her, Sutton powered through even during the intense workouts.
"You are almost always doing something in the wrestling room. We focus on how well we take shots, how awful we take shots, and how to improve them," Sutton said.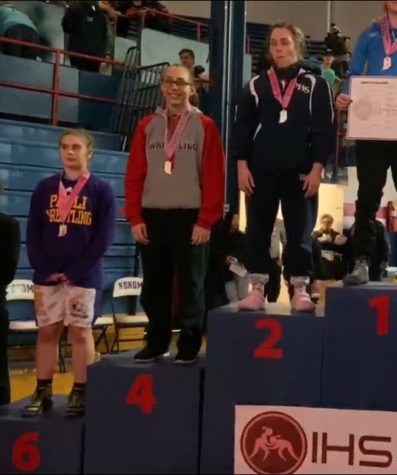 Sutton doesn't always wrestle against Sanchez in practices though. She is grateful for the opportunity to wrestle boys and has noticed that both genders can sometimes wrestle differently.
"Guys say that they'll try whatever they can to get you down while girls are a little bit more hesitant but think it through more," Sutton said.
Boys and girls are also going to wrestle differently because of the natural body types.
"I do think some aspects are more challenging for girl wrestlers, like the strength differential. A 15-year-old girl for example isn't going to have the same strength as a 15-year-old boy," Head Coach Frank Patacsil said.
The focus is then put on the technique to win.
"Liberty has one of the best techniques on our team, and I think that's what makes her a great wrestler," Patacsil said.
Even with superb technique, the saying of "you can't hurt a girl" sometimes crosses the other team's minds through wanting to take it easier on Sutton and Sanchez.
"Some definitely seem to think it will be a little bit easier so they start out a little nice, but when they see I take it seriously, then they take it seriously," Sutton said.
Sanchez and Sutton are looking for a fair fight from the male wrestlers.
"I have heard guys talk before the match that they don't know what to do but others will go all out which is what I want," senior Martha Sanchez said.
The girls want the boy to give it their all on the mat, and it's up to their opponent to decide if they want to win or a lose with viewpoints pressuring each side .
"They feel a little bit more pressured by their teammates to win because they got beat by a girl and they look a lot more serious than competing against another guy . . . and losing to a female to guys is not okay, at least that's what I've been told," Sanchez said.
All of the intense conditioning, drills, and three rounds of craziness were worth it when Sutton was able to claim her title for 4th place at Girls Wrestling State. No girl in Logansport history has made it to state besides Sutton and Sanchez. In order to qualify for State, the girl must make the top four in the Semi-State. Sutton won three of her five matches at Semi-State and lost the other two to the same girl to advance. She then beat the #1 placed girl at State, but lost her other matches.
Girl wrestling programs are expanding nationwide. Penn High School for instance had over 50 girls entered for the Semi-State. In the future, Logansport High School could potentially separate wrestling programs with one for each gender.
"I think there should be two separate programs, and I think that's where high school wrestling is heading," Patacsil said.
Sutton wants to show other people that it is possible to do this sport as a girl.
"My favorite part is to take someone down, and show that I can do this," Sutton said.
Whether Sutton hears that victory bell every single time at the end of each match or not, she gets enough satisfaction in the hard work she put in to be where she is today.
Leave a Comment
Your donation will support the student journalists of Logansport High School. Your contribution will allow us to purchase equipment and cover our annual website hosting costs.