Musical In The Making
The Logansport High School drama department is in full swing rehearsing for this year's musical, "The Addams Family." But with the coronavirus pandemic still taking place during this time, affecting both social functions and extracurriculars, certain measures have had to be taken during the management of this production that change the overall setup.
Although most of what comes to mind when thinking of these implications are usually difficult rules to work with, there are definitely benefits that come with these new changes made compared to past musicals.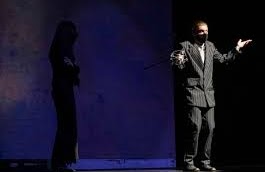 Katie Ashbaugh, a senior in the cast playing the role of Wednesday, agrees with this statement wholeheartedly.
"I think this year especially has a better group, and we have more effort being put in. I think it's because being there this year means that they really want to be there, and it's not just because their friends are there, which makes it easier for us all to make it through. I think that's a really good, positive thing on the bright side with everything else going on," Ashbaugh said.
Other cast members also felt that rather than physically being apart from each other that it instead has brought the cast closer together as an entire group during practices so far.
Amelia Bault, another senior lead, shares this perspective.
"In years past, there's just been such a huge separation between the leads and the ensemble. This year, it seems more like everybody's involved, and it's like we all get along. I feel like this year that we're doing a pretty good job of just working all together as a group and being friendly to each other behind the scenes," Bault said.
But, obviously, along with these certain benefits come changes that become a little harder to accommodate, especially in a musical such as this one.
"Something that has been a little harder is the acting itself, with wearing masks and trying to portray a character that is so heavy on facial expressions, and trying to figure out what to do with my body to make up for that lack of facials. Singing has also been harder with masks, too. We also have been following social distancing, but that still makes me really nervous because I did have a death in my family very close to me, and I would never want for somebody in my position to have a family member put themselves in harms way because you can't rely on everyone in the audience to follow the rules. So, performing in a live audience this year is scarier in a much different way than just stage fright. It's a lot heavier of a thing," Ashbaugh said.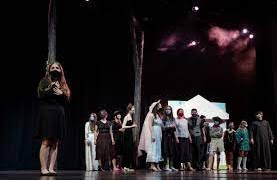 Bault also offers another elaboration on the changes in regards to her character.
"So we have to wear masks, obviously, so it's a little harder for me to portray my character specifically because she is a very emotional person, so it's going to be interesting to learn new ways other than face to show my character's emotions. So far, everybody's done a pretty good job of social distancing and just following the rules though, which is very much appreciated," Bault said.
Not only cast members, but every single person involved in this production have been working vigorously to make the play possible, whether it be management or the technical aspect of the play. Staff and managers alike have had to try new things during this year's musical to make it the best it can be in the situation currently.
Director of the play, Mr. Kinney, shares one of these new things.
"Two years ago, I might've said that you should have this facial expression, or you know, what would your facial expression be in that situation type of thing, and we can't do that anymore. So, it has to be transferred over to body language instead," Kinney said.
One of the managers of the backstage departments describing more slight changes behind the scenes than in the cast.
"We've increased our hand sanitizer around the theater, so if you see we have 75% alcohol hand sanitizer about everywhere. You really can't round the corner without running into a hand sanitizer dispenser so that's been huge, especially in departments like sound and lighting when they share access to a console and multiple people use it at a time. Gloves have also been placed near those stations as well for use by those who feel uncomfortable with just using hand sanitizer," senior Nicholas Yax said.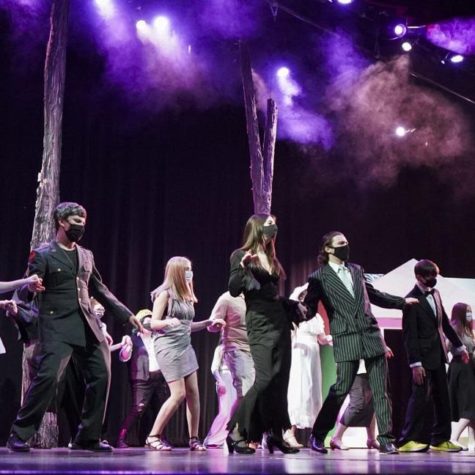 The largest change in the tech department though is the way in which the cast will use microphones.
"However, another huge change has been us experimenting with how to mic the cast members for the show. What we've found is by using specific masks and taping the wire on the body microphone to the inside of the mask, as well as everyone having their own assigned mic cable, we've been able to still pick up the cast members speaking quite well, which is a good way to keep the tech crew safe and the cast safe," Yax said.
Among all these slight modifications, though, there is definitely a shared truth that although these changes are not satisfactory, especially among seniors, they are necessary.
"It's just weird to not see everybody's faces because I know some freshmen, but I don't recognize others. So, that's a little weird, but other than that, it seems like it's just going to be a good time," Bault said.
People amongst all grades share these views, an example being junior Liam Gay who plays Mal.
"I feel like they're necessary, and there are going to be big changes. It'll be something we're definitely going to have to get used to, especially with the increased intensity, and it's definitely going to make things a lot harder, but it's all for the greater good. Knowing that just makes it a little bit easier," Gay said.
Mr. Kinney especially understands the necessity for these rules, and believes these rules could maybe better future musicals.
"I don't necessarily like them, but I totally understand the necessity of having to do them. It's just the time we're living in right now, and you have to take all the precautions you can one for the primary thing — the health and safety of the students. If you want to make it to the show date without having a bunch of people quarantined and missing practices, we have to do this. So, again, I don't necessarily like it, but I guess it's just a part of having to adapt as you go into it. Maybe, we'll find some things that come out of this that we're very happy with as far as changes we've made," Kinney said.
This necessity for safety and the wellbeing of all involved in the production will surely be beneficial to cast, crew, management, and audience. The love for theater and the dramatic arts will most definitely not be silenced, but rather strengthened during these hard times. "The Addams Family" will flourish and bring a spectacular show because of it.
Leave a Comment
Your donation will support the student journalists of Logansport High School. Your contribution will allow us to purchase equipment and cover our annual website hosting costs.
About the Contributor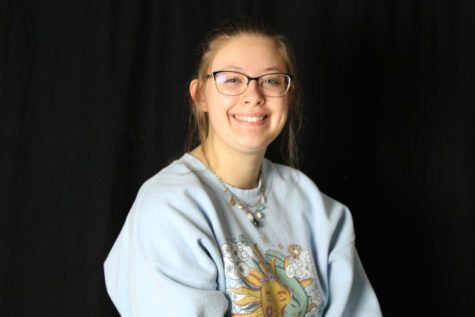 Leah Alder, Managing Editor
Junior Leah Alder is a third-year member of the Magpie staff and is the co-Managing Editor. She enjoys writing and eating her candy in class as well as...