Seniors Announce Their Commitment to Further Their Academic and Athletic Careers at the College Level
As many high school seniors struggle with choosing the right college and being accepted, athletes tend to have a more difficult time choosing their desired school. Although, some senior athletes at Logansport High School have been able to make their college admissions decisions with ease.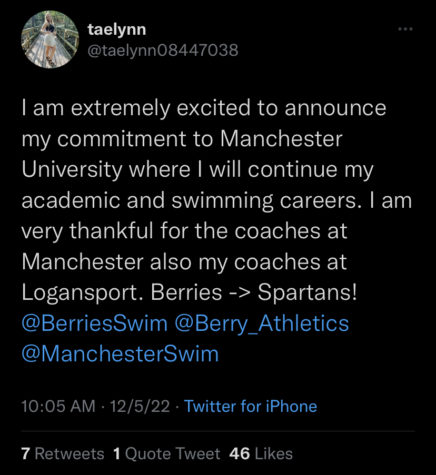 On Monday, Dec.5, senior Taelynn Benish announced her commitment to continue her academic and swimming career at Manchester University in North Manchester, Ind. Benish leads the LHS girl's swim team while swimming the 100-yard freestyle (1.08.09), 100-yard breaststroke (1.19.17), and 50-yard breaststroke (34.93). 
"The biggest issue in deciding what college to go to was determining how I was going to pay," Benish said. "Thankfully, I got an academic scholarship from Manchester. The process was quite simple. I took a couple of visits to meet the admission counselors, professors, and the swim team and coaches."
While being on the swim team at Manchester, Benish plans to major in elementary education.
"I chose Manchester because it is not too far away from home," Benish said. "Manchester also has a very good elementary education program. I wanted to swim in college, and this is the perfect opportunity."
Athletes are typically stereotyped as having an advantage over regular students when it comes to college admissions, although Benish disagrees. 
"I do not believe athletes have an advantage over the regular student," Benish said. "I believe that Manchester is more focused on academics. Manchester does not give athletic scholarships."
Accompanying Benish on the LHS swim team, male swimmer Conner Shannon is another senior at LHS who has committed to their desired university.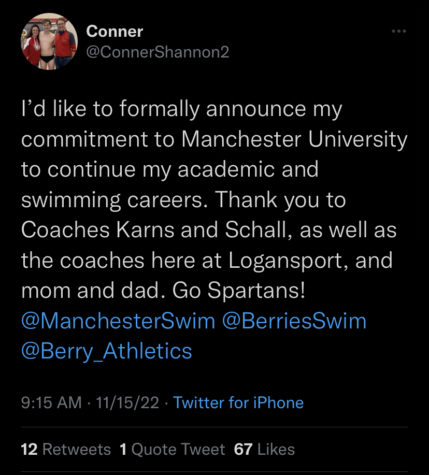 Shannon is a standout swimmer at LHS. He swims a 50-yard freestyle (26.36), 50 backstrokes (29.37), 100 freestyle (57.00), and 100 backstrokes (1:04.76). Shannon announced his commitment to swim also at Manchester University on Tuesday, Nov.15. 
"I chose Manchester mainly because of the people," Shannon said. "When I went on my first visit, it was kind of a ghost town, but there were still people all over that knew our tour guide. That was appealing to me. I also clicked with the swim team and coaches."
Shannon had no intention of continuing his swimming career after high school until the COVID-19 pandemic. 
"I really didn't think I wanted to compete for another four years until I got bored in lockdown," Shannon said. "Then, I thought it would be fun to keep competing. "
The decision to commit to Manchester came with ease to Shannon.
"Manchester made the decision process easy," Shannon said. "It had everything I wanted in a school and more. Committing was even easier."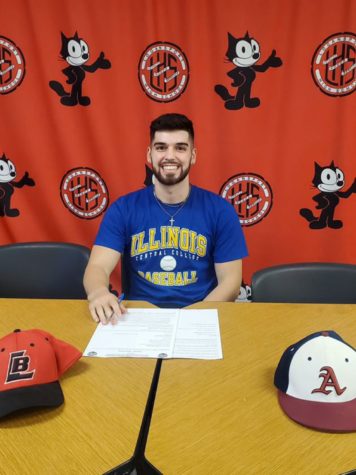 Senior Kaiden Lucero is another student at LHS who has finalized their commitment to compete at the collegiate level. 
Lucero is a standout Logansport baseball star. Entering his senior year, Lucero has hit .345 with three triples, 11 doubles, 54 RBIs, and 42 runs scored for the Berries. Lucero signed his national letter of intent with Illinois Central College on Tuesday, Nov. 22. 
"It was really exciting to make the decision to commit to Illinois Central," Lucero said. "I had been searching for somewhere to play baseball next year, and it took me a while to find the right fit. After taking a visit, I knew that Illinois Central was the one, and it feels very good to know that I am going to be able to play baseball again next year."
Behind all the excitement of committing, Lucero had his reasons for choosing Illinois Central. 
"I chose that college because of the opportunities," Lucero said. "The college is located in a big city, and it is a very good stepping stone to move onto a four-year school to play. Overall, they have nice facilities, and it was great when I visited. It was an easy decision to commit after visiting the college and touring it."
For athletes, determining the perfect fit is paramount.
"Finding the right fit is so crucial because I am going to be at that school for two years," Lucero said. "If it isn't the right fit, it will be hard for me to transfer on to a better school and hard for me to enjoy my time there."
Leave a Comment
Your donation will support the student journalists of Logansport High School. Your contribution will allow us to purchase equipment and cover our annual website hosting costs.
About the Contributor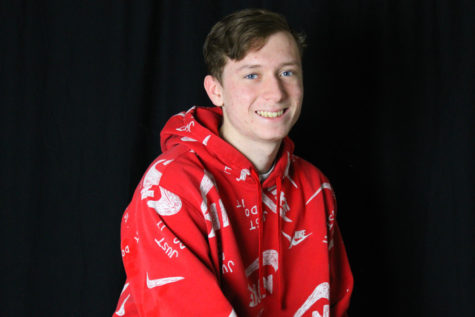 Payton Herr, Sports Section Editor
Senior Payton Herr is a reporter for Magpie and a member of the 2023 class at Logansport High School. He joined Magpie during the 2022-2023 school year....