Berries Prevail at NCC Meet; Fincher Sets New School Record
The Logansport Berries swim team had a fairy-tale ending at their Northern Central Conference meet held at the Boilermaker Aquatic Center on Saturday, Jan. 7. The Berries concluded the meet with 21 personal bests, an NCC Champion, and a new school record holder.
Junior Jake Fincher was a key component to the Berries' success as he took first place in the 100-yard butterfly in 53.02 seconds, resulting in Fincher blowing past the 13-year-old school record set by Martin Medo out of the water.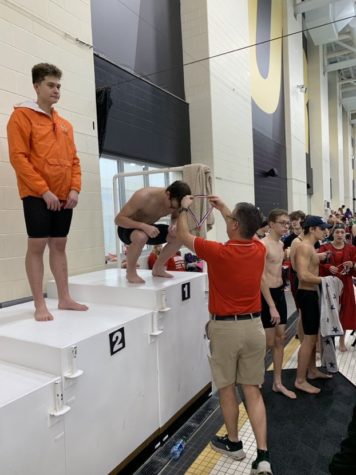 "During the race, I wasn't feeling much," Fincher said. "Before the race, the referee was taking a really long time to start us, and every second we waited, the more nervous I got. Once he told us to take our marks, I felt completely in control. I turned to look to my side and saw no one was there, and it instantly felt amazing. At that moment, I knew I had won the race, and once I looked up at the scoreboard, I felt relieved knowing I'd finally hit my goal of owning a record."
Medo was a foreign exchange student at LHS. He advanced to the state meet in 2010 for the 100-yard backstroke. Fincher also plans to advance to the state meet.
"I don't really have a plan for sectionals," Fincher said. "Although, I know if I work hard enough, I will have a shot at advancing in most of the events I swim. But, I definitely have the best shot at advancing in the fly. My time of 53.02 would've easily advanced, and all I'm hoping for is to match that time and hopefully set more records."
Winning an NCC title was a dream that came true for Fincher.
"Winning an NCC title is a goal that I never thought I would accomplish," Fincher said. "It felt amazing having the medal presented to me by coach Shannon. Winning the 100-yard butterfly was a complete shock, as I only swam it one-time last year, and I was nine seconds off the time I am now. I put in the work in the off-season, so winning was really worth it."
The Berries did not disappoint as they placed seventh overall on the boys side, defeating Kokomo with 139 points and Marion with 54 points. Every member of the boys swimming and diving team reached the podium either individually or with a relay.
"The boys did very well overall," head coach Mike Shannon said. "They ended up collectively dropping 30 to 40 seconds on their times throughout the day. All eight of the participants found the podium. On the diving side, sophomore Micah Rogers beat his last year's score by sixty points."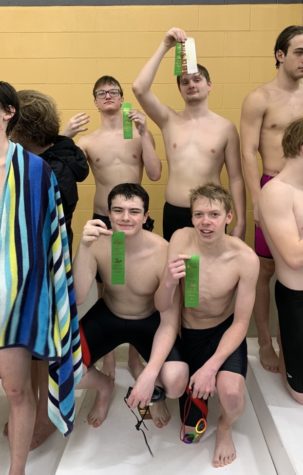 Along with Fincher's NCC Title, he also placed third in the 100-yard freestyle with 50.81 seconds. Following Fincher, senior Conner Shannon placed third in the 100-yard backstroke with a time of 1:03.67 and seventh in the 100-yard breaststroke with 1:10.47. Sophomore Scott Loman finished 14th in the 200-yard freestyle with a time of 2:14.10, and sophomore Micah Rogers placed sixth in diving with 264.15 points.

Relays were a huge aid to the Berries Saturday afternoon. The 200-yard medley relay team placed seventh with a time of 1:56.21, while the 200-yard freestyle relay team also placed seventh with 1:58.27. Following these relays, the 400-yard freestyle relay team went on to place fifth overall with a time of 3:53.14.

"We have six to seven meets from now to sectionals," Mike Shannon said. "Something is working now, so slow and steady is the way to go. The plan for sectionals is to beat the times we have now. There is a lot of excitement behind Jake Fincher. If you look at the other boys, time will come down and they will place very well in the sectionals."

The Harrison Raiders won their ninth consecutive NCC Title on the boy's side. 
Harrison junior Matthew Klinge, a returning state champion in the 50-yard freestyle, helped the Raiders and set two NCC records. Klinge won the 50-yard freestyle in 20.71 seconds, smashing the previously set record by Chris Hitch in 1995. Then again broke the 100-yard backstroke record with a time of 51.57, previously set in 1997 by Gordon Hecks. Klinge has been on the recruiting radar for many Division 1 colleges.

"It is fantastic having Matthew on the team," Raiders head coach Beth Brown said. " I have known him and his family for a very long time, and his work ethic, enthusiasm, and team attitude make it a joy to have him on the team. He is facing some big decisions this year since many Division I colleges are eagerly recruiting him for their teams. We have had visits from Purdue, Indiana, Minnesota, and Ohio State. He still needs to decide."
The Raiders didn't only dominate on the boys side, the girls team won 10 out of 12 events leading up to their third consecutive NCC Title.

"The whole team gained vital experience and have used every meet to analyze their swims in an effort to improve," Brown said. "We watch each meet on video and break down various parts of our swim to see where we are adding time and where we can make changes immediately. Of course, we want a winning season, a strong showing at sectionals, and to qualify divers for regionals and state and to get swimmers to state in individual events and relays." 
Despite Harrison's strong showing, the Berries did not hesitate to have a standout performance on the girls side. The Berries placed eighth overall, scoring 142 points and prevailing over Marion with 123 points. 
"The girls did awesome overall," Mike Shannon said. "They dropped 120 to 130 seconds collectively. They surprised themselves. We had big drops. Senior Sabrina Picardo dropped 13 seconds in the 100-yard butterfly. Sophomore Ava Martian dropped 15 seconds on her 500-yard freestyle."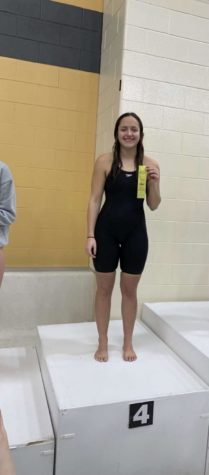 For the Berries, senior Taelynn Benish placed fourth in the 100-yard backstroke in 1:19.84 and eighth in the 200-yard IM in 2:40.71. Picardo took the podium with a sixth-place finish in the 100-yard butterfly in 1:12.93. Sophomore Emila Rozzi placed seventh in the 100-yard backstroke with a time of 1:16.06. Sophomore Ashley Murillo placed ninth in diving with a score of 164.10.

The Berries continued to have a successful meet with aid from the relays. The girl's 200-yard medley relay placed fourth with a time of 2:11.19. The girls also took the podium in the 400-yard freestyle relay with a standout time of 4:35.52.

"Overall, I feel the team did amazing," Benish said. "I thought I did very well, and I don't think that very often. My first individual race was the 200 IM, and I was seeded ninth. I thought going into the race was to make it to the top eight, and I did. My second race was the 100 breaststroke. This is by far my favorite event. I was seeded seventh and ended up placing fourth, which I was very proud of because I have never placed that high."
For Benish, this was her last NCC swim meet.
"I was bummed at the end of the meet because I knew it was my last NCC," Benish said. "But, I knew I gave it my all in my races and couldn't have asked for a better outcome. I'm just glad I got to spend my last NCC with the best coaches and teammates."
Benish wants to make the most of the rest of her senior season and has high hopes for the upcoming sectionals on Thursday, Feb.2.

"My goal for the rest of the season is to make the most of the time left," Benish said. "We are short on time with sectionals coming up at the beginning of February. We have a couple more meets, and my goal is to keep dropping time and prepare for sectionals. At sectionals, my goal is to not only drop time but to place top eight in all my events."
Leave a Comment
Your donation will support the student journalists of Logansport High School. Your contribution will allow us to purchase equipment and cover our annual website hosting costs.
About the Contributor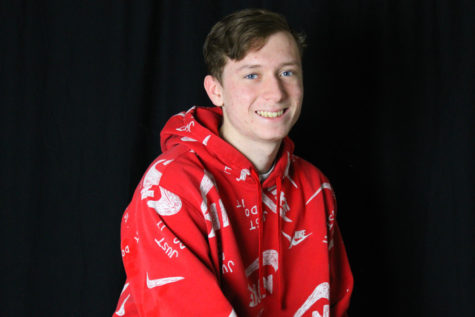 Payton Herr, Sports Section Editor
Senior Payton Herr is a reporter for Magpie and a member of the 2023 class at Logansport High School. He joined Magpie during the 2022-2023 school year....