Girls Basketball Sectional Preview
How does a high school varsity team play all four quarters and finish with only 11 points on the board? The Lady Berries will have the chance to find out. Marion's girls' basketball team managed to lose 50-11 against Park Tudor earlier in the season. The IHSAA sectional draw on Jan. 22 resulted in a Logansport-Marion rematch Tuesday, Jan. 31. The game will be broadcast live on WSAL 1230 AM and 94.9 FM and features teachers Dave Packard and Joe Stetz as the hosts.  
The Lady Berries played Marion (1-21) on Jan. 14. They beat Marion by 33 in a 60-27 blowout at Bill Green Arena. The Lady Giants did not want to tolerate being knocked down that poorly on their home court and garnered two technical fouls.
"For the Lady Berries to beat Marion again, we just need to stay above them and not let their negative attitudes affect us or our playing," sophomore center Daisy Jones said. "I'm expecting at least 60 points from us against Marion and potentially a sectional championship this year."
Although the Giants are not favored for the rematch, Head Coach Chris Keisling recognizes that they should not underestimate a team and head into the game just like the first one.
"I expect them to come out ready to play," Keisling said, "They have nothing to lose. They do not have a good record. They'll give it their best effort. To beat Marion again, we simply have to play our game. If we do that, we should come out of that game victorious."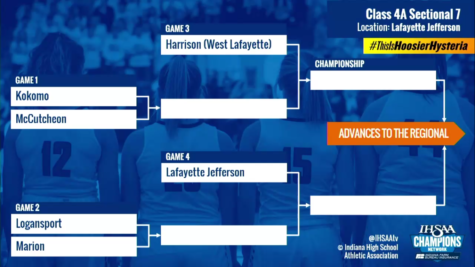 After Marion, the Berries would have another North Central Conference rematch with sectional host Lafayette Jeff on Friday at the Marian Crawley Athletic Center, where the road to Indianapolis has become a dead-end street for Logansport teams since the inception of class basketball. The Lady Bronchos are 2-20. Logan previously played Jeff in the middle of December in the Berry Bowl. Logansport came out on top in a 47-27 win. Logansport has a winning record of 12-9.
Keisling has stressed the importance of disregarding previous games and going into games with a positive mindset.
"Attitude is always a factor in winning the sectional. Your mental approach is critical," Keisling said. "You have to make sure you have one mind with one goal and one effort as a team towards getting a sectional title."
The other side of the bracket kicks off with the Kokomo-McCutcheon game. Logansport pulled off a win against Kokomo but fell short to McCutcheon by 13 points. Harrison got the bye on that side of the bracket and is favored not only to make it to the championship game but also to win it. 
Even though the Berries lost to Harrison, 66-39, it was early in their season.
"We have improved dramatically throughout the season," Keisling said. "We as a team are peaking at the right times, and that is always your goal at the varsity level, to peak as you get to sectional time. We are certainly playing our best basketball now."
Leave a Comment
Your donation will support the student journalists of Logansport High School. Your contribution will allow us to purchase equipment and cover our annual website hosting costs.