Tragic Loss at University of Idaho
Crimes happen daily all over the world. However, an Idaho case has recently hit center stage. Four young adults were killed at The University of Idaho. The facts and theories have spread across the internet like wildfire. 
This case has one major suspect, Bryan Kohberger. Kohberger is a 28-year-old Ph. D. student who is suspected of murdering four people on Nov. 13, 2022. The four university students are Ethan Chapin, Xana Kernodle, Kaylee Goncalves, and Madison Mogen.
"This case is one of the most unique cases I've ever seen," senior Payton Herr said. "Over the years, I've been getting into 'Dateline' and the 'First 48,' so I have a little knowledge with murder cases. My theory about this case is that Bryan Kohberger was motivated by hatred or had some sexual connection to one of the victims. I definitely believe that he planned it beforehand. Kohberger was most likely texting or had some social media connection to one of the victims."
Herr's theory is one of many. Junior Brianna Newnes has a theory that he didn't act alone.
"I think that his father helped him," Newnes said. "I think that this was Bryan's first time committing murder, but I think his dad had some part of it. They were stopped in Indiana together and seemed to be engaging in suspicious behavior. His father definitely had to have helped in some way."
As more time passes, things about this case continue to be uncovered. Kohberger is suspected due to phone records, the murder weapon left behind, and he returned to the scene afterward. His phone showed that he was in the area at the time of the murders. The weapon left at the scene had traces of Kohberger's DNA. It was also believed that he went back to the scene to see the effects of his actions.
True crime has become a source of entertainment for some. Students and adults alike choose to follow cases. 
"Across the world, many internet investigators followed the case, which also caused a lot of misinformation across the board," Herr said. "Many people followed the case because of the lack of evidence that was given by the police. Personally, I am usually not interested in this type of thing, although this case was very different. I liked to follow it because I would make my own theories along the process."
Many people have different outlooks on tragedy, but none are quite the same as someone who has witnessed it with their own eyes. Criminology teacher Micheal Shannon was a police officer for 24 years. 
"A lot of people look at law enforcement as a bunch of lazy people," Shannon said. "That is absolutely not true. What people don't see is the active investigation behind the scenes. There's a lot of moving parts, so it's okay that people think that, but they should dig a little deeper to find out what the process is actually like. You can't find a murderer overnight." 
During his time as an officer, he saw all sorts of traumatizing material. Some things happening in the world trigger memories.
"I have seen a lot," Shannon said. "What makes this case unique is that there were four victims. I have seen plenty of nasty things during my time and this does bring back memories. It is not normal for people to see things like that." 
According to YoungGovAmerica, thirty-five percent of Americans consume some sort of true crime at least once a week. Some students believe that it is important for people to follow cases for numerous reasons.
"I think other people should follow this case because everybody can learn something," junior Lydia Goad said. "Especially, to always be aware of your surroundings at all times."
Leave a Comment
Your donation will support the student journalists of Logansport High School. Your contribution will allow us to purchase equipment and cover our annual website hosting costs.
About the Contributor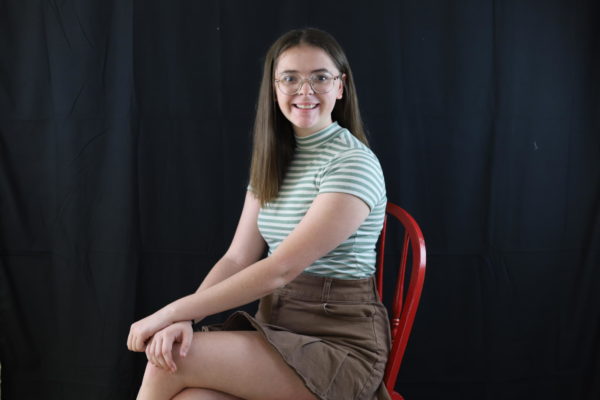 Carissa Dawson, Multimedia Editor
Carissa Dawson is a senior at Logansport High School. Dawson is one of the Multimedia Editors on staff and started doing Magpie her sophomore year. Dawson...