Review: "M3GAN" is a Terrifically Disturbing Movie
"M3GAN" is an amazing movie. With gruesome deaths and 102 minutes of chilling suspense, it will keep you hooked until the end. Its unique idea paired with out-of-the-box storytelling and a great cast made for a truly spectacular movie.
Allison Williams does a great job in this movie as Gemma. Her prior roles in other horror and thriller movies, such as "Get Out," "The Perfection" and "Horizon Line" definitely helped her perfect this role. Violet McGraw also does a great job as Cady, especially considering her young age. She is also very successful with parts in popular horror shows and movies including "Separation" and "The Haunting of Hill House."
"M3GAN" takes place after a nine-year-old girl, Cady, loses both of her parents in a terrible car accident. She moves in with her aunt, Gemma, who works at the popular toy company called Funki. Gemma realizes that she's not exactly the perfect parent and doesn't know how to comfort her grieving niece. Cady is introduced to M3GAN, a prototype of one of the new toys from Funki. M3GAN is a robot designed to act as a friend and protector for Cady, but when too many things pose a threat to not only Cady and M3GAN but also their relationship, M3GAN does whatever it takes to protect Cady.
"M3GAN" wasn't a gory movie. It didn't spend a lot of time showing the ways people died. In fact, you never actually see them die, you just know it happened. This actually works out well for this movie. This allows the audience to spend more time watching the reactions of the other characters and how the deaths affect the relationships between Cady, Gemma and M3GAN. I really enjoyed how the mood of the movie changed as it went along. It starts with a happy scene of a family going on vacation. Later in the movie, when the characters are sad or in pain, the whole thing feels a lot darker and looks more industrial and unwelcoming. Then when everyone is happy, it becomes more fun and colorful and fast.
There are, however, a few things that I would change in "M3GAN." This movie has a few moments that seem too unrealistic to be believed. For example, after the tragic death of her parents, a therapist is assigned to help Cady with her new life. The character can be seen making snarky and judgemental comments toward Cady and Gemma. We also don't see much reaction from Cady after the accident that killed her parents until very far into the movie. Another unrealistic character is the police officer. After an incident with a violent dog that leaves Cady with an arm injury, the police brush it off and don't do anything as a consequence to the dog or the owner. "M3GAN" does make up for this however with some pretty awesome scenes.
"M3GAN" was a truly awesome watch for anyone who's a fan of sci-fi, suspense or horror. The visual effects, storyline and cast create a world leaving viewers longing for more. Although it's not perfect, it's something to see.
Leave a Comment
Your donation will support the student journalists of Logansport High School. Your contribution will allow us to purchase equipment and cover our annual website hosting costs.
About the Contributor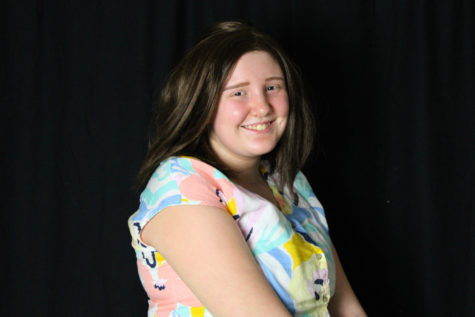 Veda Fagner, Reporter
Freshman Veda Fagner is a reporter for Magpie. She loves the atmosphere of the class and always looks forward to it. Outside of writing, she loves to read,...