Off for a Panic!
Panic! At the Disco is gone. After almost two decades, Brendon Urie shared that Panic! at the Disco is disbanding. He said all journeys must come to an end. They finally decided to end their journey so that they could begin a new one. They have been trying to keep it to themselves until they finally announced that Sarah Urie and Brendon Urie are expecting their first child. 
"I don't care that much," freshman Tatianna Jones said. "I like 'High Hopes'  because it was very encouraging though."
The band was formed in 2004 by childhood friends Ryan Ross and Spencer Smith. Then, entered Brent Wilson, who, in turn, offered Brendon Urie a spot in the band. In the beginning, Ross was the lead singer with Urie as the backup. When they found out how good Urie was, they decided he should be the lead singer rather than Ross.
"I am not a huge fan of them," Earth Space Science teacher Maggie Hopper said. "I know more of their popular songs."
The band was influenced by 1960's bands like The Beatles, The Zombies and Beach Boys. Once their album "Pretty. Odd." was released, they decided to go a new direction. Ross and Walker left soon after they finished one of their albums. This was mainly due to the fact Brendon and Spencer wanted to make some changes to the sound and experiment a little.
"It hurts me," freshman Jonathan Villamar said. "They made interesting music. My favorite song was probably 'House of Memories.'"
Before the band was declared over, many left before to do other things. Eventually, it was left to just Urie. Although he was a full-time member of the band, he continued to make music.
"I think that all people have to make choices, and there is always a cost," Hopper said. "In this case, the cost is the band ending. I believe he is doing something that was probably a hard decision but makes sense. He has access to resources and money that most people do not. He seems pretty accomplished. I am not entirely sure what they could've done better other than maybe being supportive and making a public support statement if they haven't. I love 'The Greatest Show' in one of my favorite movies, 'The Greatest Showman,' but I think their best work is over, and it's time to end it."
Leave a Comment
Your donation will support the student journalists of Logansport High School. Your contribution will allow us to purchase equipment and cover our annual website hosting costs.
About the Contributor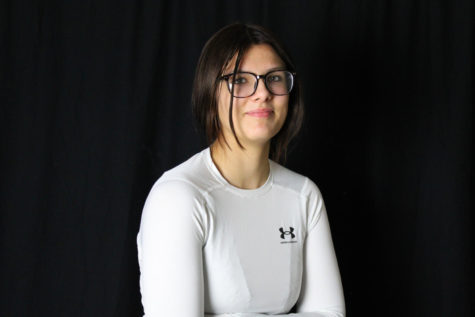 Miaya Smith, Reporter
In her first year on staff, freshman Miaya Smith is a reporter from the Class of 2026. She started by taking Journalism, and after that class, she went...