The Paradox Between Mental Health and Digital Technology
The paradox: Technology is notoriously blamed for mental health struggles, but recent developments in technology have opened doors for people to seek help online. 
Digital mental health is trending. Before COVID-19 hit hard in Mar. 2020, the top 20 mental wellness apps were seeing three million new downloads per month, which increased to four million in Apr. 2020. However, much-existing research indicates a possible link between mental health deterioration and digital technologies. With this in mind, is it really possible to have a successful tech product while also providing an effective form of mental health care?
According to a study conducted in 2017, teenagers are becoming more depressed, hopeless, and suicidal. Researchers discovered a sudden increase in adolescent depression symptoms, suicide risk factors, and suicide rates in 2012, around the time smartphones became popular.
The research discovered that teens who spend five or more hours per day on their devices are 71% more likely to have one risk factor for suicide. This is true regardless of the content consumed. 
But, screen time might not be the only problem. With more communication taking place through technology, young people are finding it more difficult than ever to form intimate relationships, and the relationships they're forming are, at best, superficial. The infamous HomeNet study, conducted in 1998 by researchers from Carnegie Mellon University, showed that "greater use of the internet was associated with declines in participants' communication."
The HomeNet study can be interpreted as a criticism of the internet, screens, and modern communications technology in general. In reality, it exemplifies a much simpler truth about love and happiness: Technology that reduces our real-life interaction with others diminishes our well-being and must thus be managed with caution in our lives. To reap the full benefits of digital tools, we should use them in ways that strengthen our relationships.
The impact of social media on youth can be significantly detrimental to their mental well-being. A report released by Common Sense Media, that focused on social media's effect on teens, found a strong link between social media and teen depression. Youth suffering from moderate to severe depression were nearly twice as likely to say they used social media almost constantly. They found that of the people who were likely to say they used social media constantly, one-third of teens showed depressive symptoms, compared to 18% of young people who did not show depressive symptoms. It was identified that the more anxious, lonely, and depressed a teen felt after using social media, was closely linked to the severity of their symptoms. 
It is important to point out that most of the research conducted on this topic points to a correlation between digital technologies and mental health deterioration, but not causation. Social media, for example, may not be causing young people to become depressed. In fact, it is possible that another issue is causing depression, which causes people to use social media more frequently. 
Over the past few years, digital technology has been fueling new innovations in mental health care. 
Recognizing the need for assistance, many young people are turning to technology like smartphone apps, websites, and social media to manage their own mental health. With a clear skill and fund shortage in clinical therapies, it's not a stretch to imagine how digital technology could provide more structured clinical therapy, training, and support for professionals in the early stages.
Self-help apps for mental health now number between 10,000 and 20,000, with new apps constantly being developed daily. 
Calm, one of the leading self-help mental health apps, has over 100 million downloads and more than 700,000 five-star reviews. The app helps users cope with feeling overwhelmed and anxious, while also introducing new ways to cope with and manage existing emotions or conditions. It features a variety of helpful breathing techniques, hundreds of calming exercises, and sleep stories narrated by numerous celebrities. Calm is available on iOS, Android, and desktop. 
Brigham Young University researchers concluded from a survey that 90% of mental health app users reported increased confidence, motivation, and a sense of control after using the app. Positive changes in attitude, beliefs, and behaviors were also reported by users.
Self-help apps are often less expensive than traditional therapy, which ranges from $100-200 per session, which can stack up. Most insurance doesn't include mental health benefits either since they are not required to provide them. Mental health apps resolve this problem for people who may not be able to afford traditional therapies. Self-help apps are widely available on most devices, making them viable options for the majority of people.
Digital technologies can offer a different set of benefits than what is offered in traditional therapies. Most apps are either free or come at an affordable price. They are non-judgemental, and they're accessible. They have no waiting lists and are available 24/7. 
When living in the age of a global "mental health epidemic," where accessible mental health care is declining, creating a solution out of something that is easily accessible by everyone worldwide, digital technology, is a revolutionary solution. 
But, ideally, the only way to solve this problem is by balancing the way you use technology. For example, instead of using social media to negatively compare yourself to others and self-depreciate yourself, use it as an inspiration to change yourself into the best version you can be. Instead of turning to digital technology and mindlessly scrolling when you're feeling depressed or anxious, use it to find a healthy way to cope, like listening to music or an audiobook, or finding a meditation video to calm yourself down. 
Digital technology is something that is heavily influenced by its user. If the user is using it in a negative way, as a way to procrastinate, and to distract themselves from the real problem, it becomes what is perceived as "the problem." If the user uses it positively, as a way to better themselves, learn new skills, and find ways that don't avoid the problem but deal with them head-on in a positive way, it becomes the solution.
Leave a Comment
Your donation will support the student journalists of Logansport High School. Your contribution will allow us to purchase equipment and cover our annual website hosting costs.
About the Contributor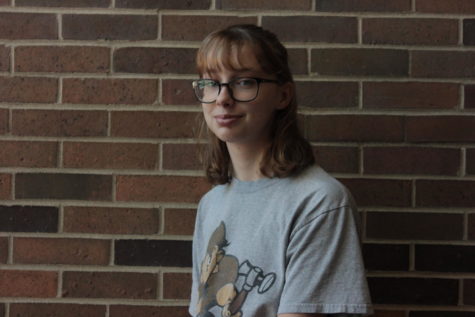 Erin Williams, Photographer
Freshman Erin Williams is a member of the Class of 2026 and serves as a photographer on the Magpie staff. She joined the staff in the 2022-2023 school...