Two Fairview Staff Recognized for Their Positive Attitude and Outlook
This time around, Tony Fowler and Erin Hamm, staff at Fairview Elementary, were the teachers that were honored by students and staff as part of Key Club's ongoing program to recognize outstanding teachers.
Hamm is a first-grade veteran teacher. She has been teaching at Fairview for 21 years. She attended Ball State University to get her teaching degree. Hamm's teaching style is unique in a way since she focuses more on active learning.
"I like to do whole group instruction and then have the students work with partners or in groups to complete activities," Hamm said. "I feel when students collaborate with each other it makes learning fun, and they retain the information more.  We use lots of manipulatives to learn. So, I guess you can say the teaching style is I do, we do, you do."
Christine Hess, the principal at Fairview, expressed how she feels about Hamm winning the award.
"Erin Hamm is a fabulous teacher," Hess said. "They are so good at differentiating for students, keeping things hopping in her room, knowing full well that first graders need a lot of movement and engaging activities. She works so closely with the parents, keeping them informed and making sure she provides any accommodations students may need."
Hamm really didn't expect to win the award. She had assumed the award was for another staff member.
"I was walking to the office and saw the Key Club students and thought, 'I wonder which one of our staff members was going to get recognized,'" Hamm said. "Fairview has an amazing staff, and anyone one of them could be deserving of this award, so I thought it was one of them. Then, when they came and got me, I was surprised. I remember standing there with Tony Fowler thinking he so deserves this award. He works hard every day and will help out with anything. It was a nice surprise, and I'm thankful for the recognition."
Fowler and Hamm have known each other for a long time and have a close relationship with one another. Winning the award at the same time was definitely a happy moment for both of them as they were excited for each other.
"I have known Erin Hamm since she was six years old," Fowler said. "She is an awesome teacher who is great with the kids, positive with compassion and a great energy and role model for others."
Fowler is a custodian at Fairview who has been working for the school for 45 years. The people around Fowler have described him as being a happy and compassionate man, along with being a joy to be around. Fowler plans on retiring this summer. 
"He is truly so kind, and helpful, and always has a smile on his face," Hess said. "His philosophy is one of service to others. He also has a very strong faith, too."
Fowler was surprised when he won the award.
"I sure did not see this coming," Fowler said. "I enjoy the children and the people I work with. I have been blessed to have worked at Fairview for 45 years. I always say if you don't enjoy your job, it's not a job for you."
When asked what he's going to do when he retires, Fowler responds with the following.
"Enjoy retirement with my wife, also spend time with our children and seven grandchildren," Fowler said. "We'll go on short trips and go on a cruise in later years. I have hobbies of metal detection, fishing, and reading. I am also very active in our church, so I can focus on those things."
Fowler's positive attitude and outlook on life are due to a motto that he follows on a day-to-day basis. 
"My motto is every day is a good day," Fowler said. "It's just that some days are better than others."
Leave a Comment
Your donation will support the student journalists of Logansport High School. Your contribution will allow us to purchase equipment and cover our annual website hosting costs.
About the Contributor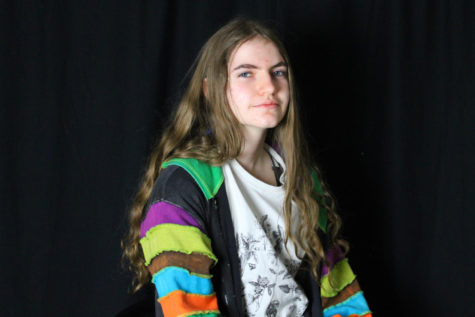 Maddison Sell, Reporter
Freshman Maddison Sell (all pronouns) is a reporter and a member of the class of 2026. She joined Magpie their freshman year (2022-23). One of his favorite...