Reconstruction of the Library
The construction in the library has resulted in a smaller version in the English hallway for the last couple of years. The library has been under construction since last October and has been vastly changing ever since. The remodel is taking a more modern approach this time around. Vice-Principal Christy Diehl explains the new remodel as a "Starbucks atmosphere."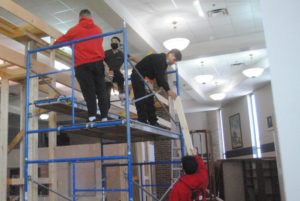 "I think the idea of the old library has evolved over time to more like a coworking collaboration kind of workplace . . . Giving kids not only the opportunity to check out books but be able to have a small workspace as well," Diehl said.
While taking on this modern approach, which was inspired by many modern libraries, including Indiana University Kokomo's take on a more up-to-date library, students are expected to see many changes. The library is expected to have risers, which can be enjoyed as a place for presentations, choir performances, and even slam poetry. There will be more options for flexible seating and a variety of student workplaces. Students can expect "two walled pods for more private and quiet activities such as study groups" according to librarian Tamara Minks.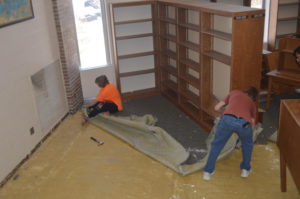 The library is expected to open in the fall of 2022, but because the Century Career Center construction trade classes are doing most of the renovations, this date may vary because the class will go at its own pace as they learn.
Principal Matt Jones goes into detail about how the classes not only benefit from doing this construction, but the school is benefiting as well.
"The construction trades classes at CCC are doing most of the renovation, which saves a lot on costs. That is a win-win situation. Students can learn their trade right here and make our campus better," Jones said.
With all of this renovating, one question still remains: What about the books?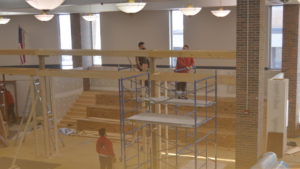 With the spin on a more modern approach, the non-fiction section of books will be in ebook form, while the fiction section, along with autobiography and biography books, will continue to grow in physical form. While this may be different, Minks explains the importance of accommodating diverse activities in the library.
"The goal is to broaden our concept of literacy and make all kinds of learning readily available to all at LHS," Minks said.
Leave a Comment
Your donation will support the student journalists of Logansport High School. Your contribution will allow us to purchase equipment and cover our annual website hosting costs.