Top 10 Things to Do This Summer
Summer will be here before we know it. For some people, summer can be a time to relax and watch TV play games and hang out with friends. For others, it's a time to travel the world, try new things, go to work, participate in activities and help out in the community. No matter how someone chooses to spend their summer, it is almost always something to look forward to.
Some people however can have a hard time deciding what to do while not at school. Luckily, there are some great things nearby to do this summer for people to try out. 
#10. Indiana Beach
Located in Monticello, Indiana, Indiana Beach is a water and amusement park with many fun activities. Some of its more popular rides include the Steel Hawg, Cornball Express, and the Hoosier Hurricane. For those who aren't one for roller coasters, the park has other carnival classics such as a Ferris Wheel, Bumper Cars, Sky Trams, Tilt-A-Whirl, Swings, and the Scrambler. The park also has multiple games as well as food and a water park. 
#9. Free movies at Mary Max Cinemas 
During the summer, Logansport's very own Mary Max movie theater hosts free movies on Wednesdays and Thursdays. While this can be a great activity for the little ones to enjoy, these movies are free to anyone and everyone. The movies will start at ten in the morning and the seating will open at 9. More information can be found at Mary Max Cinemas Logansport 5+ on Facebook.
#8. Ice cream shops
It's no secret that Logansport, Indiana is home to some pretty great ice cream places. During the long hot summer days with nothing to do, ice cream might be what people want and need. There is nothing better than feeling the warm July while eating some of your favorite ice creams. Some places include Charbett, Sycamore, Mr. Happy Burger and Wally and Ollys. 
#7. Skating or bowling
For those who prefer a more competitive or physical activity, one of these might be the choice for you. Skating is a fun activity to get yourself moving the skill can be difficult to pick up, but once someone has learned how to skate, they're in for a good time. If someone isn't interested in learning to skate, however, another option would be to play a few games at the local bowling alley. This is a simple and fun game for any age to enjoy, and they also offer a few arcade games and a few pool tables.
#6. The parks of Logansport
Sometimes you really can't beat the classic. There are several different parks here in Logansport, including Spencer Park, Huston Park, Riverside Park and more. It's always nice to sit on a park bench with some food or ice cream. Parks can be a fun place for all ages with their walking paths, playgrounds, and the occasional options for sports such as baseball and basketball.
#5. Walk to the small businesses around town
Shopping in Logansport is pretty limited until you learn about all the different boutiques, restaurants, and other places owned by the members of our town. There really is something for everyone. If someone is tired of constantly shopping at Walmart or Maurices for your clothing but doesn't want to travel out of town, maybe you would like Yell's Boutique or Reflections Tanning and Trends instead. Things like eating out can be a whole different experience when the restaurant is locally owned. Having an owner that takes the time to make their customers feel happy and validated is something you can only get in the restraints in a town like Bonus Pints, Black Dog Coffe, and U-Know Pizza. The Pear Tree Galery, a locally owned art store, is located right downtown and offers art classes for those of all ages. 
#4. Bike or walk through the Harvey Preserve.
One reason that mountains are such a commonly visited place is because of the amazing hiking trails that they can offer. In fact, mountain biking, and hiking are some of the primary motivations for a trip to a mountain. Unfortunately, Logansport has no nearby mountains for a calming walk through nature. Luckily, there is a nice spot in town for one. Harvey Preserve and labyrinth take you along a beautiful path through the woods. The path starts next to Michals Pizza and ends at Riverside Park. It can be a fun time for any age.
#3. France Park.
Another palace with some beautiful hiking paths, France Park is a wonderful place to escape from reality. France Park offers some of the best activities for any age. Their waterfalls, campgrounds, beach and hiking trails speak for themselves, not to mention the inflatable Kingdom Splash Fest water obstacle course, disk golf, put-put, and playground that can be found in the park. 
#2. Summer Sundown Music Series.
The Summer Sundown Music Series has become a tradition in Logansport over the past few years. Each week on Sunday a local singer or music group performs at one of the Logansport parks. The concert is free admission to all and is a great way to spend an evening with friends and family.
#1 Security Federal Block Party. 
An annual event, the Security Federal Block Party is one of the must-do events of the summer. Every year different businesses, clubs, and organizations around town gather together in the Security Federal parking lot for a night of entertainment. With things such as free live music, food trucks, games, and more, Security Federal Savings Bank sure knows how to throw a party. Another plus side is that even those who aren't a member of the bank can attend.
Leave a Comment
Your donation will support the student journalists of Logansport High School. Your contribution will allow us to purchase equipment and cover our annual website hosting costs.
About the Contributor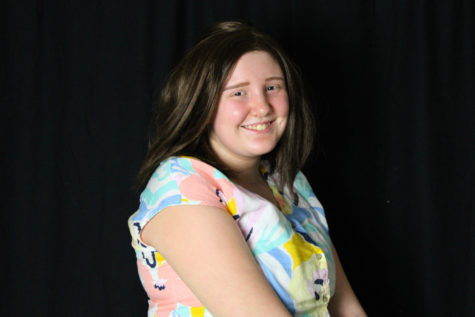 Veda Fagner, Reporter
Freshman Veda Fagner is a reporter for Magpie. She loves the atmosphere of the class and always looks forward to it. Outside of writing, she loves to read,...