Album Review: D-DAY
The newest mixtape by Min Yoongi under the alias of AGUST D was released Friday, April 21. D-DAY has only 9 songs going a little over 30 minutes. Since all of the songs are in Korean, each track will be linked to its own translation. This will be a 1-10 reviewing template, 1 being the worse, and 10 being the best. 
D-Day –  7.5/10
Starting with the title track, was slightly underwhelming. An artist rarely sounds good when using autotune, unfortunately, Agust D seems to be no exception to that. When the autotune finally tones down the rapping isn't bad. This isn't what I was expecting from him at all, I've been a fan for 4 years and his songs aren't usually this decent. The song is about the excitement and nervousness that envelops him as he gets ready for his tour all over America. The message is nice, but not so much the song.
Haegeum – 10/10
This is what to expect when listening to an Agust D track. The flow, delivery, and rhymes are incomparable. As a homage to his own culture, the Haegeum is used in the instrumental along with modern trap beats. The clash of ancient and modern isn't something that he is unfamiliar with. His last mixtape, "D-2," had a song named "Daechwita" which followed the same ancient/modern format. The main difference is the message. While Daechwita talks about the unnecessary hate people spew, Haegeum criticizes society in a sardonic way. I can't think of anything but praise for this song, beautifully made.
HUH?! – 9.5
Starts off strong and stays strong. He pushes on the pedal as hard as he possibly can never slowing down. The chorus is a bit repetitive but other than that it's great. The collaborator's, J-Hope's, verse carries the same energy throughout the song. While J-hope takes a slower approach the theme is the same. People that hate them don't know the struggle they went through to become as famous as they are, so they should just keep their mouths shut.
AMYGDALA – 7.8/10
This was definitely for modern rap enthusiasts. D had to have taken some inspiration from Juice WRLD, maybe even Kid Laroi. The same autotune that's used in D-Day is just a bit worse, however, the flow of this song has far surpassed D-Day. The song topic covers very personal topics in his life such as his father getting diagnosed with liver cancer and his mother's heart problems. This is why its rating is better than D-day, but only by a bit.
SDL (Somebody Does Love) – 10/10
The upbeat tempo and the smooth delivery of the lyrics make this song worthwhile. He questions what makes someone miss a relationship. The happy memories that they want more of, or the other person in the relationship? 
People Pt. 2 – 10/10
A continuation of a song on "D-2" which was called "People." Both seem to go over the same thing, the only thing that changes is the beat. Both go over D's personal feelings when it comes to human relationships. Also on accepting one's feelings and how they come, if you get hurt, so what? It's alright to cry when things don't go according to plan.
Polar Night – 10/10
Touching on the polarization of the word and how people have allowed their own beliefs to get in the way of social interaction. "I don't care about the facts, if he isn't on my side then it's better off killing him." this song is a leading example of conscious rap and how it helps bring social problems like this. An old genre on an older beat definitely deserves a high ranking.
Interlude: Dawn – 9/10
A good instrumental transition from the harsher songs in the album to the more personal ones. Mellow, calm, a great intermission.
Snooze – 10/10
Featuring an instrumental made by Ryuichi Sakamoto, who has also made tracks for movies such as "Call Me By Your Name," gives the song its constant serenity. Agust D talks about mental health and how it's alright to take breaks when chasing your dreams. While you may get caught up in the moment and forget yourself, the world continues on. The softness of the song is a signature when it comes to his style. The flow comes together beautifully.
Leave a Comment
Your donation will support the student journalists of Logansport High School. Your contribution will allow us to purchase equipment and cover our annual website hosting costs.
About the Contributor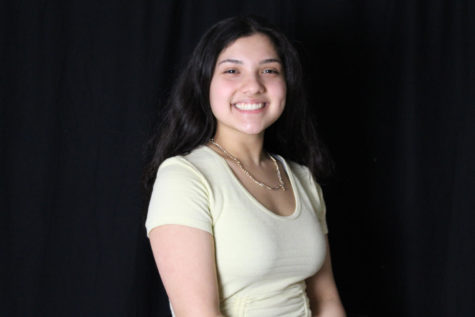 Jennifer Anaya-Serrano, Assistant Photo Editor
Sophomore Jennifer Anaya-Serrano has been a part of the Magpie staff ever since 2021. Starting off as a photographer and bettering her way to become Photo...