Why My Top 10 Songs Are Superior: Updated
Not in order!
1. Always- Daniel Caesar
This song recently just came out and it makes me so sad. Daniel Caesar has a way of making people feel different emotions through the lyrics he writes and most importantly in my opinion the beats he makes. Even though this song got very popular very fast I would say it's one of the best songs on the album. It's a song that can leave you in tears and very sad, but it did the opposite for me. I had chills down my spine and I couldn't believe what I had just listened to. A masterpiece is what it is. There are no words to describe how great the beat is. I don't know how he came up with it, but it's a 10/10 in my books. After Caeser was so-called "canceled" after saying inappropriate things everyone thought that he wouldn't be back. I like to separate the music from the artist. I do not agree with his actions or words, but I do like his music. One of his best albums even after his comeback.
2. Let the Light In- Lana Del Rey
Lana Del Rey has been one of my favorites for a long time. I'm proud to say that I knew her way back before she got popular. Since then some of my favorites have been "Mariners Apartment Complex" and "How to Disappear". These two songs are amazing I can't even express how they make me feel because Lana Del Rey can make you cry, scream, and smile all at the same time. It's the way her tone sounds that goes together so well with the lyrics she sings. I think this is why younger teens or even younger adults like her so much. She talks about different fantasies, her past, and even what she hopes in the future which I think we can all relate to. This song just allows us to feel what she is feeling. Her tone is amazing as always and I know this is a song that most people would say is crying material or even screaming material. It's just that good of a song. A great song for a rage room.
3. No Pegamos- Pol Granch
Now, this is the definition of one of the best summer songs ever. I found it around October last year and it was very different from any other genre that I've heard. It has grown my music taste in so many ways and I thank the person that showed me this artist. He released singles throughout the years such as "Solo x Ti" and "Martes 13" which I absolutely love! All of his songs hold a special memory and it reminds me of how one person can really reflect your music taste in a short amount of time. I know I will be listening to him in the future and more artists as he continues to work on new music and albums. He has an interesting way he makes music because not only does he make Spanish music, but he also makes French music. I don't entirely know what he is saying, but his music is still a 10/10 in my opinion. You should definitely listen to him if you want to switch up your music or just listen to something different. You never know if you'll like it.
4. Come Inside Of My Heart- IV Of Spades
IV Of Spades was probably the best band I never knew I needed at the time. "Come Inside Of My Heart" is such an amazing song!! It left me in awe after hearing it for the first time and it ended up being my #1 song for the year in 2022. Not only are the vocals amazing, but the guitar solo at the end was something I haven't heard in a long time. It made me feel like I could do anything I set my mind to and it always left a smile on my face whenever I listened to it. This song will never fail to change my mood. It has to be one of the best songs to ever exist. You can groove and dance to this song, you can stargaze, you can do about anything when you listen to that song because it's just that good. Please give it a listen if you haven't already it will not disappoint you if you like alternative or Indie music.
5. All Of The Girls You Loved Before- Taylor Swift
This recently became one of my favorite Taylor Swifts songs because it's just a song that you can scream too. Taylor Swift has a way of making music that relates to all of her fans and this one was very different and stuck out to me. Once the beat drops I instantly became hooked and I haven't looked back since. I used to think "False God" and "Lover" were the best on her "Lover" album she released in Aug. of 2019, but no this song topped all of them in a matter of seconds. I feel like Taylor pours all of her heart and soul when she writes music and us as listeners can really see that. I put "All Too Well 10 min Version" on last year's list and I debated whether to put it on the list because it's still one of my favorites from Taylor! Just screaming both of these songs remind me of how much I'm going to miss my teenage years. That and "You're On Your Own Kid" give me this feeling. If you're not a Taylor fan at least try and give these songs a listen it will change your mind.
6. Scott Street- Phoebe Bridgers
Don't even get me started with Phoebe Bridgers!!! She is the most amazing and soft-spoken vocalist that I've ever heard. One song could not describe how I feel for her and her music. Now "Scott Street" can be described as a bittersweet feeling. The amount of tears that have been shed on this song cannot be counted! It just reminds me that everything in life always has an end. When I listen to this song and think of my graduation it gives me a warm fuzzy feeling, but it also makes me really sad to think that I'm almost done with high school. It's crazy to think about and very sad at the same time. My favorite part of the song is at 3:00 exactly when the beat drops and all you can hear is Phoebe mumbling. There's also a train at the end that blows a whistle and to me that indicated my childhood finally leaving and leading me into a new version of my life. There's always a new chapter of your life that is ready to be made. Yes, it makes me sad and even afraid, but it's also very exciting. In conclusion, I need to see her live to bawl my eyes out.
7. Fade Into You- Mazzy Star
Now "Fade Into You" was a song I resonated with around the end of 2022. Especially in the Fall of 2022. I remember listening to this on long bus rides to games and even car rides watching the leaves fall off of the trees. It has such a unique melody and the lead singer's voice is outstanding. It's almost like a bittersweet feeling. It's cheerful, but her voice has such a sad and calming tone. I was shocked when I saw that it was released in 1993 so I dove deeper and found "Blue Light" and "Quiet, The Winter Harbor" that I absolutely adore. You can cry to this song, dance, explore new things, and just realize how beautiful everything is around you. At least this is the way I see it. I found a more upbeat version of this song while working and in my opinion is a lot better than the original. This version makes me happy and holds many memories of when I first started working. 10/10 if you need a song to cry to or even see things in a new light.
8. Overdrive- Conan Gray
Okay, yes I know "very original" I would have picked "Astronomy" from his recent album "Superache", but "Overdrive" has a summery vibe to it. When I listen to this song it feels like a song where you need to roll your windows down while driving and just scream with your friends. Now, on the other hand with "Astronomy," that's a song you can lie down to and watch the stars on a picnic blanket. This song just reminds me of when I went to go see him in concert! All I could do was dance and scream my heart out which is why I came to love this song so much. There are too many happy memories with my cousins when I  listen to this song. Definitely a song I recommend to anyone looking for more songs for the summer even if it is overplayed. It's still good so dance and enjoy all three minutes of it.
9. Lost- Frank Ocean
Frank Ocean has always been such a classic artist. I first started listening to him around 2020 when he released "Chanel" as a single and I've loved his music ever since. "Lost" just recently became one of my favorites on his "channel Orange" album along with "Super Rich Kids" and "Pyramids". "Lost" just reminds me of the aftermath of prom and how you can dance your heart out almost anywhere. It lets out a fun side of you that you didn't know you had. A side of you that you never knew would come out again. It's definitely a song you should have on your summer playlist if you're looking for new music. It's really a fun song you can make endless memories with.
10.  Read Your Mind- Sabrina Carpenter
Honestly, I didn't really like Sabrina until I was recommended her new album "Emails I Can't Send" by my cousin and I've never looked back. I used to bash him for liking Sabrina, but I was wrong. This song can put anyone in a better mood and I mean anyone! I have so many memories of screaming to this song after cheer practices with Ivy, dancing my heart out in my room and especially in my kitchen, and overall making me so happy. This album is just really good and has some of the best songs such as "Tornado Warnings" and "Because I Liked a Boy". She also released a few more songs for the album this year and she did not disappoint! I just know that next time I'm not going to judge a book by its cover and actually listen to her music. I really recommend this song to scream your heart out to and dance like nobody's watching because I think we all need that at times.
Leave a Comment
Your donation will support the student journalists of Logansport High School. Your contribution will allow us to purchase equipment and cover our annual website hosting costs.
About the Contributor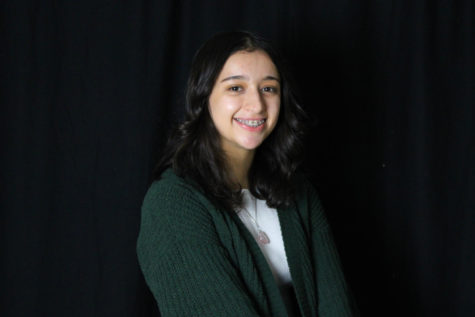 Emily Sanchez, Managing Editor
Emily Sanchez is a junior and has been a part of the staff since her freshmen year in 2020. Emily currently serves as co-Managing Editor. She enjoys writing...