Q&A With Principal Matt Jones About His Baseball Career
Do you have a favorite MLB team? If so, who? 
Growing up, I was always a Yankees fan mainly because my idol was Don Mattingly. Don was a left handed first baseman for the Highlanders back in the 80's. He was a great balanced player and when he wasn't playing first base, he was pitching, similar to what I did. Logansport played against Don Mattingly in 1979 when I was bat boy for the Berries baseball team and we beat him. Back in high school, I had a personalized license plate that had Don's name and his number (23) on it. When there was no online streaming of games during my middle school years, if the airways and the clouds lined up just perfectly in my bedroom, I listened to WPIX's radio call of the Yankees games. 
As a baseball alum, what was your favorite memory as a Berry?
I mean I was so lucky to be a part of four amazing teams, but no doubt winning the state championship my senior year of 1991 was the cherry on top. As a freshman, I started varsity right away and I can honestly say that all four of those teams that I played on were more than capable of winning state titles. I want to say that over those four years of my career, we had over a hundred total wins and maybe ten losses. Just growing up and playing baseball in this town of Logansport was incredible. It was just a pipeline of talent that was reloading, not rebuilding. 
What position/s did you play?
In high school, I generally played first base and pitcher because left handed position players are limited to where they can play. However, when I started playing at nine years old, my first position was third base. From there, I moved to shortstop for almost the entire time of playing little league and Babe Ruth. 
What spot in the batting order were you placed?
Clean up spot (fourth).
How was it playing for your dad and Coach Turner Senior?
To put it in one word, I would say special. They are two amazing men that we heartbreakingly lost within days, they had such a calming presence and their knowledge of the game was unbelievable. They didn't have to say a lot, but when they did, you knew you were in trouble. They were quiet leaders, I would say, and they knew when to instruct and help us. Even though we rarely lost, when we did, there were times there was not a peep on the bus. When Coach Turner stopped to speak with us outside the Berry Bowl after a game that must have ended in a loss, all I can recall doing is holding my breath immediately. You just didn't want to disappoint Coach and we had that much respect for him. Turner really mentioned something interesting regarding the 1991 squad, claiming that it was their team and that we just got out of the way. Overall, we were so lucky to be able to play for such amazing coaches and men. 
Who was the toughest opponent/s back then in our conference and outside of our conference?
Early on in high school, Kokomo was always a great rivalry. Three teams that we often faced off against emerged from the Logansport regional and went on to win the state during 1984–1986: Marion, Kokomo and Wabash. Some other teams inside the conference that gave us good matchups were Lafayette Jeff and Richmond. Outside of the conference, Mccutcheon and Wabash were very good. 
What team accolades do you have throughout your high school career?
Other than winning state my senior year, we won conference from my freshman year to my junior year.
Did you play baseball in college? If so, where?
I had a unique path where I originally signed to play baseball at Iowa State. It was the Big Eight at the time, but I left and ended up spending the fall playing at IU Bloomington. However, due to transfer regulations at the time, I was only permitted to practice in the fall and spring, leaving me to sit out of games. From there, I wasn't really enjoying baseball at that level and I wanted to work on my classes and the overall college experience. After two years at Indiana Bloomington, a few old summer ball teammates asked me to join them at IUPUI. It was a more enjoyable and relaxed atmosphere compared to Iowa State or Indiana. When I chose to play there for my last year, I had some of the best times of my life with guys I knew well. I pitched mostly, played some first base, and we ended up winning the conference with a very young coach that even played with some of the players back in high school. 
Were there any life lessons you learned through baseball that still resonate with you to this day?
Hard work, giving it your all, and putting the time and effort into something can be very rewarding in the long run. That group of us dedicated a lot of time to baseball. I didn't play multiple sports in high school, but I can't imagine what it's like nowadays. Growing up, summer was only for baseball and there may have been a very small basketball or football camp, but it wasn't even close to what it's like today.  
Leave a Comment
Your donation will support the student journalists of Logansport High School. Your contribution will allow us to purchase equipment and cover our annual website hosting costs.
About the Contributor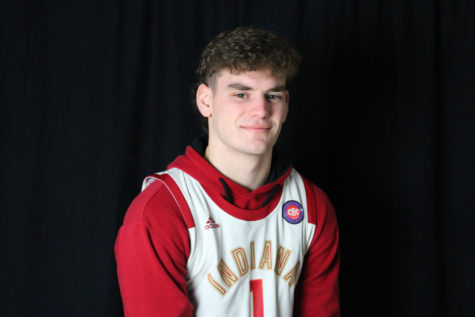 Jeremiah Miller, Reporter
Senior Jeremiah Miller is a new member of the Logansport High School Magpie. On the staff, he mainly covers sports/opinion articles. One thing he loves...