As students flood the front corridors, bringing in the chilling morning air, a new face stands to greet them. After four years at Columbia Sixth Grade Academy, Sgt. Travis Nolte has joined the staff at Logansport High School as the new Student Resource Officer (SRO). Although this position is new for Nolte, he is no stranger to LHS. 
"I was born and raised in Logansport, and so was my father," Nolte said. "Before graduating here at Logansport High School, I played four years of wrestling and a few years of golf."
Being an SRO can be a challenging job, but Nolte knew from a young age that he wanted to be a police officer. Following in his father's footsteps, he took the chance as soon as he could. 
"As soon as I turned 21, I started applying for jobs in the police force and ended up getting hired by the Logansport Police Department in 2011," Nolte said.
Since then, Nolte has had his hands full working patrol. In recent years, he has found his passion for working in schools. 
"Students may be shy or hesitant to talk to me, but once they get to know me, they realize I am just like every other person, and I can have actual conversations with them," Nolte said. "That's why I think I'll appreciate working with high school students more because I can actually communicate with these young adults. They are real people too, just like me."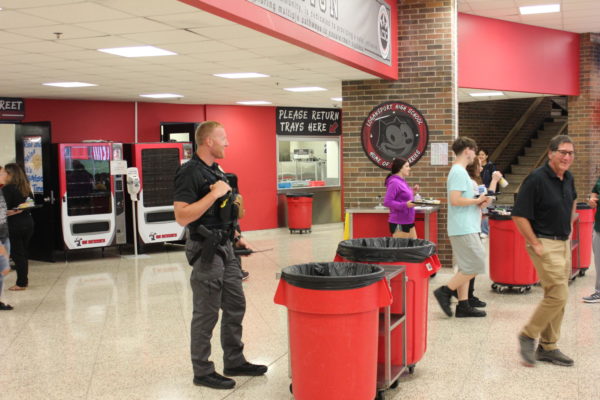 Although his relationships with students are important, Nolte's biggest responsibility is to keep the students at LHS safe. Throughout his daily schedule, Nolte accomplishes many tasks that help keep the environment at LHS safe and secure. 
"Throughout the day, I walk around checking doors, making sure they are locked,"  Nolte said. "I go around and try to check in with teachers and students and just make sure they are okay and everything is running smoothly. My biggest concern is that everyone feels safe."
Being an SRO has many responsibilities other than just hall duty and watching over the cafeteria, not every day looks the same. 
"Every morning, I check with the patrol guys to see if there was or is anything on the road that would spill into the school," Nolte said. "I try to see if there were any reports or arrests that might involve students or staff here at LHS."
Nolte also has other expectations to follow.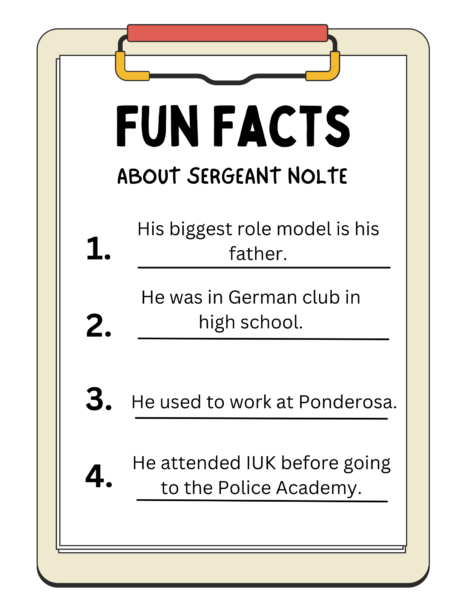 "I have a lot of other responsibilities, too," Nolte said. "I am in charge of the crossing guards to make sure that they are doing what they are supposed to be doing. I am also one of the administrators on the SWAT team. I lead and help handle team meetings." 
Although he might miss the thrill of working patrol, Nolte explains one of the reasons why he prefers this position.
"Before, I was working 6 p.m. to 6 a.m. every day," Nolte said. "I have a wife and children at home. That is hard. My father was super big on leaving his work at work and his home at home, not letting work things affect him outside of the work environment. That is one thing I will always remember."
Nolte has fond memories of lessons he has learned, from wise words from past teachers to words his father spoke that he will never forget. He hopes to make the same impact on the students here at LHS. 
"Being a police officer is a job that is extremely rewarding," Nolte said. "I have a lot to get used to, but I'm looking forward to it."