With the COVID-19 pandemic, many students struggled with attending school. For many students, attendance was on and off making many students not appear within the classroom. It was very lenient for students who struggled, but now as we are slowly recovering from the pandemic, Logansport schools are closing in on attendance.
Each year, Logansport students are granted ten unexcused absences per class each semester. Throughout the entire year, there is a total of twenty per class. Once you get to your eleventh unexcused absence, you will be removed from the class and placed into a credit recovery course. Any class that has an excused absence does not count toward the ten absences. Classes such as electives will not be available under credit recovery.
"One major point that I would like everyone to know, let's say you get removed from Geometry in November," said attendance dean Christian Madson. "You must restart the entire course. Then, you only have the rest of that semester to finish the class and gain the credit. That's an entire semester within a few weeks."
Absences are split into multiple different categories going under verified/excused and unexcused absences. Some ways you can validate an absence is if you're on a school trip, have a doctor's note, an obituary, etc.. Your absence is not excused if your parent calls in or you don't show up to class. If late to a class, you must have a pass with you.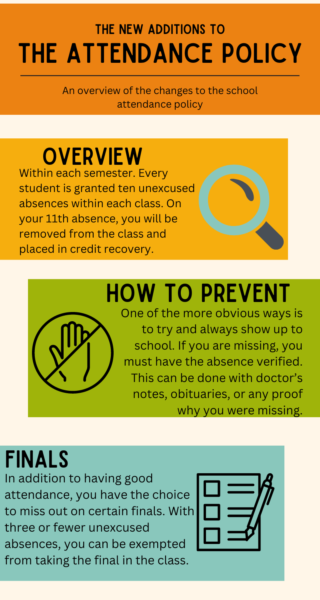 Once you reach that 11th absence within the class, you will be offered Apex learning, if at all possible. Apex covers the core classes exclusively; such as science, english, math, or history. Apex Learning now is replacing the previous year's alternative learning program, GradPoint. When removed from the class, you get placed in a study hall. Once you have four or more study hall classes, you are considered to be expelled or placed into an alternative school.
With the new policy, however, there is an incentive to attend class. Each student has the opportunity to be exempted from finals. The requirements to not take your final are to have three or fewer unexcused absences within the class, have a 70% or higher in the class, no truancies, no OSS, and no more than three periods of ISS within that class.
However, not every class gives this privilege.
"The only classes that the final exception isn't allowed is any dual credit class," said Madson. "This is because of the requirements by the college to take the final. That final score is required to give the college credits."
This change is more lenient, however. In the state of Indiana, it is recommended that students be given five unexcused absences before being removed from the class. Luckily, we are given up to 11 before getting removed.
Although the attendance policy may be frightening at first, there is no need to worry about it. It is important to always attend class on time and be at school. If you aren't present in class, make sure you have a way to validate why you are missing.