Remembering Corporal Humberto Sanchez
On August 26, 2021, news hit that 13 US service members were killed in Afghanistan due to a suicide bombing. Unfortunately, one of these members was from Logansport.
Humberto Sanchez graduated from Logansport High School in 2017, where he excelled at both academics and athletics. He was often described as a lovable, warm-hearted student with a smile always on his face.
"Humberto was really funny, but he was really hard working too when it came to his art. He was meticulous and very detailed in that. He was fun, and he always made me laugh. I really enjoyed having him as a student," art teacher Amy Werner said.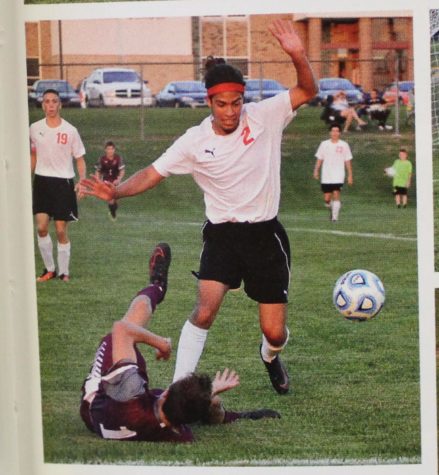 Another teacher that agreed with this was Jessica Kranz, who had Sanchez the second semester of his senior year in speech class.
"[He] was incredibly ornery, incredibly charismatic. He had this very contagious smile and this just very welcoming laugh. Great dimples," Kranz said.
Any sudden death in the community is usually hard. This one is no exception. Everyone knows everyone, and if someone doesn't, chances are he or she knows somebody that does.
"I knew Humberto through my daughter, Megan. Megan became very good friends with Bert starting at Columbia Middle School. In fact, he was her first boyfriend. He had been to my home a few times over the years. They graduated together and remained good friends throughout high school. She talked about sitting with him in art class. I was very upset upon hearing of the Marines killed in Afghanistan, not knowing at first that it was one I would know," science teacher Laura Karnafel said.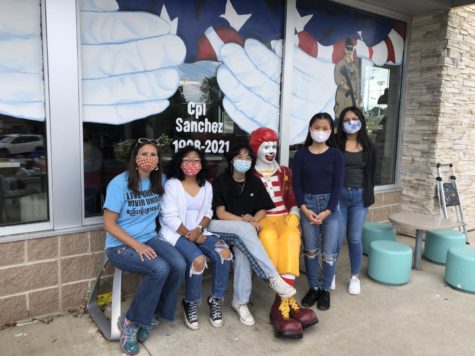 All over town are signs, flags, and even murals honoring and saluting Sanchez. One of these murals is located at McDonald's on the east side of town.
"I was asked to do some sort of remembrance, and so I designed the mural. It's the Marine gloved hands presenting the folded flag. Then, the left side is Humberto kicking a soccer ball, and on the right side is him holding his gun on patrol when he was in Afghanistan," Werner said, "I kind of had this image of from a boy to a man, like from how I remember him to how the nation remembers him type thing."
Several students have helped Werner in making this image come to life. These students include seniors Edith Azpeitia, Jessica Mateo, Katelyn Tuitavuki, and New Moo.
Many teachers even begin to reminisce about when they had Sanchez as a student.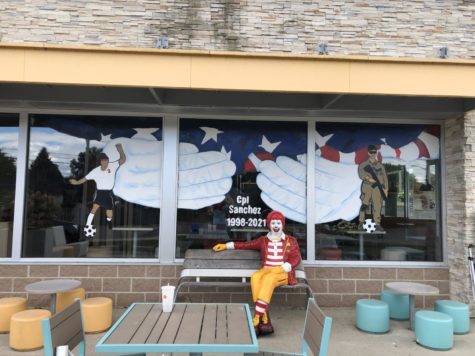 "I was really hard on him because he got into some trouble his senior year, and I wanted to make sure that he graduated. I sent him a couple of direct messages on Twitter, and he told me everything was under control. Then, when I heard that he made it through basic training, I sent him a congrats, and he wrote me out of the blue one day. He said, 'Hello ma'am, I just wanted to thank you for believing in me,' and it just melts my heart," Kranz said.
She continued to explain that it was very special to her as a teacher.
"It's the kind of thing that we're supposed to do as teachers. We're supposed to believe in our kids; we're hard on them, but ultimately we want you all to succeed. So, it was a really special thing to me," Kranz said.
Although many current students at LHS didn't have the honor and opportunity to know Cpl. Humberto Sanchez personally, many teachers and other community members did.
"I did not personally know Humberto Sanchez, but I do know people who did. He is talked very highly about by everyone I talk to and was described to me as the kindest soul with the most incredible smile," senior Maggie Fincher said.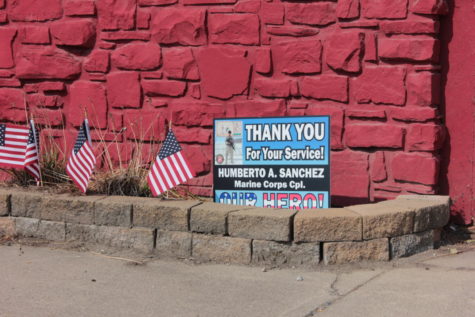 Fincher along with other students, teachers, and people from around the area joined together on the afternoon of Sunday, September 12 to watch Sanchez's procession as his body returned to Logansport, and pay their respects to not only him but to his family as well.
"It was a very powerful and well-done event. I watched down on Burlington Avenue among many people with flags and patriotic gear. When the planes began flying over, and it became clear that Humberto was nearing, this usually busy and loud street became very quiet. There was a very somber and reflective feeling as we waited for another 15 or so minutes for him to arrive. When Humberto did finally go by, it was a highly emotional moment as people saluted and honored Humberto. Many tears, including my own, were shed," English teacher Chris Pearcy said.
Kranz, along with others, agreed that this moment really brought the community together.
"It took me back to September 12, 2001: For one day, September 12, political agendas, different backgrounds, racial tensions, and so many other ugly facets of the world were put aside. We did better. We loved and respected one another. What mattered was supporting one another and checking in on loved ones and standing united," Kranz said, "This year, the date could not have been more appropriate: September 12. What mattered was doing our best to support our own hometown hero as we welcomed him back home with open arms and tear-stained faces. Cass County made me proud, and we should all be proud that a small town in Indiana represented our Humberto with love and patriotism."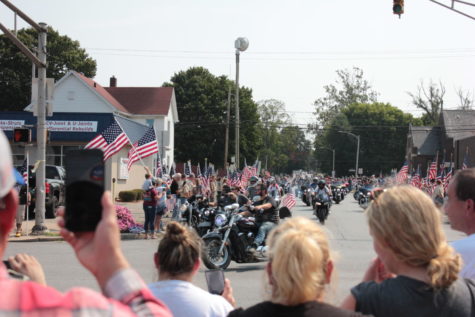 One detail about the procession seemed to stand out as well.
"The most interesting thing were the 7,000 motorcycles following the Sanchez family as a symbol of freedom. We were finally able to welcome home Cpl. Humberto Sanchez and the support of the community was definitely present," Fincher said.
During the procession, more than 7,000 bikers participated and rode through Walton, Anoka, and Logansport.
"The thousands of motorcycles was a nice touch. The line seemed to go on forever. It was incredible to see that many people show up from across the state to help guide him home," Pearcy said.
Overall this experience is something that people will never forget, and Humberto Sanchez will forever hold a very special place in Logansport.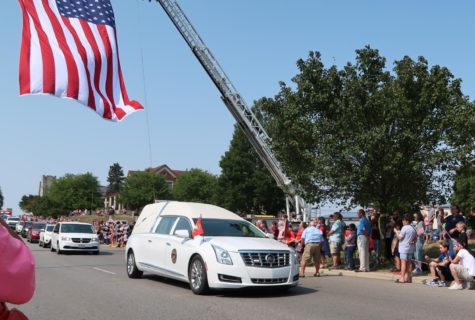 "It was a beautiful experience. One that I hope to never experience again, but I am so very grateful for our community coming together to display such love, respect and support. This is an experience that I am humbled by, and though it is immeasurably tragic, my children can learn from our community's support and pay so much respect to Bert and his colleagues' sacrifices as they understand the price of our freedoms and the value of military service," Kranz said.
Leave a Comment
Your donation will support the student journalists of Logansport High School. Your contribution will allow us to purchase equipment and cover our annual website hosting costs.
About the Contributors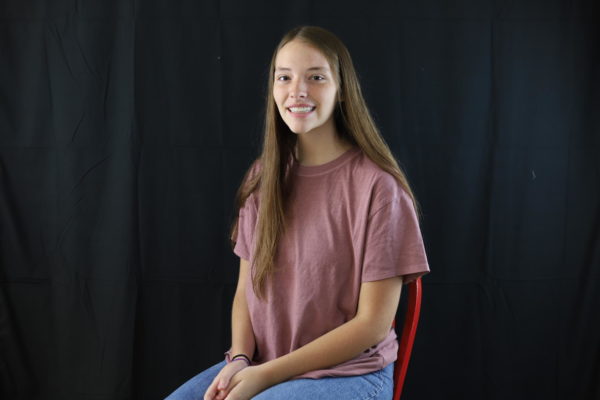 Kylee Langley, Editor-in-Chief
Kylee Langley is a junior and the Editor-in-Chief of Magpie. She has been on the staff for three years and has previously been the section editor for Arts...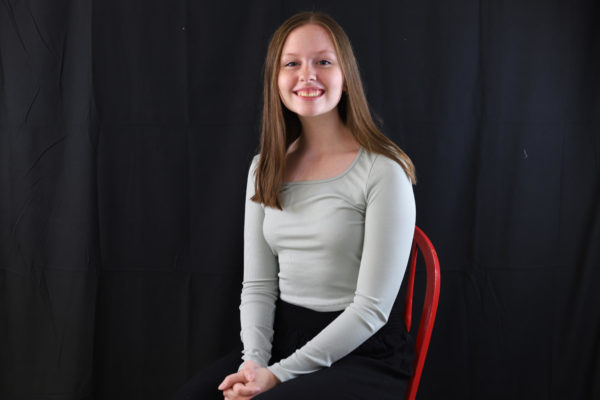 Gretchen Prifogle, Multimedia Editor
Junior Gretchen Prifogle is a second-year student on Magpie. She has been the Photo Editor for both years. Gretchen enjoys sharing pictures of interesting...