Catching Up With LHS Graduates
When finishing high school, students each try to achieve one of the three E's that Logansport High School tries to make sure everyone achieves: enrolled in college, enlisted in the army, or employed in the community. 
Manuel Flores, a 2020 graduate, Charlie Fultz, a 2021 graduate, and Debora Ruiz-Lopez, a 2022 graduate discuss their journey after high school and their current plans. 
What were you planning on doing right after high school, and what happened to that plan?
Flores: I was planning on going to college. I applied to Ball State, which was the only school I applied to. I was going to study to be an accountant, and well, the plan changed after we had a school speaker in economics class my senior year tell us about his experience with college, how he went and studied and didn't have a job after because he was low on jobs, and struggled for a while and became a cop. Honestly, after that, it gave me a wake-up call, you know? I really wanted to go to college. I did, but honestly, for the wrong reasons. It was life without my parents and freedom and parties, so I decided I wanted a job, a well-paying job. I joined the Laborers Union. Thanks to the help of a recommendation, I was able to get in quicker, and I'm thankful for it.
Fultz: After high school, I planned on attending IUK to major in Business management, which I am still doing over a year later as a sophomore.
Ruiz-Lopez: I was planning on either attending Purdue or Ivy Tech, but then I realized Purdue didn't have architecture as I had initially planned, The reason why I wanted to go to Purdue was that I wasn't 100% sure about architecture. After the second semester of my senior year, I realized it was what I wanted to do. I enrolled in the ASAP program at Ivy Tech, which is completing an associate's degree to transfer in one year. So, I could finish freshman and sophomore years in one year at IVY tech instead of two. So, I guess my plan kinda went through. Right now, I'm doing general studies so I can hopefully transfer to Ball State as a major in architecture.
What's something you wish you'd known before leaving high school? 
Flores: I wish I'd known how to invest my money and knew more about credit cards and other financial things.
Fultz: I wish I knew that taking college slow at first was a good option and not rushing into it as high school tells you. Also, college is a lot more relaxed when it comes to rules and stuff. Personally, I enjoy college a lot more than high school.
What would you do differently if you went back as a high school freshman?
Flores: I wouldn't do anything different. But, I guess just one thing and that's joining wrestling in my freshman year. I just wished I joined sooner.
Ruiz-Lopez: Pretty much not be as shy as I was. Like, be more out there doing my homework. Freshman year was not it. It was fun, but I didn't really didn't care as much as I probably should've.
Where do you hope to see yourself in 5-10 Years?
Flores: Honestly, I can't tell you. I know I will for sure be working, trying to make that bank, and trying to enjoy myself and live my life the way I want to.
Fultz: In 5-10 years, I see myself working a management job or even owning my own business. Or, even being a CFO or CEO of a corporation.
Ruiz-Lopez: Still in college finishing my master's. Hopefully, I would've already left Indiana by that point. But, even after that, I still see myself in college.
Leave a Comment
Your donation will support the student journalists of Logansport High School. Your contribution will allow us to purchase equipment and cover our annual website hosting costs.
About the Contributor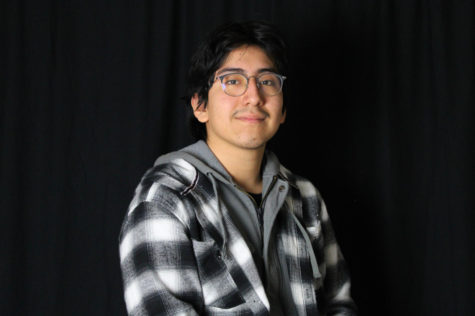 Ared Ruiz, Reporter
Sophomore Ared Ruiz is a member of the Class of 2025 and serves as a reporter. This is his first year on staff. He decided to join Magpie right after his...