Safety First For Halloween 2021
While the COVID-19 pandemic is still going strong, Halloween 2021 is rapidly approaching. Quite a few LHS students are not going out for Halloween this year; whether it be because of the pandemic, or other reasons, everyone still wants to remain safe.
"I'm not sure if I will be celebrating Halloween this year, but if I do, I'll most likely be wearing a mask while outside with those around me. I did it last year, and it helped create a safer sense of the environment around me," freshman Marbella Nievez-Hernandez said.
Trick-or-treating this year is still going to happen, and if an individual plans to give out candy this year, the CDC recommends no direct contact with the trick or treaters, give treats out outdoors if possible, set up a station with individually wrapped candy for the children to take, and wash hand before handling treats.
Even with events like the Sleepy Hollow Haunted Hayride in France Park, going on all October, and Fall Fest on October 23rd in the Logansport Golf Club, it is still very important for everyone to remain safe.
"I think it would mainly be keep my distance from people," freshman Erick Howard said.
Quite a few people still plan on going out for Halloween this year. It remains important that everyone stays safe. The CDC says that a costume mask is not a substitute for a surgical mask, and not to wear a costume mask over the surgical mask; it can make breathing more difficult.
"Try and find a mask that matches your outfit; add gloves to the costume if you can," freshman Jennifer Anaya-Serrano said.
If people plan on holding parties or events, it's recommended by the CDC that the parties be kept small and outside in an open area if possible with everyone wearing masks or try and make the celebrations virtual if possible.
"I think everyone should take at least some sort of precautions if they go out with friends on Halloween every year," Nievez-Hernandez said.
It's also very important to make sure to take safety precautions.
"Use hand sanitizer if you touch someone handing out candy cuz; you don't know what they've been touching," freshman Kyra Kumler said.
Putting COVID aside, it is still important for trick-or-treaters to stay safe. Don't go out with strangers, don't eat already opened candy, and have a group of close friends at all times.
"I also will be making sure to always be in a group and not be left alone in a specific area around town by myself for too long if it were to happen," Nievez-Hernandez said.
While COVID is affecting this holiday season, it's important to.
"Make sure your holiday is fun, but remember what you need to do to stay safe this Halloween," Anaya-Serrano said.
Leave a Comment
Your donation will support the student journalists of Logansport High School. Your contribution will allow us to purchase equipment and cover our annual website hosting costs.
About the Contributor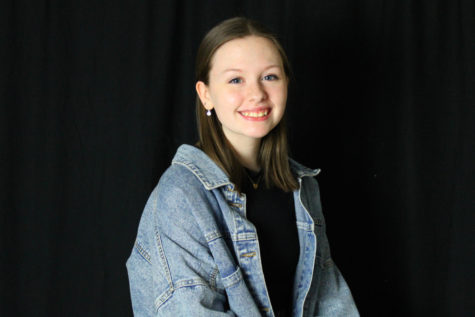 Gretchen Prifogle, Photo Editor
Junior Gretchen Prifogle is a second-year student on Magpie. She has been the Photo Editor for both years. Gretchen enjoys sharing pictures of interesting...