News Briefs: Good Government Day
Good Government Day was on Monday, April 25, 2022. It is set in place to teach students what goes on behind the scenes of Logansport, Indiana. English teacher Julien Gaumer helped to get the whole event put together.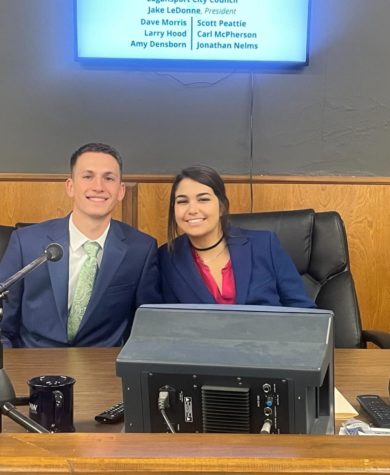 "Good Government Day is an annual participation by our local Cass County Government in collaboration with our Logansport High School Key Club," Gaumer said "We have an elected mayor for the day who has designated an elected ballot of officials who represent Cass County as elected officers. Basically, we have students who get the opportunity to pretend to be city officials for the day and get to experience what it would be like to be in government. It's a great day for our students to be local leaders for our community and to see some of the inside decisions that have to be made."
Our elected officials were Mayor Caleb Crook and Deputy Mayor Jacob Miller. The rest of the officials included Liam Gay, Gianna Rozzi, Brady Bair, Gavin Smith, Grayson Long, Jaden Chin Hong, Kaiden Lucero, Maggie Fincher, Cooper Smith, Jeremiah Miller, Noah Lane, Laine McLochlin, and John Scott.
Final Exam Schedule
A Spanish translation of this article is available as "Calendario de Exámenes Finales."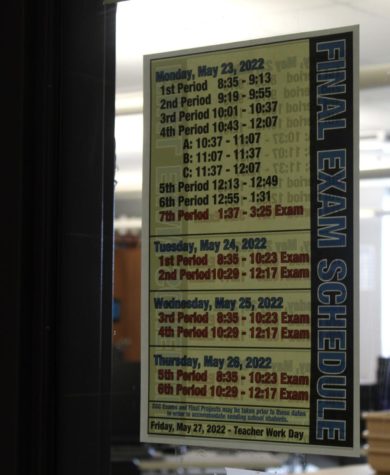 Logansport High School exams require all students to take the final exam because one exam accounts for such a large portion of a student's grade for the semester. This ensures that students graduate with a basic and foundational set of skills and knowledge that prepares them to pursue college and career opportunities.
"Final exams begin on Monday, May 23 at 1:37 PM with the 7th-period exam. Final exams end on Thursday, May 26 at
12:17 PM with the 6th-period exam. The exam schedule is located on our website, on digital signage around campus, and posted in many classrooms. All 9-12 graders are going to take the final exam," principal Matt Jones said.
It's important to take the final because it could affect your grade.
"The final exam is worth 20% of the student's final grade, which has a significant impact on the overall semester grade. A final exam is the culmination of a semester's work to see what a student has learned. And finish the year strong, turn in all work on time, be here every day, and take advantage of teacher-provided study guides for tests. Stay focused Berries," Jones said.
Calendario de Exámenes Finales
An English translation of this article is available as "Finals Exam Schedule."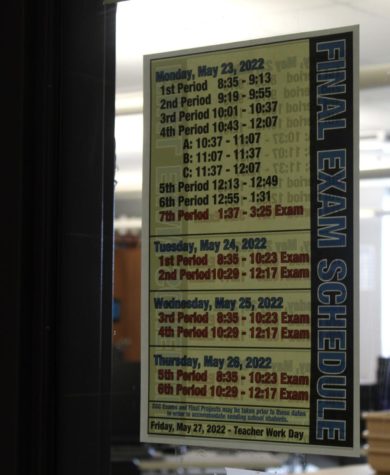 Los exámenes de Logansport High School requieren que todos los estudiantes tomen el examen final porque un examen representa una gran parte de la calificación de un estudiante para el semestre. Y para garantizar que los estudiantes se gradúen con un conjunto básico y fundamental de habilidades y conocimientos que los prepare para buscar oportunidades universitarias y profesionales.
"Los exámenes finales comienzan el lunes 23 de mayo a la 1:37 p. m. con el examen del séptimo período. Los exámenes finales finalizan el jueves 26 de mayo a las 12:17 p. m. con el examen del sexto período. El calendario de exámenes se encuentra en nuestro sitio web, en carteles digitales en todo el campus y publicado en muchas aulas. Todos los estudiantes de los grados 9-12 van a tomar el examen final", dijo el director Matt Jones.
Es importante tomar el examen final porque podría afectar su calificación.
"El examen final vale el 20% de la calificación final del estudiante, lo que tiene un impacto significativo en la calificación general del semestre. Un examen final es la culminación del trabajo de un semestre para ver lo que ha aprendido un estudiante. Y termine el año con fuerza, entregue todo el trabajo a tiempo, esté aquí todos los días y aproveche las guías de estudio proporcionadas por los maestros para los exámenes. ¡Mantente enfocado, Berries," dijo Jones.
Crowning the King and Queen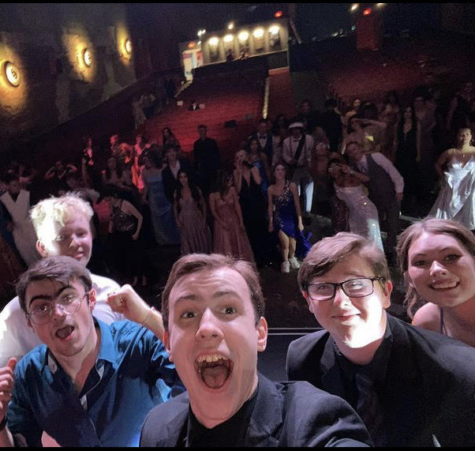 Prom was Saturday, April 23, 2022. After weeks of campaigning, seniors John Scott and Katelyn Tuitavuki were crowned as prom king and queen. Tuitavuki explained how shocked she was to be crowned.
"I didn't think I would run for prom queen, and I certainly didn't expect to win. I thought it would be fun to run and complain. I got my sister involved and my friends involved, and it was so much fun. I would do it again if I could,"
Tuitavuki said.
Although making it into the top five is a win of its own, senior Liam Gay explains his feelings about his defeat.
"It was a little disheartening to lose, but I had so much fun at prom that the loss was kind of overshadowed by the enjoyment of the night," Gay said.
College Career Fair Comes to LHS
On Tuesday April 19, the College Career Fair took place at Logansport High School in the Berry Bowl. Students were able to walk around and visit each of the college and career booths to get a better understanding of what they might want to do in the future.
"The turnout of the student body was incredible. Teachers were very open to bringing their classes down, and that shows how this event is valued. The career fair turnout with local businesses, colleges, and armed forces was fantastic!
Students were able to have a 'one-stop shop' of local industries that they might be interested in, colleges that might become their future place of study, or be able to talk to military recruiters for the branch of military that best suits them," assistant principal Christy Diehl said.
Students were given a peek at future jobs they might be interested in and were able to look at different colleges they might want to attend with the support of the school and Abby Lundy, who organized the event.
"Once students graduate from Logansport High School, we hope that they are prepared for one of the three E's: to enroll, to enlist, or to be employed. This fair hopefully gave students an insight into their future, the needs of our community, and how they can customize their high school experiences to have a tailored path for whatever they choose after they graduate. For those that did not attend, there is always next year," Diehl said.
New Magpie Staff Named
Next year's positions for newspaper staff have been distributed. "LHS Magpie" is our school newspaper run by students who attend Logansport High School. The class is run by Chris Pearcy and the new Editor-in- Chief sophomore Kylee Langley. Even though she is starting out as a sophomore, she is ambitious to better newspaper.
"I hope to grow and better the new upcoming staff. Making connections and bettering relationships can come a long way in any environment. Alongside the rest of the board, we plan on trying new things and even switching platforms as soon as we can," Langley said.
Leave a Comment
Your donation will support the student journalists of Logansport High School. Your contribution will allow us to purchase equipment and cover our annual website hosting costs.