The "Righty-O!" Experience of Being Felix
Felix the Cat, the mascot of LHS, is a huge contributor to school spirit and a model of excellence at LHS. Felix has been the prized mascot of LHS for around 96 years and is still regarded as a special part of the high school. 
He makes an appearance at every home football game, and children are always enchanted by his presence, but there's a real person under that suit, and they have an interesting perspective of doing their job and how they got that position. Junior Finley Gay is just one of several students recruited to be Felix who has played him at football games and other events.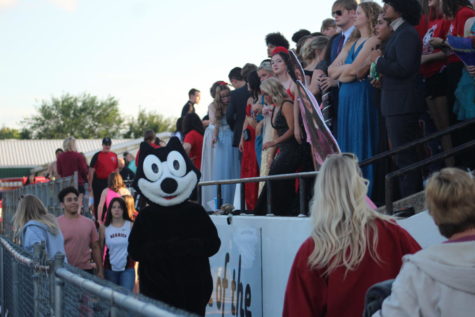 "I became Felix through Mary Pomasl, who runs the cheer team at LHS," Gay said. "They needed a third person to help cover some basketball games, and it was a blast."
The students who get recruited to play Felix are usually recommended by other students and then receive emails from Pomasl or choir teacher Tim Cahalan asking about their interest. Junior Payton Mucker is one of these other students who has become Felix through this informal process. 
"I was originally told by Maggie Fincher to do it while in Impact as they sent out a list to teachers that they needed a Felix, and Maggie quickly pointed to me, then said I should," Mucker said. "Then I was emailed by Tim saying I had the energy and the right requirements to be Felix. I was originally interested because my brother, Braxton, also did Felix during his high school years."
Neither of these students knew exactly what they were getting themselves into when accepting the position. Gay explained that the suit is hard to deal with.
"It's mainly very humid," Gay said. "There's really no ventilation in it, which makes you start to sweat pretty quickly. The toughest thing I've had to do is to make sure the costume looks good at all times. Certain movements can put pieces of the suit out of place, and you don't really know it happens until someone lets you know. But the two most important things are: One, make sure the head stays on. Two, don't break the character of Felix until you take it off."
Mucker has also dealt with the same issues and sometimes struggles with playing the character. One common problem that may be encountered at a game is the wearer's neck being exposed due to the head not being positioned properly.
"It's hot, very hot," Mucker said. "It gets rough at times and sometimes a little uncomfortable, but you just have to stick with it. It's also hard not being able to speak while inside. I need to show attention to any guests and make sure to treat all with respect. I also am to look after children and make sure to show them affection, as well as hype up the school for the game."
Overall though, both students agree that playing this fun-loving cat during games and other events is a rewarding experience in many ways.
"It's a super fun experience and really awarding," Mucker said. "It's also a good way to get a varsity letter for high school. I also enjoy getting to make kids happy and making the games a lot more enjoyable to the audience. It's also great to be able to do stuff without everyone knowing who is in the suit. "
Gay also loves the kids and the attention he receives from them while playing Felix.
"I love being Felix," Gay said. "It's always fun when a kid runs by and pulls your tail, and you kinda have to fake a disapproving gesture. Taking pictures is also pretty fun. Payton and I always help each other during the games, and it's always a good time then."
Leave a Comment
Your donation will support the student journalists of Logansport High School. Your contribution will allow us to purchase equipment and cover our annual website hosting costs.