Sports Briefs: How Graduating Students Will Affect Boys Golf
A Spanish translation of this article is available as "Cómo los estudiantes que se gradúan afectarán el golf masculino."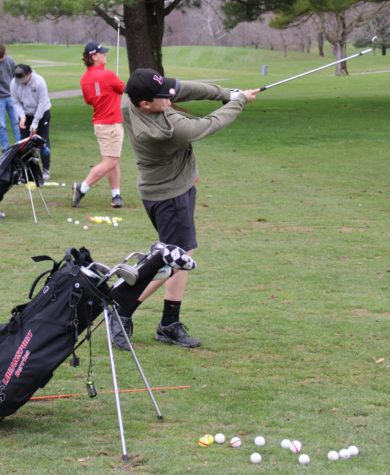 This year, seniors of LHS will graduate and make a difference in some sports. Head golf coach Pete Lundy comments on these changes.
"We are currently in season and will not finish until the 1st or 2nd week of June. After this season, we will lose 60% of our team as they are all seniors. We will be very inexperienced next season and will need our current juniors and lone freshman to step up and play a lot of golf this summer. We currently have three 8th graders who will most likely compete for varsity spots next year. As it stands now, with everyone coming back, we will have seven players on the team. That means that earning a varsity letter is up for grabs. Our current 7th-grade group is also a larger group, and those guys are buying into putting in the extra time and work to become competitive. Golf is not one of those flashy sports or a popular one, so to have the kind of success we have had over the last 10 years speaks to the dedication our boys have to want to win and make those around them better," Lundy said.
The weather is getting better for boys golf.
"So far, the season has been cold and windy. We've been able to play in a few tournaments, and we have done pretty well. We've placed in the top 5 twice and Our #1 Player Ty Vietti has also had a few top 5 finishes. Our overall record against all competition stands at 32-20," Lundy said.
Boys Golf is recruiting new students.
"Golf is a lifelong sport. It's not easy, but the more time you put into it the more you get out of it. You ask any of our golfers, past and present, what golf has taught them about life, and how golf has impacted their current situations and the answers you would get would be profound. Sports in general teach young kids a lot about the highs and lows of life. Good breaks, bad breaks, triumphs, and disappointments. It teaches you how to overcome adversity. Golf though teaches integrity. We are the only sport other than tennis, where we call our own penalties. There are no officials other than coaches. The biggest thing golf will bring you is family. We are a family. I still text message guys from 6-7 years ago. I've been to some of my past players' weddings, and my current JV coach was a part of my first season and 2014 sectional championship team. So if other spring sports haven't brought you the kind of success or feeling of belonging, the golf team welcomes anyone willing to learn and try their best," Lundy said.
Como los Estudiantes que se Gradúan Afectarán el Golf Masculino
An English translation of this article is available as "How Graduating Students Will Affect Boys Golf ."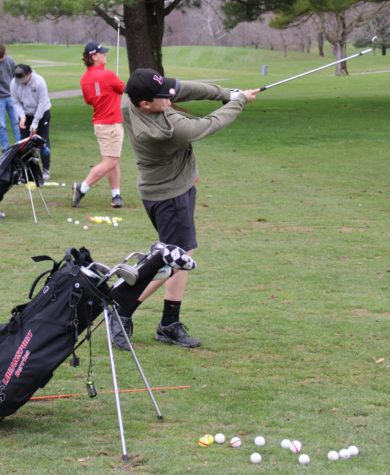 Este año, los estudiantes de último año de LHS se graduarán y marcarán la diferencia en algunos deportes. El entrenador principal de golf, Pete Lundy, comenta sobre los cambios.
"Actualmente estamos en temporada y no terminaremos hasta la 1 o 2 semana de junio. Después de esta temporada perderemos el 60% de nuestro equipo ya que todos son Seniors. Seremos muy inexpertos la próxima temporada, y necesitaremos que nuestros actuales Juniors y el único Freshman den un paso al frente y jueguen mucho golf este verano. Actualmente tenemos 3 estudiantes de 8.º grado que muy probablemente competirán por puestos en Varsity el próximo año. Tal como está ahora, con todos regresando, tendremos 7 jugadores en el equipo. Eso significa que ganar una carta Varsity está en juego. Nuestro grupo actual de séptimo grado también es un grupo más grande y esos muchachos están comprando para dedicar tiempo y trabajo extra para ser competitivos. El golf no es uno de esos deportes llamativos o populares, por lo que tener el tipo de éxito que hemos tenido en los últimos 10 años habla de la dedicación que tienen nuestros muchachos para querer ganar y hacer que quienes los rodean sean mejores", dijo Lundy.
El clima está mejorando para los Masculinos de Golf.
"Hasta ahora, la temporada ha sido fría y ventosa. Hemos podido jugar en algunos torneos y lo hemos hecho bastante bien. Nos hemos colocado entre los 5 primeros dos veces y nuestro jugador número 1, Ty Vietti, también ha tenido algunos resultados entre los 5 primeros. Nuestro récord general contra toda la competencia es de 32-20", dijo Lundy.
El Golf Masculino está reclutando nuevos estudiantes.
"El golf es un deporte para toda la vida. No es fácil, pero cuanto más tiempo le dediques, más sacarás de ello. Si le pregunta a cualquiera de nuestros golfistas, pasados ​​​​y presentes, qué les ha enseñado el golf sobre la vida y cómo el golf ha impactado en sus situaciones actuales, las respuestas que obtendrá serán profundas. Los deportes en general enseñan a los niños pequeños sobre los altibajos de la vida. Buenos descansos, descansos, triunfos y decepciones. Te enseña a superar la adversidad. Aunque el golf enseña integridad. Somos el único deporte, además del tenis, donde llamamos nuestras propias sanciones. No hay oficiales aparte de los entrenadores. Lo más importante que te traerá el golf es la familia. Somos una familia. Todavía envió mensajes de texto a chicos de hace 6 o 7 años. He estado en algunas de las bodas de mis jugadores anteriores, y mi actual entrenador de JV fue parte de mi primera temporada y del equipo del Campeonato Seccional 2014. Entonces, si otros deportes de primavera no le han brindado el tipo de éxito o sentimiento de pertenencia, el equipo de golf da la bienvenida a cualquiera que esté dispuesto a aprender y dar lo mejor de sí mismo", dijo Lundy.
JV Baseball Team Starts Strong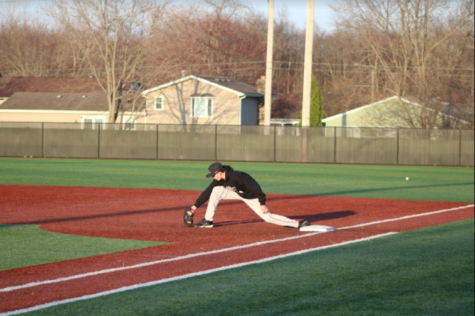 In the first game, JV baseball won against Lafayette Jeff. (15 -2) After finishing the next three games, they had a four-game winning streak. Their most recent game was against Frankfort Hot Dogs, and they won 5-2. They have won 8 out of 17. The leading pitcher is Micah Rogers, followed by Tate Strong. They have combined 4 game wins together on the mound. Their catcher Jake Fincher has had a great year behind the plate. With one of the top batting averages on the team, he has thrown out 12 kids behind the plate.
"I get into the game by listening to music and zoning out people. I don't really have a favorite thing about baseball because all of it just feels like it is right for me." Rogers said
They have a game on May 11 against North Western and they have played this team already, and they are really hoping they can take home another win for the team. The younger players are sad to see the varsity boys go that are seniors this year. They have helped them grow as players, teammates, and an adult.
Leave a Comment
Your donation will support the student journalists of Logansport High School. Your contribution will allow us to purchase equipment and cover our annual website hosting costs.