Q&A with History Teacher Bryan Looker Reflecting on Teaching and Life
How did you get into teaching? Was teaching always the plan?
Teaching was not always the plan. I got my degree at Ball State in history but not in teaching. When my kids were really little, I substitute taught in the school corporation. Then, a job came open at the Cass County Historical Society in 2000. I was the curator and director there for six years until 2006. Then, I went back to Purdue to get my teaching license and ended up getting a job here in the fall of 2012. This is my eleventh year.
What is your favorite thing about teaching?
Connecting with students. Forming relationships with students. If that didn't exist, I wouldn't want to do the job.
Do you think your teaching style is different than other teachers? If so, explain.
Yes, I'm not in other classrooms, but I know how I was taught in grade school, high school, and college. Several students over the years will also say certain things to me that give me the impression I'm a fair amount different. I don't know if any other teachers in the building do skits. Sometimes I do skits and acting. I like to have fun and like to laugh. It's even better when the students laugh. So, I think it's probably a looser environment typically than what most of the classrooms are on a daily basis as long as we aren't doing "really hard" tests.
How does this year compare to other years you have been teaching?
I was really looking forward to this year because the last three years have been heavily dictated by COVID. Three school years ago, it started in March, we went home for the rest of the year. The next year was hybrid schedule, masks all year long. Last year, we had masks for part of the year, and COVID seemed to be ever-present. This year, it seemed it was going to be back to normal. I was really looking forward to it, and then, I caught COVID two weeks into the school year. After having both shots, both boosters, and then I tore my Achilles tendon. So, it doesn't feel normal to me because I can't move around and have the range of motion that I normally do, but it's starting to feel more like normal. The first few days back, it did not.
How was your experience with coaching tennis? Did you use to play tennis?
I did play tennis. I graduated in 1990 from Lewis Cass. The previous fall of my senior year, in 1989, was the first-ever tennis team at Lewis Cass, and I was one of six seniors that were on that first team. I started playing when I was in seventh grade. I started coaching here as an assistant coach varsity level eight years ago. This is my ninth year, and it was great until I tore my Achilles tendon on the tennis court.
Can you talk about your family? How many kids do you have? How long have you been married?
I celebrated my 30th anniversary on the first day of school this year. So, what a great place to celebrate your anniversary surrounded by a bunch of kids you don't know yet. My oldest son is 28. He is named Connor. He is a sales manager for Sherwin, and lives in Fort Wayne. My youngest son is a journalist. He just got a job in Buffalo, New York and he is going to turn 26 pretty soon. Then, my daughter, Madison, will turn 24 later this year, and she lives in the Carmel area. She is getting her masters in radiology. My wife's name is Julee.
What do you do in your free time? Do you have any hobbies?
I like to work around the house. I've done a lot of work on my house since we've moved in 24 years ago. I like to go to the reservoir during the wintertime because they drain the lake. It's kind of interesting going over there. I like to play sports. Right now, it's a little hampered, but baseball and tennis are the sports I really enjoy playing. Model making every now and then hits me. I'm really big into NASA. I wanted to be an astronaut when I was a kid. During the pandemic, I put together all of the NASA rockets.
What is a memory that sticks out to you, in school or out of school?
My youngest son is 25. When he was a 15-year-old playing Babe Ruth, he attempted a straight steal home and was involved in a collision with the catcher that impacted his head. His head hit the turf and that summer was extraordinarily hot, extraordinarily dry. The ground was like concrete. I was coaching the team, so I was the third base coach. He was motionless for a second and then he kind of curled up and didn't look right. A split second later, he had a full-body seizure. It lasted for about forty seconds, and of course, I went to home plate, and I held him in my arms and for ten minutes.
He was non-responsive. He had the highest level of concussion you can have, a grade 3 concussion. He was knocked out. He had a brain bleed, which we found out a couple of hours after that. It knocked him out of sports for months and months. At some point, Riley [Children's Hospital] said he should never play baseball again. It's definitely the most traumatic memory for me because there was one point I didn't think he was going to live when I was holding him. That's as serious as it gets for me.
Do you have any goals or things you want to do/ accomplish?
Well, I would still like to be an astronaut, but I think that's out the window now with multiple broken bones and being fifty years old and probably not being smart enough to become an astronaut. So, kick that out of the way. A lot of my goals are because of personal life. My kids are grown and gone, so those types of goals are done.
Every year, at the end of the school year, somewhere along the line, I tell a lot of my classes, and I think they understand after a year of being in here, I think a lot of my students as being my own kids. I want them to do well. I care about them. If they struggle, I hope they would feel comfortable enough coming to me, to talk to me, and if they don't, hopefully, they feel comfortable enough to go talk to somebody else because being a teenager is really really hard. It's probably the hardest time that anybody is ever going to have in their life. So, I don't know if it's a goal, but my goal every year goes back to one of the earlier questions is that I want to connect with students as much as possible throughout the course of the 180 days.
Another goal is also to travel. My family did not have the money to travel when I was a kid. My wife and I have been fortunate enough to visit a number of national parks the last few years. This last summer, we were lucky enough to see Glacier, Tetons and Yellowstone. We have a goal to eventually visit all the national parks in the continental United States. Currently, we are at nineteen.
What is your favorite movie? What is your least favorite? Explain. 
It's a complicated answer. I think when you age you understand that you have your favorite movie, and then you have a movie that you think is the best you've ever seen. It's not the best movie I've ever seen but "Back to the Future" is my favorite movie. I've probably seen it 30-plus times. I'll watch anything that's time travel at least once no matter how bad it is. But, for "Back to the Future," at one point in high school, I knew all of the lines that were given, and I could give them at the same time as the movie goes on. So, anything time travel intrigues me a lot. A movie franchise is probably "Stars Wars," even though some of the movies drive me crazy. I was five years old when the first one came out, so I am a part of the "Star Wars" generation. Growing up with Luke Skywalker, Darth Vader, and all that. My least favorite is anything that deals with English mythology or mythology in general. I'm not watching any of the "Lord of the Rings" movies. I don't care about any of "Harry Potter." I just don't like mythology. I know "Star Wars" is mythology. I get it, but it has spaceships and lasers.
Leave a Comment
Your donation will support the student journalists of Logansport High School. Your contribution will allow us to purchase equipment and cover our annual website hosting costs.
About the Contributor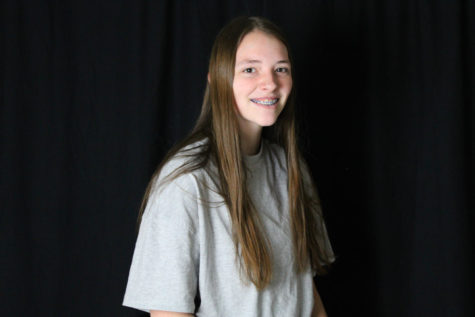 Kylee Langley, Editor-in-Chief
Kylee Langley is a junior and the Editor-in-Chief of Magpie. She has been on the staff for three years and has previously been the section editor for Arts...