News Briefs: Collecting Caps and Gowns
With the end of the year approaching, seniors are getting closer and closer to graduation, meaning it's time to get ready for that important day.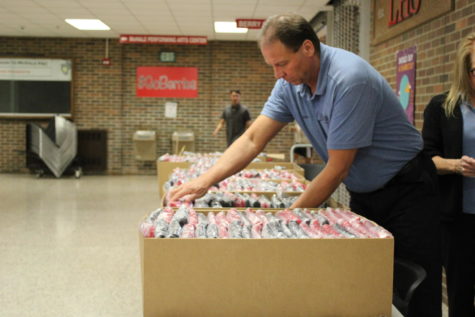 Seniors paid for and picked up their cap and gown last week, which brought many emotions for some of them as this is proof that their high school years are coming to an end and their future outside of high school is right around the corner.
"When I picked up my cap and gown it was just immediate tears. I was so happy and so proud of myself that I made it this far," said senior Chloe Kistler, "As a kid, we dream of the day we walk across that stage and look out and see our parents smiling ear to ear, so proud of us. Picking up my cap and gown was a symbol representing I had done it. I had made it through all of these years. I had never felt so much pride in myself that I did it, and I did it for myself. I know I will never forget the day when I first got a glimpse into my future."
Speech Team Goes to State
Eight members of the speech team advanced to the Class AA ISSDA State Tournament after competing in sectionals on February 26. On March 12, the team competed at Fishers High School in Indianapolis for the state competition.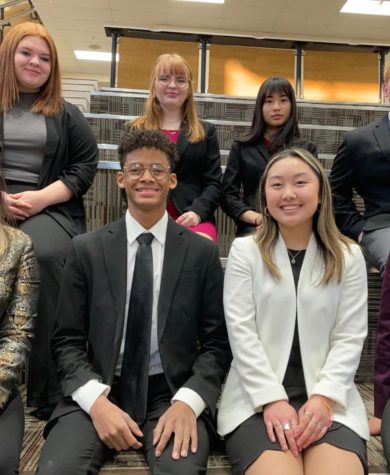 "State was a huge success for our team for several reasons. This was the first in-person State tournament since 2020, and we were so happy to take our students to such a competitive and motivating tournament. This was also the first state tournament for each of our current teammates. Now, we rest. We will have our award ceremony in April, and then begin thinking of pieces, topics, and events for next season," English Teacher Jessica Kranz said.
After the competition, the team came in eighth position, with eight students qualifying to the top 24 quarterfinalists: junior Moo Paw in Debate, sophomore Jasmine Zimmerman in Poetry, and junior Luna Tafolla in POI were among the quarter-finalists. In Informative, juniors Halle VanCuren and Celeste Gomez went to the semifinals, where they finished 9th and 12th, respectively.
"State was such a fun and valuable experience," VanCuren said. "Speech is such a supportive and encouraging activity, so seeing everyone from across the state at their very best and rooting for each other was amazing. We all know how hard we each work, and even though we're competing against each other, we're also silently rooting for each other to succeed. Because who else would wake up before 6 a.m. to get on a school bus to go speak for hours in front of random people and walls? All of us are in it together, and that's comforting because even though it can be mentally taxing, we're all in it together and win and lose as a team."
School Building Delayed

Logansport Community School Corporation is building the new Logansport Intermediate School at 1600 Chase Road. It will include preschool and grades 5 and 6. It was scheduled to open in August 2022. But, the new school building is behind schedule.
'There are several factors that the new intermediate building is delayed by, Like supply chain issues, worker shortages, and weather. That's why it's delayed," Superintendent Michele Starkey said.
There are benefits to the delay.
"One of the benefits is that we should be addressing all items on the to-do list, and there shouldn't be a need for work while students are in school," Starkey said.
A new opening date has been scheduled.
"We will officially open with sixth-grade students in January 2023, which is the start of the second semester for the 2022-2023 school year. While we are disappointed that it will not be ready to open in the fall, we are grateful that we will be able to move in during January and move all future plans forward," Starkey said.
Edificio Escolar Retrasado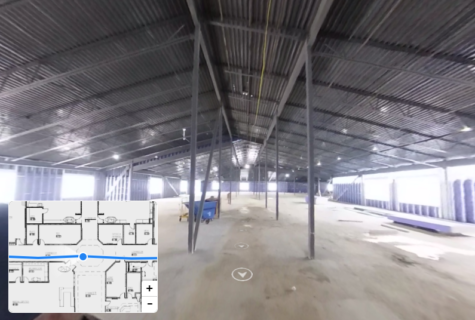 Hay varios factores por los que se retrasa el nuevo edificio intermedio, como los problemas de la cadena de suministro, la escasez de trabajadores y el clima. Por eso se retrasó," dijo la superintendente Michele Starkey.
Hay beneficios para la demora.
"Uno de los beneficios es que deberíamos abordar todos los elementos de la lista de tareas pendientes y no debería haber necesidad de trabajar mientras los estudiantes están en la escuela," dijo Starkey.
Se ha programado una nueva fecha de apertura.
"Abriremos oficialmente con estudiantes de sexto grado en enero de 2023, que es el comienzo del segundo semestre del año escolar 2022-2023. Si bien estamos decepcionados de que no estará listo para abrir en el otoño, estamos agradecidos de poder mudarnos en enero y hacer avanzar todos los planes futuros," dijo Starkey.
Berry Heroes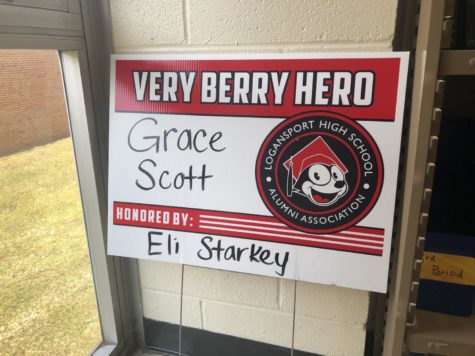 An annual tradition is Berry Heroes. Alumni sell $20 signs that people can buy to recognize any Logansport High School staff member or senior. To order a sign, people have to fill out a form on the Berry Hero website. The signs will be placed outside the Berry Hero's place of occupation through the month of May. The deadline to order a sign is April 8, 2022.
"I was completely surprised," English teacher Grace Scott said, "The signs were along the front of the school, and I don't usually go that way. I was going that way after school one day, and I happened to see the sign, and I was completely shocked. Eli Starkey gave me the sign, and that meant a lot. I had Eli his sophomore and junior year. He loved to give me a hard time, but I think that showed that he really appreciated having me as a teacher. Anyway, it meant a lot and I think the Berry Hero signs are a great gesture."
If people would like to nominate a teacher they can do this by filling out the Google Form at the following link: Very Berry Hero Signs.
Opening of Town Favorite Seasonal Restaurants
As Logansport is getting into spring, the seasonal restaurants are starting to open up. There's Char-Bett, Wally and Olly's, Sycamore, and B & K. Some people have to say these are the best seasonal restaurants to go to, especially for their ice cream. The only one of those four not open yet is Wally and Olly's, but it will open soon. Junior Jenna Gross, who works at Char-Bett, talks about how it's been very busy and sometimes at work it is hard trying to get everyone's order right and getting out to them fast.
"The service at Char-Bett has been really busy. Every time I have worked, there was always a long line waiting," Gross said, "It's very hard. There's a lot of pressure because we don't want the customers to get mad, but we want to make the order right so it just puts a lot of pressure on all the girls."
When it gets busy, it is hard because they tend to run into people, especially when it's a small building like that.
"It does get crowded depending on how many people we have. We tend to run into each other a lot. I understand that it gets busy and when we run into each other we all understand," Gross said, "You kinda can't help it. But, you can always just watch out for it next time."
Leave a Comment
Your donation will support the student journalists of Logansport High School. Your contribution will allow us to purchase equipment and cover our annual website hosting costs.