Sports Briefs: Rocket League Wins State Tournament
The varsity Rocket League team has been working hard all season and recently made their way to the state championship where they proceeded to win.
The semi-final and final championship matches took place on the night of December 14, 2021, They dominated the matches by winning the night with their varsity level skill and communication. A better result for the team than the loss they took last year during the state championships.
"It feels great to achieve a title like that, especially because of how young our team is. There hopefully will be more titles coming our way," said freshman Mac Collins.
LHS Girls' Basketball Team Aiming for a Slam Dunk this Season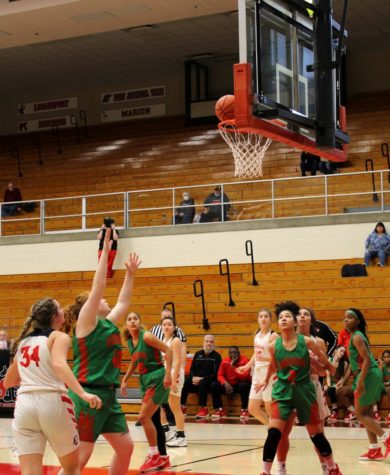 The LHS girls basketball team has a record of 5 wins and 16 losses this season, but still has high hopes for their overall performance. The team believes that they are still trying to understand each other's abilities, and as long as they keep doing so, will continue to do better as the season progresses.
"I don't think the record reflects how our team is starting to come together and improve as a whole. I think the team started off average, but I think we are all trying to understand everyone's strengths and weaknesses. We are trying to put the pieces together to advance our level of play as a team. I believe our team's goals are to work hard, always give 100% effort, and to win the sectional," sophomore player Lydia Goad said.
Boys' Basketball Continues to Shoot for the Stars
As winter season sports continue, many have faced problems and difficulties. Boys' basketball is no exception.
"We have had to face and overcome a lot of challenges this year, to say the least. Obviously, there is the big COVID problem where we never know who could be quarantined and who could have to play. Anyone could be gone at any time and we just have to be ready to play with who we have. That means every single player has to be ready to step up if and when they are needed. Outside of that, we have had many ups and downs. We started the season playing only three players that had ever had varsity experience. That was a learning curve at first, but we have done a really good job facing all of the challenges that have been thrown at us, and I know that we will continue to do so for the rest of the season," senior player Noah Lange said.
For the 2021-2022 season, many have mentioned the lack of wins the team has had. However, the team believes that this does not define them and how they will continue to play for the rest of the season.
"Overall, this season obviously may look like it has been rough. Personally, I think all of us could disagree with that. Although our record may not show it, we have been putting in a ton of work all season long. As a senior, I have been really proud of the effort that the younger guys have been putting in to try and earn their respective spots. So, to be honest, this season has definitely been different, but outside of wins and losses, we have had a really enjoyable season," senior player Noah Lange said.
COVID-19 Attacks the Wrestling Team
The wrestling team has worked hard competing for LHS. However, COVID has affected the team more than initially thought. At least five wrestling meets have been canceled this year due to COVID.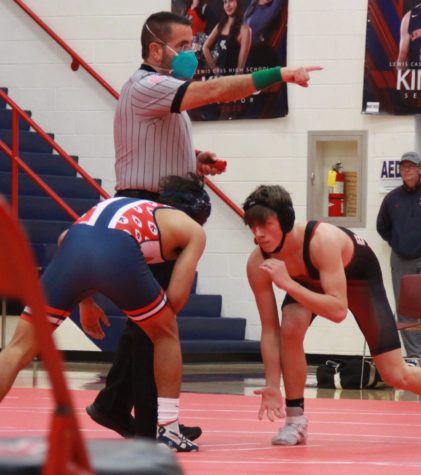 "Many other members of the team have been working hard and pushing themselves in every practice, but we have had to wrestle many freshmen and sophomores in the varsity lineup, and they have not had enough time to develop their skills to that level. But they go out on the mat and fight hard against mostly upperclassmen opponents," wrestling coach Sam Fry said.
Fry gave an in-depth look at how the team has been doing and hopes for sectionals.
"The team has been working hard and improving. Many of the wrestlers are much better than they were at the beginning of the season and working hard to be in the best position possible for the sectional tournament next Saturday at Twin Lakes. In wrestling, the championship tournament is the real show. You can lose every match in the regular season and still become a state champion if it clicks come tournament time," Fry said.
Sectionals is coming up for the wrestling team, and team members are working hard to prepare for it.
"Quentin Clark has really shown he is ready to make a run in the tournament this year currently undefeated with 10 wins, 9 by Pin, and placing first in the NCC tournament. Christian Hernandez is also looking good at 6-0, ready to improve on his semi-state qualification from last season. He, unfortunately, has not been able to compete in many matches this year due to quarantines."
Getting Ready for the Track Season
With the track season rapidly approaching, the track team has been keeping busy with winter conditioning in order to prepare for the upcoming season. Practice for the main track season will begin on February 14, falling on the first Monday of the month.
Leave a Comment
Your donation will support the student journalists of Logansport High School. Your contribution will allow us to purchase equipment and cover our annual website hosting costs.