Ice Cream on the Eel River
An old gas station made of a small red brick building sits on the Eel River. However, it was transformed from a beat-up, old abandoned property to a small ice cream shop. 
"I think that where it is placed, the seating and benches so that you can sit amongst the river, to eat your ice cream is cool," junior Lacie McDonald said. "I think that the shop is cool because of how they reopened it. It used to be other businesses, but they went out of business. So, I think that it's really cool that they reopened the shop." 
Wally and Olly's is located on the corner of North Third Street and East Linden Avenue. The building has many things that stand out from where it is located by the river to the historical artifacts and Ford Model A sitting outside the shop. 
"It's a little slower pace around here. It's based on the 20s and 30s, the early years when things were a lot simpler," owner Ron Toth said. "I'm about the history, which you can tell when looking around. I thought this thing needs to be put back together, so we did that. I mean we wanted to do something fun and have fun. That is exactly what we are doing." 
Wally and Olly's, owned by Debra and Ron Toth, is one of the newer places in town. They are known for their wide variety of choices, keeping 20 hard dip flavors in at all times as well as food, drinks, snowcones, shakes, and blasts. 
"They have really good ice cream first of all, like ten out of ten my favorite ice cream place in town," freshmen Calvin Mackey said. "They are open longer than the other seasonal outdoor food places around town, and I enjoy that because what if I still want ice cream in October?" 
The shop opened in March of 2021 and was named after two of their grandchildren. The ice cream shop is family-oriented and known for its welcoming, friendly service to all customers. 
"Everyone got to know us on a first-name basis. The community in itself has supported us overwhelmingly, and that is really cool," Ron Toth said. "I think that the kids, and everybody in general that works here help us stand out honestly. They know a lot of people in the community. I mean you come up here, and you'll see the grandkids in and out of here helping out whenever they have the chance. You see the whole family up here working on the Fourth of July as well." 
As the fall has come, seasonal restaurants like Sycamore or Char-Betts have come to a close within the last few months. Even though it has stayed open longer than others, Wally and Olly's season is coming to an end as the winter season is arriving. 
"We are closing the last week of Oct. and will open back up when the weather permits us to in the spring," owner Debra Toth said. 
As they close for the season and await the next year, they plan on continuing what they are doing now by providing employment to the neighborhood kids and giving the neighborhood something to be proud of. 
"We want to keep clicking along and make people happy, sell ice cream and sit out here on the porch and visit and relax in the rocking chair," Ron Toth said. "Being able to come into this small little corner of town and take a look at the good old days. I used to make ice cream in the crank machine that is sitting on the porch outside the shop now with my ten brothers and one sister."
Leave a Comment
Your donation will support the student journalists of Logansport High School. Your contribution will allow us to purchase equipment and cover our annual website hosting costs.
About the Contributor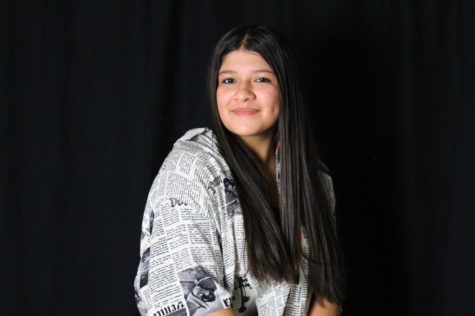 Reyna Hernandez, Photographer
Freshman Reyna Hernandez is a new Magpie staff member. She is a photographer, but also enjoys helping with social media and writing about events happening...