Q&A with Two-Time Best of SNO Winner Kylee Langley
What is your role on magpie and the responsibility associated with it?
I am the Editor-in-Chief for Magpie. Overall, I just help oversee the publication and manage what gets published and when. I work with our managing editors, Emily Sanchez and Leah Alder, to make sure everything is getting done and running smoothly within our staff.
 How has magpie grown since you joined your freshman year?
.I joined Magpie in the second semester of my freshman year after completing a semester in journalism. Magpie was way different than it is now. At the time magpie was solely a paper publication and that was all stopped due to COVID. At the end of the semester, a group of seniors were able to whip up a website that we later transformed my sophomore year. At the beginning of my sophomore year, we got a new advisor, Chris Pearcy, and most of the staff had graduated or decided to not be a part of the staff anymore. Many people didn't even know we had a school newspaper at that time and this resulted in us only having five people in the class. We all then worked together to redesign the website and began publishing every two weeks. Second semester Mr. Pearcy was able to recruit quite a few people and this is when Magpie started to become something. We began publishing every week and even started to win multiple awards. This year we have continued to grow and add even more people to our staff. We publish every single day, which I think is so cool and such an accomplishment from where we started. I am so proud of how far Magpie has come in such a short time and it shows that hard work does pay off. 
What is your favorite part about magpie?
I love so many things about Magpie. I enjoy being able to write things that interest me and that I think are super important. Without Magpie, I wouldn't have even realized how much I truly enjoy writing. I also love the staff. Everyone on staff is so much fun and we all have such a great time together. There are many times when we get stressed out, but there are so many people willing to help one another get things done and I am very grateful for that. 
What are your goals for magpie your senior year and the years ahead?
I hope that Magpie continues to just grow from here and I have very high hopes for that. It would be very cool to attend a national conference or even win a national award for our website. If we don't win it by the time I graduate, I do believe Logansport High School will eventually have that national title. I hope to just try new things within the staff and publication as well. Overall, I will be very sad to leave but I can't wait to see how much it grows. 
 How do feel you about having two best-of-SNO articles?
I am extremely proud that I have won Best of SNO twice. The first time I won it was for an article about student businesses and I was completely shocked. We had submitted multiple articles of mine that I thought were better than that one and they did not get accepted so I did not have high hopes. I was wrong and it was better than I thought. The second article that I received Best of SNO for was about veterans' families. I was so happy that this one got accepted. I loved this article and was extremely proud of it. I think winning different awards for Magpie is always so rewarding. It is always extremely nice when other people notice your hard work and your ability to do something. From what I have seen this award is also not the easiest to obtain so knowing that I have done it twice is just crazy to me and I couldn't be happier. 
Leave a Comment
Your donation will support the student journalists of Logansport High School. Your contribution will allow us to purchase equipment and cover our annual website hosting costs.
About the Contributor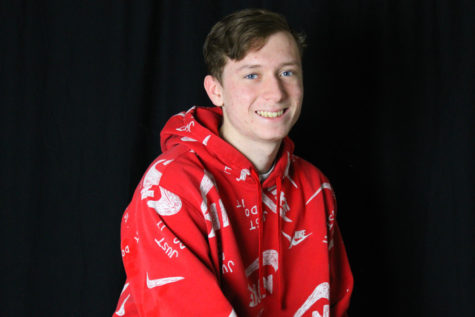 Payton Herr, Sports Section Editor
Senior Payton Herr is a reporter for Magpie and a member of the 2023 class at Logansport High School. He joined Magpie during the 2022-2023 school year....