The Season of Giving with the Salvation Army Angel Tree
With the holiday season approaching fast, this can be a stressful time. A 2020 Censuswide study found that 52% of parents in the survey pool of 2,500 working-age individuals were concerned about how they would fund Christmas. 
A program that takes place across the United States to address this concern is the Salvation Army Angel Tree. Angel Tree is designed to provide Christmas gifts for children around the country each year. 
"Each of my two-hour blocks took up a donation to help buy Christmas for the less fortunate," Welding teacher Christine Linzey said. "The Angel Tree is a way for my students and I to give back. When we 'adopt' a child for Christmas, we get a slip with the child's age and gender and a list of things they may be interested in. Each of the two blocks comes up with enough to adopt two children."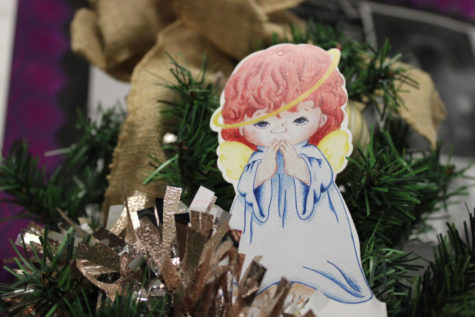 At LHS, there are several teachers and students that participate in making sure these children get gifts for Christmas.  
"All a student has to do to participate is ask to see an Angel tag," English teacher Tamara Minks said. "Then, they shop and bring the gifts to their teacher. The items do need to be new with the tags still on. They can also give the teacher money to shop with."
English teacher Grace Scott has participated in the Angel Tree for the past eight years.
"Each year, I sign up for an Angel Tree tag for my family, several tags for my classes, and a tag for the FCA," Scott said. "Students can help donate money for the class tags, or they can also shop independently. We also have a date when we go shopping at Walmart together with the money we have collected as a class. It is usually a fun evening of running around Walmart together spreading holiday cheer." 
For ten years, history teacher Bryan Looker has also introduced Angel Tree into his classroom. 
"The week after Thanksgiving every year, my students donate for the two tags we get," Looker said. "I always match up to a certain dollar value. Each one of my classes participates, and the response is always overwhelming every year. We keep a running total on the board so students know exactly how much we have collected. I do stress, however, to only give if you are able."
According to salvationarmyusa.org, the Salvation Army Angel Tree program provides clothing and toys to more than one million children in need each year. 
"I ask all of my students in my two hours blocks to bring in at least ten dollars. Some brought more," Linzey said. "This way we are able to provide the children with a good Christmas because these gifts are most likely all of what the kids are getting for the holiday."  
One reason someone may find it important to donate is that they have previously been on the less fortunate side of things.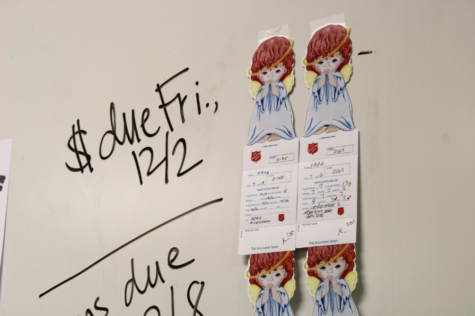 "In 1982, when I was ten, the United States was in the middle of the worst recession since the Great Depression," Looker said. "My dad had been laid off from Rockwell, today's Matthew-Warren, and was without work for the majority of the year and was unable to find any job anywhere. The oldest of three, I realized we were not going to get anything for Christmas, and it was going to be okay. I understood and asked for nothing. Somehow, my parents managed to still provide each one of us boys a few gifts at Christmas."
For Looker, this memory had a significant impact on him. 
"I still have one of those presents to this day, a Cincinnati Bengals sock hat," Looker said. "It is perhaps my most cherished possession due to its significance. Unfortunately, some parents are in an even more dire situation than my own experience. They simply cannot provide the same magical moment I had as a ten-year-old. But, every child should have that moment, and the Angel Tree program is a way the community can help make that happen."
Over the years, teachers and students who have participated in the Angel Tree have been able to raise a good amount of money to help the less fortunate. 
"We typically have a pretty good turnout," Scott said. "One year, my students donated so much money that we were able to give a sizable donation to the Salvation Army after we purchased gifts for our Angel Tree Tag. The representative from the Salvation Army was in tears. I was very blown away by my student's generosity." 
Not only can someone donate to Angel Tree, but they can also volunteer their time. By contacting the Salvation Army, people can help out by preparing angel ornaments, delivering gifts, and more. 
"Too many kids are going without Christmas. It's not fair," Linzey said. "A lot of people are struggling right now. Some just don't have the extra money to give these children the Christmas they deserve. It teaches my students to give back when they can."
Not only does this make a great memory for the recipients, but it is also a sweet moment for all the teachers and students willing to give to others during the holiday season. 
"My favorite day of each year is when I bring what we have bought each of the children and show it to class," Looker said. "It's awesome to see the students' responses. It makes it tangible at that moment that they are helping someone else who is in need."
Leave a Comment
Your donation will support the student journalists of Logansport High School. Your contribution will allow us to purchase equipment and cover our annual website hosting costs.
About the Writer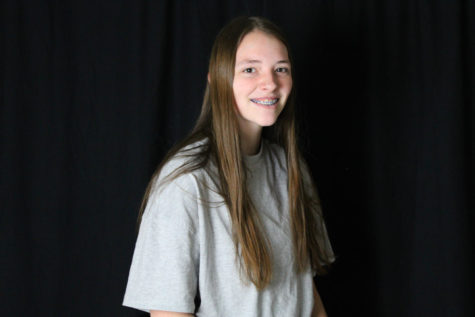 Kylee Langley, Editor-in-Chief
Kylee Langley is a junior and the Editor-in-Chief of Magpie. She has been on the staff for three years and has previously been the section editor for Arts...