The Chaos of Black Friday
Black Friday is popular in the United States. It traditionally marks the start of the Christmas shopping season. Many stores offer good discounts to kick off the holiday season. Black Friday started on Friday, November 25, 2022, this year. It's not an official holiday, but it's always the day after Thanksgiving. 
"I go because I like to shop a lot, and it's better to get sales and not have to pay full price for things," senior Kendall Sweet said.
It's hard-working on Black Friday because employees don't know when they will get their break or how long the shift will be. In smaller and less busy stores on Black Friday, it would most likely be like a normal day with sales if they aren't that busy. However, Best Buy is always one of the busiest stores to shop at on Black Friday because there are electronics like TVs, phones, headphones, etc.
"In my 20's, I worked at both Toys "R" Us and Best Buy, and I worked Black Friday at both of them," English teacher Chris Pearcy said. "I worked at least three or four Black Fridays, and one time I even worked about a 12-hour shift."
The holiday season is always the busiest shopping season of the year, with Christmas, New Year, and other big holidays coming up. For shoppers, it can be an intense time on Black Friday. 
"Last year, we were scared a little because the person who I was with ran into someone, and they started yelling at her and stuff," freshman Adrienne Scott said.
Black Friday is one of the biggest theft times of the year. It's very hard to watch for theft in big stores because of how many people are in there, and employees just can't watch everyone at the same time. Stores like Toys "R" Us and Best Buy are really hard to look for theft in.
"One kid was scoping out some Beats by Dre. headphones," Pearcy said. "He kept coming back around to the same spot, and he did successfully steal something because when you're stopped by another customer like I was, your full attention is on them. Then, he grabbed the Dre's because they were at the front entrance of Best Buy and jetted out."
Black Friday can be very chaotic in most cases for the shoppers and workers there. Sometimes there are emergencies that direct everyone's attention to that spot in the store. 
"One time at Best Buy, there was a medical emergency in the middle of Black Friday. All of a sudden we hear this gigantic crash in the middle of the store," Pearcy said. "A guy had a seizure and in the process of falling over, he landed on shelves and knocked them over. People asked if he was okay, but he seemed alright since he got up and left the store. He seemed more embarrassed than anything."
Besides some of the medical emergencies that happened on Black Friday, there are good things to it too. A lot of people like to do Christmas shopping during Black Friday because of the good deals. Different stores have different deals, therefore, some stores may have good deals and others not so much. 
"Honestly, I like shopping because I just love clothes, but during Black Friday it was kind of chaotic because I couldn't even walk through the aisles. There were too many people," Sweet said.
Leave a Comment
Your donation will support the student journalists of Logansport High School. Your contribution will allow us to purchase equipment and cover our annual website hosting costs.
About the Contributor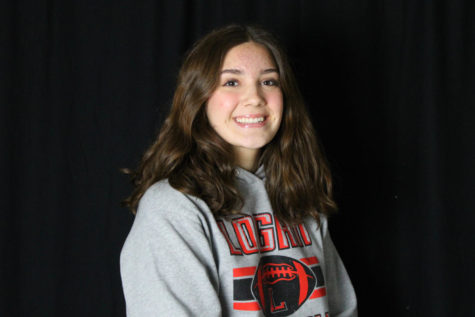 Isabella Lucero, Reporter
Isabella Lucero is a sophomore at LHS and is a member of the Class of 2025. This is her first year on the Magpie staff as a reporter and photographer....