Q&A with Luna Tafolla About Winning the Lilly Scholarship
What is the Lily Endowment Community Scholarship?
The Lily Endowment Community Scholarship is a scholarship that will pay for your tuition and will give you a $900 stipend for books.
Since when did you know you wanted to apply for this scholarship?
I knew I wanted to apply since my junior year. I saw some of my older friends apply, and I saw that they became finalists. So, that kind of inspired me to apply.
How did you feel when you were announced as a finalist?
When I was announced as a finalist, I was so excited. I was kind of shocked in a way. But, I was excited to just be a finalist, and I didn't pressure myself in becoming a winner. It was such an accomplishment to just be a finalist that I went into the interview just relaxed and showing them who I was as a person and not trying to be anything or trying to win. After the interview, personally, I thought I bombed it. But, I guess not. I thought there was a possibility that I could win, but I tried not to focus too much on it.
Can you explain what the process was to apply for the scholarship?
First, you have to do a personal essay. They give you a question and you answer it. Then, you have to do a statement of goals, which is what you plan to do in your future. Then, you submit a resume, two recommendation letters, and your transcript. That's the first stage. Then, if you are announced as a finalist, they send you a letter in the mail. Then, you set up a time for an interview. The interview is only like half an hour. After the interview, you just wait for a long period of time, like two months. Then, you get to find out who was announced.
How did you feel winning? What was the process of that whole morning?
So, my mom was asking me, "What are you going to wear today?" and I was like, "Clothes?" She's just like, "I bought you these pants. You should try them on." She even hemmed them for me and everything. She gave me her coat too, and I was just like why is she giving me her clothes? It's just a regular school day. I don't know why it didn't cross my mind. But, I had a meeting that day with some school officials over security at LHS, so I was waiting. We went in for the whole conversation. Then, all of a sudden Mr. Dubes comes in, and he's like, "Can I have Luna Tafolla?" I was just wondering why. Then, I walked out, and they walked me through the entrance of the school. That's when I saw them. I was so shocked, and I really didn't think I would win. I knew there was a possibility, but it was just shocking. Then, I got emotional, and it was just a really nice experience.
What are your plans for after high school and how does winning the scholarship affect that?
My plans are to get a bachelor of science in neuroscience or neurobiology, something along those lines, through Notre Dame. After that, I plan to apply to medical school and get an MD as a neurologist. This helps me a lot because it's eight years of schooling. My first four years of tuition are covered, so that's a lot of money. It helps me focus on what I am trying to accomplish. That is to research, get all my knowledge, and apply to medical school so I can achieve my goals, and I don't have to worry about the financial aspect or working. I get to focus, and it just helps me achieve what I am working towards.
What grade and class did your struggle with the most? How did you push through that?
I struggled with AP European History with Mrs. Sharp when she was here. It was hard for me because it was a lot of historical contexts. I knew about history, but I didn't know it in the detail that they were asking me for. I had to do timed essays. I got like 20 minutes to write a whole essay. Or, there was a test, and it'd have 50 questions, and we only had 45 minutes with short answers involved. So, I had to really learn how to time manage. I did study guides each day, and it helped me to become more disciplined. There were times when I would study a lot. I just learned to time manage, be disciplined, and write essays in a short period of time.
What all activities and clubs are you a part of?
For school, I am president of the Spanish Club. I am co-captain of the Speech Team, treasurer of Future Leaders, and secretary of SAFE Club. I am also involved in the Academic Super Bowl teams, Subdebs, Student Council, and NHS. Outside of school, I am involved in my church, the Logansport Multicultural Events Committee, the Logansport Junior Bank Board, and the Humane Society.
Have you sacrificed anything to put your sole focus on school?
Yes, sometimes I would sacrifice family events or going out with my friends. You only have a certain period of time. School has a lot of deadlines, and I can choose to be happy for this period of time and then be stressed to try and cram everything in and try and meet the deadlines, or I could just focus on the deadline and later I can have fun. There is always time to hang out with friends, but these deadlines are strict. So, that's kind of my mentality. I just try to prioritize things that are due, and that led me to sacrifice some family events. For example, we had a family vacation to Mexico last year, but I didn't go because I had finals, and I had to do them. Or, when my friends ask me to go to like Indiana Beach, I couldn't go. But, I made up for it in the summer when I didn't have anything going on. The scholarship makes everything worth it. Everything I sacrificed was for something, and now I'm able to have it fully paid. I don't have to stress about applying and applying to scholarships. I have more time now too to spend with my family because of that. So, now instead of applying for scholarships, I can just hang out with them. My last year of high school, it makes it more relaxing.
Leave a Comment
Your donation will support the student journalists of Logansport High School. Your contribution will allow us to purchase equipment and cover our annual website hosting costs.
About the Writer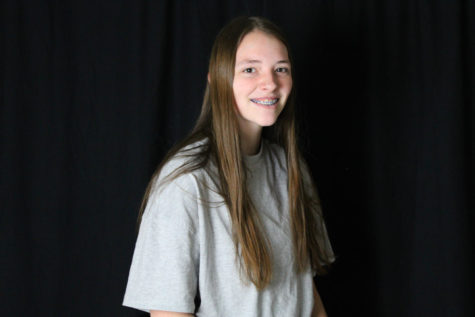 Kylee Langley, Editor-in-Chief
Kylee Langley is a junior and the Editor-in-Chief of Magpie. She has been on the staff for three years and has previously been the section editor for Arts...