Profile: 10 Questions Vogue Style With Grace Scott and Sam Fultz
Grace Scott is an English Teacher at LHS who enjoys teaching and leading. She is the lead singer of The Grace Scott Band, mother of two children, pageant coach, and a proud farm wife. Some facts about Scott are that she is a worship leader, she can make homemade peanut butter and jelly, and is a professional parts runner.
Do you have any hobbies or things that you enjoy doing?
I really enjoy Purdue sports so my family and I try to go to Purdue football and basketball games every year. We have a love-hate relationship with the Boilermakers because they break our hearts every year athletically, but we love them so much. We also enjoy showing livestock as a family and we show hogs and cattle. It may seem weird, but we spend the year shoveling out pins, washing animals, and teaching them to walk is another great part of our lives.
What is your favorite dessert?
I will say I do have a sweet tooth. There are not many desserts that I've encountered that I don't like. Cheesecake would have to be my favorite and I'm pretty darn good at making a good cheesecake too. It's like my holiday special at all of the family gatherings.
What is something that you've always wanted to try but are too scared to do?
Skydiving is something that I've always wanted to do. I think it looks really cool and I've heard from my friends that it's the most incredible experience, but I'm terrified of heights. I don't think I could ever build up the courage to do it.
What is your favorite place that you have been to?
When I was in high school I was lucky enough to travel to France and spend two weeks there. In general, I love the South of France so much, it was the most beautiful place that I have ever been to. The sense of heritage and history was so incredible. The people were so kind and there was so much art, culture, beautiful vineyards, and Roman ruins. The painters that were there made you understand why they were so inspired by the light and the beauty.
If you could sing a duet with anyone who would it be?
That is a great question especially since I do sing and I love being a part of that. Without question, I would love to do a duet with Dolly Parton she is my idol in country music and it would be a dream come true. Dolly is an icon, the essence of what country music is, and what it means to be a good human being. Her whole life she has given back to not only the Tennessee community but to the entire world. She is just a heart of gold and an incredible songwriter and vocalist.
What is one thing most people don't know about you?
Because I spend my life so often as a performer and spending my day leading, teaching, and being with people all day I think that sometimes people don't know that I'm introverted. My perfect day would be on the beach on my own with a book. I am actually kind of shy and quiet, but I force myself out of my shell to do the things I also enjoy.
Do you have any weird or strange talents?
I think that probably a strange talent I have is that I can remember all kinds of odd facts, information, pop culture, celebrities, or anything for that matter. If you need to know something random I can usually recall that. I can't do math or chemistry to save my life, but I can tell you all about random facts and things along the lines of that.
What is your favorite childhood memory?
One of my favorite childhood memories is my very first year of 4-H. I showed cattle in 4-H and the pictures are really funny. I wore a pink show shirt and my cow had a pink holter. My mom put a pink bow on my cow's tail and that is not something that you do in 4-H. People still talk about it in my hometown to this day and remember how memorable it was. My cow weighed over 1200 pounds and I was a little bitty thing out there showing my cow. It was kind of scary, but it was also very memorable and rewarding at the same time. That's when I really fell in love with 4-H and showing livestock.
What is your favorite book?
This is another excellent question and it is a really hard choice to make. My favorite book would probably have to be "The Great Gatsby" by F. Scott Fitzgerald. It's been called the perfect American novel and I would have to agree I always get something new out of it whenever I read it. I love that it's a book about dreamers and people chasing after their dreams.
Christmas or Thanksgiving?
That is a tough one, but I love Christmas. We have a lot of special family traditions and I will say holidays get so much better when you have your own children and so celebrating Christmas with my little family I enjoy all of our family traditions like Christmas eve service and making my family a special breakfast on Christmas morning. It is really wonderful to give gifts to people and I love that Christmas is all about giving.
Sam Fultz is a sophomore at LHS and is involved with many activities at school. Some of these things include LHS Drama Club and Band. He enjoys talking to people and is very vocal. When he's not doing those things, he enjoys watching movies and hanging out with his friends.
Do you have any hobbies or things that you enjoy doing?
I'm in drama club, band, and other theatre-related activities around town. Lately, I've spent my time at practice, and if not at practice, at home doing homework. I enjoy listening to music and reading if I have the time and energy. I'm also in Swing Choir. I hope to join a sport in the future, maybe swimming or tennis.
Who should everyone follow on Instagram right now?
Shaquille O'Neal because he's interesting. Also, because he posted about his Krispy Kreme franchise after it was hit by a fire, and it came up in my feed, and I found it interesting. I followed him hoping for more updates, but they didn't come.
What are some of your pet peeves?
I don't have many peeves, aside from I like my space, but I'm trying to work on it and be more "chill" if that's the word you want to use.
What is your favorite movie?
Now, my favorite movie. That's hard. It would definitely have to be "Ghostbusters", "Star Wars (Empire Strikes Back)", or "Lord of the Rings". The 3 possibly most boring movies for a kid, but those are the movies I grew up watching. I lost and found the Star Wars movies numerous times, and I'm surprised they still play.
Three people alive or dead that you would like to have dinner with?
John Candy, Chris Farley, and Dan Aykroyd would have to be my top 3. Mainly because they're some of the most influential writers, actors, comedians, and filmmakers of the late 20th century. John Candy in "Planes, Trains, and Automobiles" (my favorite Thanksgiving movie), Chris Farley in anything from "Beverly Hills Ninja", to "Tommy Boy", and finally Dan Aykroyd in "Ghostbusters" or "Coneheads.
What is one thing most people don't know about you?
I'm not sure if there's anything people don't know about me. I'm rather vocal when it comes to what I do and what I'm into doing. I guess you could say not everyone knows I'm a sophomore. I tend to run into the problem of people thinking I'm a junior, which is odd to me, but I guess maybe I just give off that impression.
If you could go back in time or go into the future what would you do?
Now that's a hard question. I guess I'd go back and tell my younger self that you'll get over that speed bump. If I did it, you will, just keep your chin up, and don't seek out the bad. You can call it a cliché answer, but I think everyone wishes they could change something if they could.
Christmas or Thanksgiving?
CHRISTMAS. 100% CHRISTMAS. Who doesn't love getting free food and gifts unless you're a parent; then you have to pay for all of it, and you don't get much in return. But I also just like the music combined with the spirit and Christmas can never seem sad or dull; it always seems cheery and bright. Though, like I already said, "Planes Trains and Automobiles" is up there on my holiday movies list.
When is your birthday? What do you usually do?
My birthday is the 19th of December. Usually, I like to go to dinner with my family or friends or do something that's not just sitting on the couch, scrolling endlessly through HBO Max or Netflix.
What is your favorite thing about school?
I enjoy clubs a lot. I would like to get involved in more, but I also need to find some information which leads to people. I like people. I'm very talkative, as you may or may not know, so I like making conversation with the people around me whether that be students, my friends, or once in a great while teachers.
Leave a Comment
Your donation will support the student journalists of Logansport High School. Your contribution will allow us to purchase equipment and cover our annual website hosting costs.
About the Contributor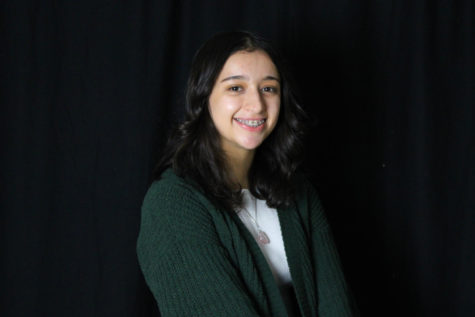 Emily Sanchez, Managing Editor
Emily Sanchez is a junior and has been a part of the staff since her freshmen year in 2020. Emily currently serves as co-Managing Editor. She enjoys writing...