Spelling Their Way to Better Seasons
The LHS Spell Bowl Team, led by history teacher Angela Harmon, doesn't receive a lot of recognition. With only four current members, the success and potential of the team are dwindling. It's an unfortunate matter because of the many achievements the team has in its history and what it meant to its past members like Harmon. The team needs support and attention if it is to stay at the high school and continue to make such an impact on kids in different ways.
Harmon herself has very fond memories of her own experience in Spell Bowl. 
"I joined Spell Bowl during my junior year at LHS because my friend Brenda wanted me to try out with her," Harmon said. "We both made the team, and we loved it."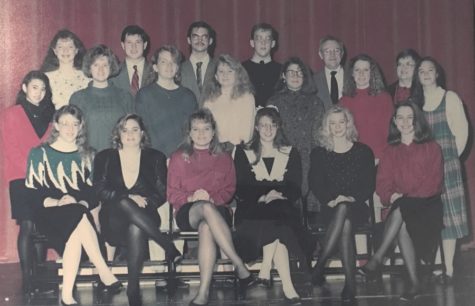 Back then, the team had many members and was a strict, but meaningful, extracurricular at LHS. So much so, Harmon and her friend went to great lengths to make it to practice on time.
"We had morning practices, and if we were late, we missed the words," Harmon said. "We were not given an opportunity to make them up. It was a tough competition for the top ten, and I made it both years. So, I got to spell. My friend was always late, and one morning, she was speeding up Berry Lane and hit the curb. Her hubcap flew off and went bouncing away. We could not be late, so we went to practice and left it. After school, she stopped on Shadowlawn while I went and found it for her."
The strictness and discipline of the team allowed the members to reap awards and opportunities. The team won state the year after Harmon graduated and advanced again to the state competition in 2018 after a period of unsuccessful seasons.
Harmon went on to become the leader of the team and gained a large group of spellers over years of recruiting, which led to a close-knit, prestigious group.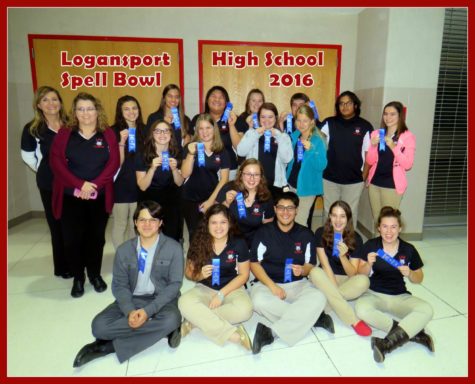 "We had a great team in the fall of 2018," Harmon said. "I had never had a speller get a perfect score in a competition, but Natalya Reynoso achieved a perfect score at nearly every competition, including the state competition.  We had a few others that would get a near-perfect score and an award at many of the competitions, and one other perfect score."
Like many activities during that time, the COVID-19 pandemic highly affected the Spell Bowl team in terms of getting people to join.
"We only had four students who were really a part of our team for the last season, but they did well," Harmon said. "We had a good time. Unfortunately, we had to take a zero in six rounds because we did not have any more team members."
Sophomore Valeria Cortes was one of those four and highly enjoyed her experience.
"I joined Spell Bowl because they didn't have enough members, and Mrs. Harmon encouraged me to join," Cortes said. "I have made new friends and learned many new words that have expanded my vocabulary. But, even if you aren't the best speller, you should definitely consider it. It is a great opportunity, and you make many new friends. I never planned on being in Spell Bowl, but Mrs. Harmon encouraged me to. I don't regret joining."
It's a common idea shared among these four that the Spell Bowl team is something special. Junior Carissa Dawson also enjoyed her experience as a part of the small team.
"I had Mrs. Harmon as a teacher last year for history," Dawson said. "She had been recruiting for the season because the team had depleted a bit after COVID, and I went up there and decided to ask her about it. Mrs. Harmon was my favorite teacher, so I didn't mind giving it a shot. I ended up really liking it. I personally wish I had more time so that I could've given it more attention."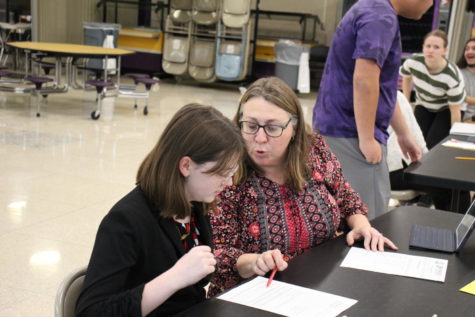 Dawson also acknowledges the advantage of having Spell Bowl on a college transcript. Spell Bowl is considered a less serious academic club, but it still holds merit in any educational institution.
"I think it's a lot of fun to go to competitions," Dawson said. "The coaches are super nice and make it a lot of fun. We also have the opportunity to play games at practice, and it also looks good for colleges." 
Harmon especially harps on the good things that one can acquire from Spell Bowl.
"We study about 2,200 words and definitions each season," Harmon said. "All competition words are taken from that list. Learning the new words can have a positive impact on SAT scores. I've also had students tell me how much it helped them in senior English. I know many do not believe they need to know how to spell because we have spell check. However, it is a skill that may be very important to future careers."
Overall, for all of the members of the mini team and their coach, Spell Bowl is a worthwhile extracurricular at LHS and should continue to be for many other Berries. When students try something new and all share a common goal, great things can come from that, as shown in many previous years.
"Spell Bowl may not sound fun, but it can be," Harmon said. "We have had some really fun groups of students. Mrs. Myers worked really hard last summer and came up with games to play at Thursday practices for the last season, but students just did not show up to play. She will not be coaching next year, but I hope to use her games for the next season. The teacher we plan to have as one of the coaches next year is a very loved teacher at LJHS. He was a member of one of my teams. I think it will be a great season and students should join us."
Leave a Comment
Your donation will support the student journalists of Logansport High School. Your contribution will allow us to purchase equipment and cover our annual website hosting costs.
About the Contributor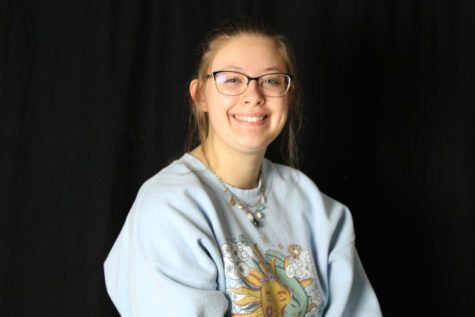 Leah Alder, Managing Editor
Junior Leah Alder is a third-year member of the Magpie staff and is the co-Managing Editor. She enjoys writing and eating her candy in class as well as...