Superheroes of Key Club
From Flash racing buses to going through the smokehouse with the kids, Key Club gives students the opportunity to earn community service hours. Whether for graduation or applications, community service is used for and needed for many different things. English teacher Julien Gaumer works with the community and Kiwanis to find opportunities for students. One of the service's repeating activities involves superheroes. The students dress up as superheroes and do various things, like helping at the fall festival at Woodbridge, Breakfast with Santa, and LHS Trunk-or-Treat.
"Volunteering at Woodbridge's Halloween Party was the only opportunity I got to dress up as a superhero," senior Kendall Sweet said. "It was my favorite volunteer activity so far. It was fun to pretend to be superheroes with my friends and take pictures with the people who came to visit us." 
There is a variety of costumes from Batman to Wonder Woman. Some of the characters are more known than others. Male superheroes are usually more known than females as kids tend to see them more than the female superheroes in movies and books.
"I am spider girl," said senior Alexsa Herrold. "I know that a lot of kids know who spiderman is so the recognition is there.  I chose spider girl to give the little girls a chance at seeing a superhero they recognize as a girl as well.  I think it's important for little girls to know that you don't have to be a boy to be a superhero, girls are just as capable of being someone's superhero."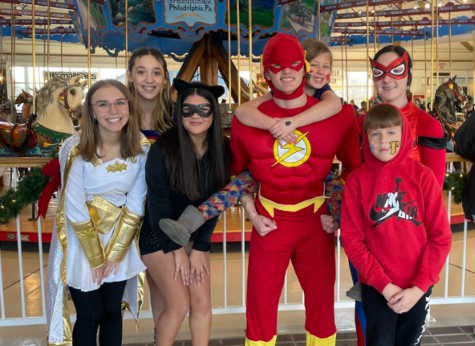 At the events while dressed up students worked with the kids to help them with what they needed whether it was putting belts on them so that they could ride the carousel, just talking to the kids, or getting pictures with them. 
"I really expect the key club members to be held to a high standard," English 9 teacher Julien Gaumer said. "I want them to interact with adults and family with kindness, maturity, and integrity." 
When the students dress up, some kids know that they are in costumes while some of the younger kids still think they are the real superheroes. 
"I've stuck with Superman for all the events except the Christmas party,"  senior Tristan Kitchel said. "Superman is very approachable, unlike some of the others. For example, with Batman, some of the kids avoid him because he can be scary. I also always get at least one person asking to touch the fake muscles on the suit, and it gets a laugh out of me every time." 
Getting to work with the kids is an easy way that the students can get their community service hours and do something that is fun and enjoyable. As they move forward and start to do more activities as superheroes, they are starting to widen their variety of costumes. They started with the Kiwanis' Christmas party. 
"Mrs. Gaumer texted me and asked if I could do the role of Santa," Kitchel said. "I think there are benefits to doing roles as other characters as long as they are the good guys. I think it's important that the kids are inspired by the stories of the characters we portray." 
The club is looking to purchase more costumes so that more students can attend events. They are looking to fundraise and take donations to be able to buy not only superhero costumes, but they are looking to add other Disney princesses and characters. 
"We are currently working on a fundraiser, and Kiwanis is going to match up to a thousand dollars of what we raise for us to purchase costumes," Gaumer said. "Right now, we are just fifty dollars short of getting a two thousand dollar donation, which is our goal. We also have an event coming up in February with Mike Anderson to raise money." 
The week of February 13th – 18th will be designated for raising money for Key Club. A $50 donation will be made to Key Club to help with the expense of new costumes for their community activities for each automobile they sell during the week. There will be superheroes out there on Saturday. 
"As the president of Key Club, I want to participate in any event that I can because I enjoy volunteering," said Harold. "The main reason for signing up for the superhero events is to see the smile that I can bring to a kid's face just by being in a superhero costume.  It has really made an impact on me to see just a little difference that I personally have made with the youth in our community."
Leave a Comment
Your donation will support the student journalists of Logansport High School. Your contribution will allow us to purchase equipment and cover our annual website hosting costs.
About the Contributor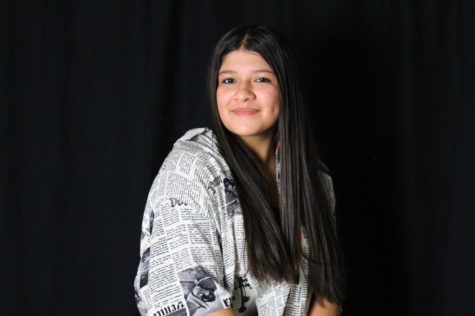 Reyna Hernandez, Photographer
Freshman Reyna Hernandez is a new Magpie staff member. She is a photographer, but also enjoys helping with social media and writing about events happening...