Purdue Varsity Glee Club and the Purduettes Hit McHale
On Sunday, Feb. 19 at 4 p.m., the Purdue Varsity Glee Club as well as the Purduettes head to McHale Performing Arts Center. This event is completely free, but donations will be accepted. These Purdue Music Organization groups will be performing alongside the LHS Swing Choir. The Purdue Varsity Glee Club was formed in 1893 and is currently directed by William Griffel and Scott Hines. The Purduettes were formed later, in 1942, and is being directed by Jeff Vallier. The LHS Swing Choir is conducted by Tim Cahalan and accompanied by Susan Cahalan.
The LHS Swing Choir is performing "Another Day of Sun" from "La La Land," "You Make Me Feel So Young" by Frank Sinatra, and "I'm A Believer" from "Shrek." They will also be performing a combined piece of music with the Swing Choir and Glee Club, singing "The Battle Hymn of The Republic."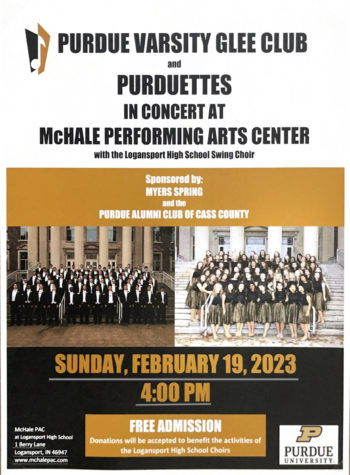 The Glee Club consists of two LHS alumni; Liam Gay and Zachary Shoensiegel. Also, there is a Logansport Children's Choir alumni, Mason Hinkle, who went to Pioneer High School. In the Purduettes, there is LHS alumni Maggie Fincher. All were included in the Logansport Children's Choir.
"There's no doubt we've had many students go on to sing in these college singing groups," Tim Cahalan said. "We had a bunch of kids go on into the Singing Hoosiers and some in smaller choirs such as Notre Dame, just all over the place. Just good high school singing is something we really try to emphasize. Many kids choose to carry on with music or theatre, and that's the gift we love to bring to them."
All of the alumni within the Glee Club and Purduettes are seniors from the Class of 2022. These three students made an impact during the years they were here. Both Gay and Fincher were recognized as Distinguished Scholars at the end of the year, and Shoensiegel made technical achievements at McHale, being called "The Sound Guy." Fincher also was one of the few to speak at graduation for the class of 2022.
The Cahalans influenced many students over the years. They have overseen generations of families passing through their choir programs. They have been teaching choir for over thirty years as well as the Logansport Children's Choir for 35 years. This year, they're leaving the program and retiring, letting newcomers take over next year. 
"We're hoping to see the choir after we go on to become more diverse and see the program grow," Susan Cahalan said. "We would love to see a more diverse group of students on stage and singing."
"
We're hoping to see the choir after we go on to become more diverse and see the program grow. We would love to see a more diverse group of students on stage and singing."
— Susan Cahalan
There is no doubt the Cahalans have made an impact on students involved in the community. Whether that be them helping in the theatre program, or putting on concerts for the public. Over time, their choirs have performed at places such as Disney World with the Swing Choir, or Washington D.C. with the Children's Choir.
Whenever given a chance, the Cahalans try to get students to join very early on, whether in school or in the Logansport Children's Choir.
"Tim first heard me singing at church when I was younger and told me that I needed to be in his choir," Fincher said. "Ever since I was old enough to join Logansport Children's Choir, I've been singing with Tim and Susan are the entire reason I got into singing."
The Swing Choir today has a group of 32 students. This consists of a mix of SATB (soprano, alto, tenor, and bass) singers. The Glee Club and Purduettes break this combination into two. The Glee Club is a tenor and bass choir consisting of nearly 70 members, and the Purduettes are soprano and alto consisting of 65 members.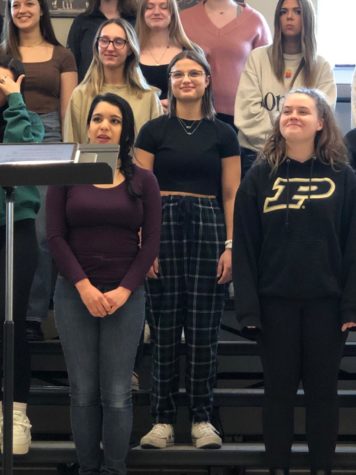 "There are huge differences between the Swing Choir and the Glee Club," Gay said. "The first differentiation is the Glee Club is organized at a college level and the Swing Choir is an extracurricular. There's also a huge difference in sound as the Glee Club is only tenors and basses. Occasionally, I do find myself definitely missing the dancing."
The show will also feature singing and dancing to very well-known music as choreographed by senior Gracie Kitchell, junior Leah Alder, junior Finley Gay, junior Elijah Bault, alum Katie Ashbaugh, and alum Caleb Sholty.
"Music I feel can be such an expressive way of emotion that anyone can feel," Kitchell said. "Music is heard by so many and can influence so much. It's inspiring to get back with those who went with music after high school to see them once more. I in a way grew up with these alums, and I'm inspired to hopefully do more with music in the future."
Leave a Comment
Your donation will support the student journalists of Logansport High School. Your contribution will allow us to purchase equipment and cover our annual website hosting costs.
About the Contributor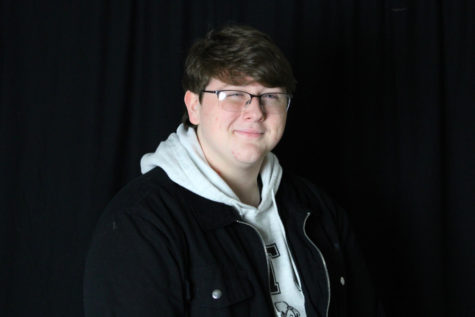 Payton Mucker, Social Media Editor
Junior Payton Mucker is in his second year of Magpie and is the Podcast Editor as well as a photographer within the staff. Previously, he was the Social...